Students at third-level institutions will be advised to wear face coverings if they cannot maintain a distance of two metres during lectures, according to new recommendations from the Government.
The Department of Further and Higher Education says there are circumstances where maintaining a distance of two metres will not be possible.
The Government advises higher education institutions to develop one-way systems for indoor spaces or use marked lanes where practical.
Third-level students are asked not to enter accommodation buildings they do not live in, and to not come to the campus if they have symptoms.
There is a requirement for space to be identified on campus that will allow people who develop symptoms to wait safely away from others.
There may be an additional requirement for alternate residential space for students who are self-isolating.
---
---
The guidelines acknowledge that some learning will take place online, but where two-metre distancing is not possible for tuition, staff members should wear face shields or visors.
Group work across a semester should also be rostered into pods to minimise mixing of people.
The President of NUI Galway said part of the university's focus will be making teaching spaces safe and making spaces available for students to self-isolate, where necessary, in accommodation.
Speaking on RTÉ's Morning Ireland, Ciarán Ó hÓgartaigh said their operations will always be subject to public health guidelines.
There are notable differences about how teaching will now take place and also regarding campus accommodation, he said.
He added students are "primarily adults" so that responsibility is made clear about students behaving in that manner.
Mr Ó hÓgartaigh said the guidance also outlines where risks need to be managed and minimised in teaching spaces and more generally outside these settings.
"There is also risk more generally outside those spaces, and that is where a lot of effort will take place, in bringing students back to campus is being conscious that we are part of society, our walls are porous and the virus does not necessarily respect university walls as we know.
"And therefore we really need to encourage behaviour which is consistent with public health advice."
He said NUIG is planning on making accommodation available in pods where students are sharing those spaces and access to accommodation will be allowed to only those living there.
The president of the Union of Students in Ireland said there was no student representative involved in the forming of the policy.
Lorna Fitzpatrick said there is also no clarity on what happens in a scenario where students do not, or cannot, wear a face covering.
Speaking on RTÉ's Today with Sarah McInerney, she said third-level institutions have a duty of care to provide face coverings to students if the wearing of them is to be mandatory upon returning to classes.
She said the move was based on public health advice and the union has been advocating adherence to public health guidance from day one, but part of the issue is that students do not yet know how regularly they are expected to be on campus.
Sinn Féin's spokesperson on Higher Education Rose Conway Walsh welcomed the new guidance.
"We have to follow the health guidelines, obviously. And if we are in a situation where social distancing cannot be done and cannot be done safely, then students should be urged to wear masks in those institutions," she said.
"I really have to commend the young people for how they have responded to Covid-19 in a responsible manner. They have done everything they have been asked to do. I know they are very keen to get back into education and they will do everything they can to ensure their own safety." 
Call for face coverings to be mandatory in secondary schools
A consultant in infectious disease has said she and her colleagues would advise that face coverings should be mandatory in secondary schools. 
Speaking on the same programme, Dr Cliona Ní Ceallaigh also said rapid testing will be central to keeping schools open and teasing out "who has a cold and who has Covid". 
She said there are cases of children contracting Covid-19 and they are not immune.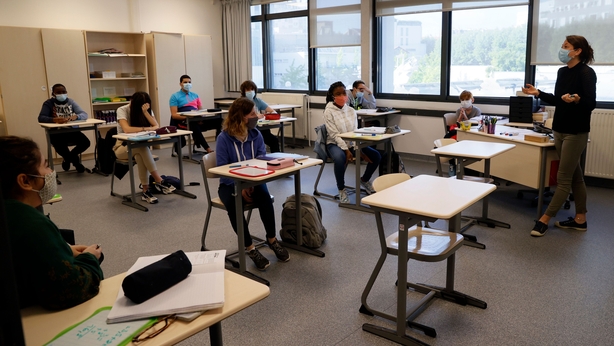 The principal of St Patrick's Classical School Navan said it would be doable for secondary students to wear a mask, but a visor would be a better option because a mask would be uncomfortable for a student to wear for six hours. 
Colm O'Rourke said students at his school will start with visors in September.
He said the reality of school life is that masks might make it more difficult to control a classroom and if a visor does the same job, it is better for staff and students because it is more comfortable and allows facial expressions to be seen. 
However, Dr Ní Ceallaigh said while masks can reduce the risk of transmission by around 80% there was not enough evidence to say that visors are safe.
The General Secretary of the Association of Secondary Teachers in Ireland said the association has written to the Minister for Education to request that the guidance they received on reopening schools be refreshed or reviewed. 
Kieran Christie said the department is basing the reopening of schools off advice that was drawn up in June and the policy on face coverings has changed since then.
The former director general of the Health Service Executive said if masks are compulsory in shops, is there not equal benefit to have them worn in secondary schools?
Tony O'Brien said over 350,000 young people will be going into crowded conditions next month and it is accepted that wearing a mask protects, although some people may not be able to and that needs to be taken into account.
He also said he thinks masks should not be funded by the HSE, but through the Department of Education.
"I think most of the teenagers have masks and it would be reasonable for them to use them for schools. But clearly there will be some situations where schools will need to have a supply of masks."
Reporting Mary Regan, Kate Carolan and Cillian Sherlock