The Minister for Health has said that the rise in the number of confirmed Covid-19 cases was being driven significantly by clusters of cases all around the country.
Speaking on RTÉ's Prime Time, Stephen Donnelly said eight of these clusters were "quite significant" - four are in factories related to food processing and four of them are in direct provision centres.
He said, however, that public health teams were on the ground and mass testing was going on.
It comes after the Department of Health was notified of no new deaths related to Covid-19, and 45 additional confirmed cases. It is the fifth day in a row that no new fatalities have been reported.
The total number of deaths remains at 1,763, with a total of 26,253 coronavirus cases.
35 of the 45 cases notified today are among men, with the remainder among women. 77% of those infected are aged under 45.
31 of the new cases are associated with outbreaks or are close contacts of a confirmed case, while four cases have been identified as community transmission.
33 of the infections are in Kildare, seven in Dublin, and five are spread across four other counties.
The Minister said things had got progressively and steadily worse in this country in the last week or so.
What was really worrying public health officials, he said, was the rise in the number of community transmissions - where someone tests positive for the virus, but neither they nor public health officials know where they got it from.
Mr Donnelly said the total number of community transmissions had gone up in the last two weeks, and that there was community transmission in many counties across the country.
The Minister said putting different restrictions in place in different parts of the country, was something they could look at in the future. However, he said it was not safe to do so at the moment because community transmission was happening right across the country.
He was speaking after the Taoiseach confirmed that the reopening of pubs, hotel bars and nightclubs will now not go ahead on 10 August as planned.
Meanwhile, there has been a significant Covid-19 outbreak among employees of the Kildare Chilling Company.
The company has not confirmed the number of cases but says it is working closely with the Health Service Executive.
Seven workers at a food processing plant in Co Offaly have tested positive for Covid-19.
The business affected is Carroll Cuisine in Tullamore, which has carried out what it described as a scheduled shut down and a deep clean of the premises.
It has since reopened and gone back into production.
It is understood a worker informed the company that they had tested positive for the coronavirus last week.
Testing of all employees is taking place and six other staff members, who worked with the initial colleague affected, have so far tested positive.
Carroll Cuisine employs 330 people.
The company said those affected are now self-isolating and no other positive cases have been identified.
---
---
The World Health Organization's top emergency expert said people can sustain a new normal if they follow the public health guidelines on Covid-19, but warned that great care is needed over the coming months until a safe and effective vaccine can be found.
Dr Mike Ryan said there are around 139 coronavirus vaccine candidates currently in some form of clinical evaluation; 26 are in full blown trials, while six are in phase three trials (population level trials where the vaccine is tested on ordinary people), which he described as an incredible achievement.
However, he cautioned that people need to be patient because the vaccines must be safe and effective and a vaccine "may not be the silver bullet" in controlling the virus.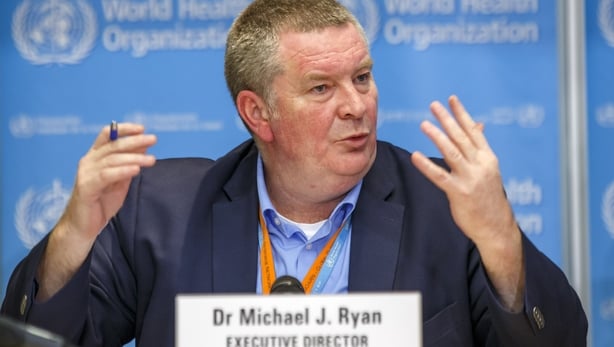 He said a lot of the Covid-19 reduction measures - such as social distancing and hand hygiene - should also result in a much lower influenza season, but no one can say this with certainty.
Speaking on RTÉ's Today with Sarah McInerney, Dr Ryan said Ireland's health system stood up to the Covid-19 test well and is confident it will continue to do so, but he added that controlling community transmission is the best way to keep the pressure off the hospitals.
He said he understands that people are tired and everyone wants to get back to work and to a normal life, but to achieve this we need to reach a point where small flare ups can be picked up quickly before they spread to the whole community.
Dr Ryan said pre-testing for Covid-19 before travelling abroad can help, but it is "not a panacea" and must be taken as part of a broad, multi-faceted strategy.
He also said that pubs are not the cause of spreading Covid-19 as such, but poorly ventilated, crowded areas where people might let down their guard are not ideal and warned that large parties can spark outbreaks and must be managed.
He said that while young people are less likely to suffer severe reactions to Covid-19, the long-term effects of even mild or moderate cases are unknown.
The WHO says data to date suggests 80% of Covid-19 infections are mild or asymptomatic, 15% are severe infection, requiring oxygen, and 5% are critical, requiring ventilation.
Generally, you need to be 15 minutes or more in the vicinity of an infected person and within two metres of them, to be considered at-risk, or a close contact.