The first US astronauts to reach the International Space Station on an American spacecraft in nearly a decade are preparing for their return home, which is tentatively on schedule for Sunday evening despite the arrival of Hurricane Isaias off Florida.
US astronauts Bob Behnken and Doug Hurley blasted off from Cape Canaveral on 30 May on board a SpaceX Crew Dragon.
"The teams are working really hard, especially with the dynamics of the weather over the next few days around Florida," Hurley said in a farewell ceremony aboard the space station that was broadcast on NASA TV.
The astronauts are expected to board Crew Dragon late tonight, splashing down at one of seven landing sites in the Gulf of Mexico or Atlantic Ocean around 6pm on Sunday.
This photo of Hurricane Isaias was taken a few hours ago as it travels northwest between Cuba and the Bahamas. I hope the people in its path stay safe and I hope it doesn't disrupt our return to Earth on Sunday. pic.twitter.com/nkyldd7NhF

— Col. Doug Hurley (@Astro_Doug) July 31, 2020
"The hardest part was getting us launched, but the most important part is bringing us home," Behnken said ahead of their departure.
NASA and SpaceX officials chose the coast of Pensacola, Florida as the "prime" splashdown location for Crew Dragon but that may change due to Hurricane Isaias, a category one cyclone approaching Florida's east coast.
"Conditions are 'Go' at the primary targeted site, off the coast of Pensacola, and alternate site off the coast of Panama City in the Gulf of Mexico for splashdown and recovery on Sunday, Aug 2," NASA said in a blog post.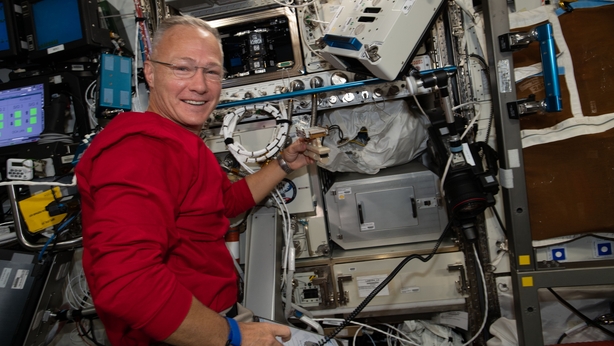 "NASA and SpaceX will make the final decision to proceed after the astronauts are ready inside Crew Dragon just before undocking," it said.
"Teams will continue to closely monitor Hurricane Isaias and evaluate impacts to the potential splashdown sites," NASA added.
NASA's commercial crew manager Steve Stich said Crew Dragon, an acorn-shaped pod that can seat up to seven astronauts, has been in a "very healthy" condition since docking on 31 May with the space station.
.@AstroBehnken and @Astro_Doug undock from the @Space_Station at 7:34pm ET tonight, bringing to a close their ~2 month #LaunchAmerica mission.

?? Check out these science highlights from the 100+ hours of work they completed aboard our orbital lab: https://t.co/XjfiUDLWzY pic.twitter.com/DkB01BcA3X

— NASA (@NASA) August 1, 2020
Astronauts have been conducting tests and monitoring how the spacecraft performs in space.
Upon a successful splashdown, the spacecraft will have completed its final key test to prove it can transport astronauts to and from space — a task SpaceX has accomplished dozens of times with its cargo-only capsule but never before with humans aboard.
"The water landing portion of it is pretty challenging from a physiological standpoint, just after coming back from being in microgravity," Hurley told reporters in a phone briefing.
All my bags are packed, I'm ready to go… #LandAmerica pic.twitter.com/FvyzeA58sb

— Bob Behnken (@AstroBehnken) August 1, 2020
Billionaire entrepreneur Elon Musk's SpaceX became the first private company to send humans to orbit in May.
The mission marked the first time NASA launched humans from US soil since its shuttle programme retired in 2011. Since then, the United States has relied on Russia's space programme to launch its astronauts to the space station.