Bundoran is always busy for the August Bank Holiday weekend - but this year is a bank holiday weekend like no other.
One of the most popular tourist towns in Donegal, it normally sees a gradual build-up to the summer season from around Easter.
But after months of shutdown, it just took off as soon as Covid restrictions began being lifted.
Aidan Browne of the Bundoran Surf Company described it as going from "nought to one hundred" and he's delighted to be busy, along with many other businesses in the town.
Also, like other businesses, he is seeing a rise in the number of homegrown visitors with many families and groups of friends travelling from places like Dublin and Galway.
While Bundoran is often associated with visitors from Northern Ireland, research has shown that 35% of tourists in the town come from the Republic, 34% from the North and just 5% from North America.
Many visitors from the Republic have not taken their holidays at home for years and feel they have been missing out, according to John O'Connell from Atlantic Apartotel.
He is hoping these new visitors to the town will spread the word about how they enjoyed themselves and that more people will come for breaks in Bundoran throughout the year.
But John warned that the tourism industry will need to see Government supports continue into 2021.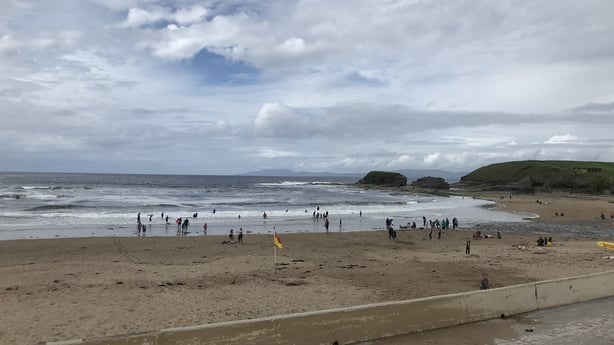 Rita and Joe Kelly from Kilcullen in Co Kildare told RTÉ they would normally travel abroad for their holidays but because of Covid they decided to take their break in Ireland this year and came to Donegal.
The couple said that while the weather has not been great, it was all about dressing appropriately. They have had a lovely time and will "definitely" be back.
Mohana Rajaram and Sakshi Bedi and their husbands live in Dublin and were just waiting for lockdown to be lifted to get out of the city.
They love the west of Ireland, Mohana said, and Bundoran was the obvious choice for them because of the beaches.
Bundoran's tourism officer, Shane Smyth, said they were taken "a bit by surprise" by how busy the town is at the moment with business looking good for the rest of this month.
However, he said it was unclear what would happen after that - and "that was a worry".