Clare County Council has advised against swimming or bathing at a number of beaches in the west of the county.
Bathers are being advised not to swim at the popular Lahinch beach while a temporary prohibition on swimming is in place at Spanish Point and at White Strand in Miltown Malbay.
A ban on swimming is in place at Kilkee and at the front beach in Quilty.
The "do not swim" advisory and ban on bathing is as a result of elevated bacterial levels in the bathing waters at these locations.
The news has been met with disappointment in west and north Clare.
Ellie Byrne from Kilkee said that the ban is a huge disappointment for both locals and visitors.
She said that Kilkee is facing into the busiest weekend of the year for tourism and to have the swimming ban in place is a huge disappointment.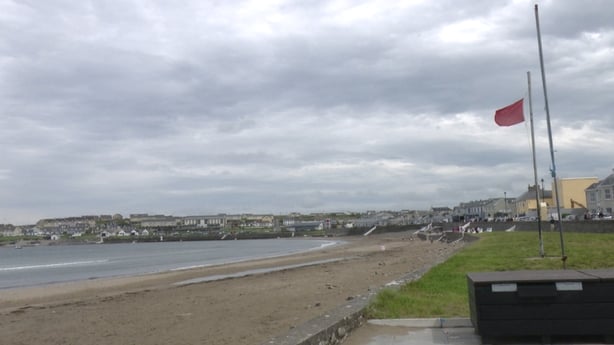 Ms Byrne added that it is very frustrating for locals that this is the third year in a row that a swimming ban has been put in place in Kilkee.
Hazel Walker from NevSail Watersports said that the ban is having a big impact on their business.
They provide water-based classes and wet gear to both children and adults from the seafront in Kilkee.
Hazel said: "We should have all this equipment out on the water but as you can see its not happening because of the ban. We have lost roughly 50% of our business due to the ban and we have moved our classes to Carrigaholt."
Cathal Brodie, Environmental Scientist with Clare County Council said that the elevated bacteria levels was due to very heavy rain in the area in the last number of days which washed in water from the catchment. 
He said that the advisory and prohibitions are in place for public health reasons and that the water quality is being continually monitored. He said that the analysis by the Council in conjunction with the HSE will dictate when the prohibitions will be lifted.
Meanwhile, "do not swim" notices have been lifted at a number of beaches in north Dublin.
Notices were lifted at Skerries South Beach, Loughshinny and Rush South Beach after the results of samples taken earlier in the week were received by Fingal County Council.
The beaches were returned to an "excellent status".
However, Met Éireann says the weather will remain unsettled during the bank holiday weekend with "further showers or spells of rain until early next week".
The forecaster added: "Current indications suggest it will become drier and warmer later in the week though."