Tánaiste Leo Varadkar has acknowledged that children are waiting far too long to get an assessment of need. 
He was reacting to questions about figures obtained by RTÉ's Morning Ireland, showing over 5,000 children are waiting longer than the law permits to have needs such as autism formally assessed. 
Figures released by the Health Service Executive show that the average waiting time was 19 months, despite a legal requirement for the assessment to be completed within six months.
For children with additional needs such as autism, communication difficulties or sensory processing disorder, an 'Assessment of Need' is the key to unlocking access to public health services.
The Disability Act 2005 stipulates that these assessments must be completed within six months, but some children are forced to wait years.
In the Dáil, Mr Varadkar acknowledged that the delay put a lot of stress on the children and their families and can be very expensive in the longer term because earlier intervention means better outcomes sooner. 
Mr Varadkar said it was a problem for a long time and one the Government wants to resolve. 
He also said parents of children with special needs should not have go to court to get services.
He said: "I can't comment on court cases of people I don't know about, and even if I did I could not comment on them.
"Certainly, anyone is entitled to take their case to court but I think we will all appreciate this issue won't be resolved in the courts and it wouldn't be right to give preference to people who go to court as opposed to those who don't."
"This is not a problem that will be resolved by court cases or paying lawyers' fees - it can be solved by allocating additional resources where they are needed." 
We need your consent to load this rte-player contentWe use rte-player to manage extra content that can set cookies on your device and collect data about your activity. Please review their details and accept them to load the content.Manage Preferences
Mr Varadkar said the Government is committed to providing access to assessments and therapies for all children who require them.
He said reforms were under way and the HSE disability service is engaged in a reconfiguring of its existing therapy resources for children with disabilities into multi-disciplinary, geographically placed programmes. 
He said the aim was to make sure that it should not matter what part of the country a child lives in; they will have equal access to the services.
Sinn Féin's Pearse Doherty accused the State of consistently failing to live up to its legal requirements to ensure children can access assessments.
He said nine out of ten children are being failed by the State and failed with their legal right. 
Mr Doherty said parents were at their "wits end" waiting for assessments for their children.
He said it has become the default position of the State to force people into expensive legal battles instead of admitting they were wrong.
'To see your child stressed and upset and not being able to help them is just so hard'
Stephanie Kavanagh has already been waiting a year for an assessment for her two-and-a-half-year-old son and said she has been told that due to Covid-19 she could be waiting another 18-34 months.  
"To see your child stressed and upset and not being able to help them is just so hard. I need support from an occupational therapist and a psychologist and we don't have that," she said.
"I know it will have a long impact on his life. Having the right input at a young age is vital," Ms Kavanagh added.
There were 5,083 overdue assessments at the end of March, less than 3% of which were because of exceptional circumstances.
The CEO of the Children's Rights Alliance said she is very concerned at the figures and some children may not reach their full potential because of the gaps in accessing services. 
Speaking on RTÉ's Morning Ireland, Tanya Ward said the State should be directing its resources towards getting mass assessment for children and unlocking those services, adding that over €2bn a year is spent on disability services. 
Delays can have impact on children's development - experts
Public health experts say the delays have an impact on the child's development and a lack of early intervention will end up costing the State more in the long run.
Dr Anna Beug, who has been a GP for 20 years and teaches on the subject of child mental health and disability, said assessments should identify the needs of children and link them to appropriate therapists.
She said: "If children are given help at an early age in a timely way, the possibility for them to develop skills that will be essential to them for the rest of their lives is huge. If up to four years is wasted, then all the potential is lost."
She added: "What has happened is that this wait has often turned into a three-year wait or more."
Dr Beug is with Deep End Ireland, a group of GPs in socio-economically deprived areas, and said the problem is particularly severe in communities of deprivation.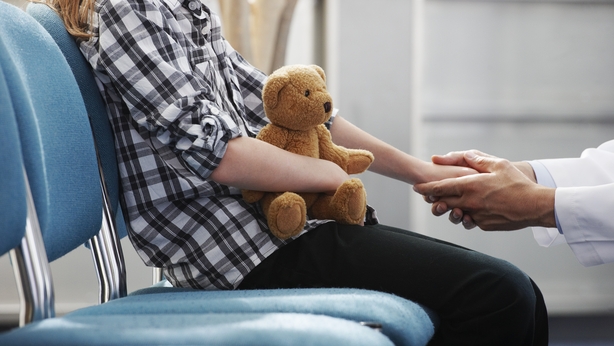 Dr Kieran Harkin, a GP in the Inchicore area of Dublin, said this is because access to assessments of need is calculated by population rather than need.
"Two things happen: one is that there isn't as much disability in affluent areas and, two, where there is disability they are taken out and assessed privately. This means there is more room for other people who are queuing," he said.
Private assessments, which are not necessarily recognised by the HSE and education bodies, can cost up to €1,800.
Dr Harkin said some of his patients have avoided shopping or asked other people for money to pay for private assessments they can ill afford.
"I feel ashamed to be a part of a health service that has to look at a parent in the eye, knowing that they have a seriously disabled child, and say you will have to wait four years before you get to the top of the queue," he said.
Dr Beug said: "The bitterest irony of all is that this neglect of children is going to end up costing the State multiples of what it would cost to implement a proper early intervention system because if your first five years of school are catastrophic, you will never come back."
Call for HSE to redeploy staff
Professor Susan Smith said Deep End Ireland is calling on the HSE to redeploy staff as needed to address differences in waiting times between affluent areas and disadvantaged areas.
"We think the Government should set up a high-level Working Group as a matter of urgency to address the issue for these very vulnerable children," Professor Smith added.
"Even if we don't have any additional services we could at least redeploy the services in a more efficient manner," she said.
The doctors also highlight that the assessment of need is just the first step in accessing services, and most children end up back on further waiting lists.
The Disability Act 2005 states that Assessments of Need must be commenced within three months of the date of application and completed within three months of the date of commencement.
"I've come across hundreds of these cases and my experience is there are very few, if any, that have been completed within the timeframe permitted by law," said Gareth Noble, a child law solicitor with KOD Lyons.
"There is little to no priority given to assessing the needs of children and, effectively, the HSE is passing on its own problems to children and their families," he added.
The HSE points to a High Court ruling in 2009 as a contributing factor in delays, where the judge found the executive's interpretation of who was eligible for an assessment was too narrow.
HSE says range of service improvements being introduced
The HSE said it has endeavoured to meet its legislative requirements and that it is introducing a range of service improvements.
An additional 100 new therapy posts were provided in 2019 and 97 of these posts have already been appointed and the remaining posts are currently being recruited.
The HSE has also developed a new standard operating procedure for Assessments of Need to "alleviate the current situation where children in some parts of the country may wait a number of years before they can access an assessment".
It said: "It is intended that an Assessment of Need will include a Preliminary Team Assessment that will identify initial interventions and any further assessments that may be required. This preliminary assessment will usually be undertaken by a children's disability service that is also tasked with delivering intervention."
However, Mr Noble is concerned that the new model will simply put children on different waiting lists for diagnostic assessment.
"That is not child-centred and cannot be said to conform with the requirements imposed by the Oireachtas on the HSE and will only add further misery to children and their families," he said.
Overdue assessments by area:
CHO Area 1 (Donegal, Sligo/Leitrim/West Cavan, Cavan/Monaghan): 149 overdue assessments, of which one was due to an "exceptional circumstance"
CHO Area 2 (Galway, Roscommon, Mayo):  112 overdue assessments overdue, of which nine were due to an "exceptional circumstance"
CHO Area 3 (Clare, Limerick, North Tipperary/East Limerick): 598 overdue assessments, of which 12 were due to an "exceptional circumstance"
CHO Area 4 (Kerry, Cork):  879 overdue assessments, of which six were due to an "exceptional circumstance"
CHO Area 5 (South Tipperary, Carlow/Kilkenny, Waterford, Wexford): 468 overdue assessments, of which 13 were due to an "exceptional circumstance"
CHO Area 6 (Wicklow, Dun Laoghaire, Dublin South East):  217 overdue assessments, of which six were due to an "exceptional circumstance"
CHO Area 7 (Kildare/West Wicklow, Dublin West, Dublin South City, Dublin South West):  751 overdue assessments, of which 4 were due to an "exceptional circumstance"
CHO Area 8 (Laois/Offaly, Longford/Westmeath, Louth/Meath): 677 overdue assessments, of which 18 were due to an "exceptional circumstance"
CHO Area 9 (Dublin North, Dublin North Central, Dublin North West): 1,232 overdue assessments, of which 77 were due to an "exceptional circumstance"
Additional reporting: Aisling Kenny, PA