Complaints about a television advertisement for a brand of tampons has been upheld by the Advertising Standards Authority of Ireland (ASAI).
In total 84 complaints were received about the Tampax Tampons Pearl Compak ad, which was set in a chat show scenario with an audience and featured a female host and a young woman being interviewed about using tampons.
ASAI Chief Executive Orla Twomey said in the last four-and-a-half years there have been only seven adverts that have had 60 or more complaints.
Speaking on RTÉ's Drivetime, she said 84 complaints suggests it caused widespread offence.
Most of the complaints about the advert were from women, she added.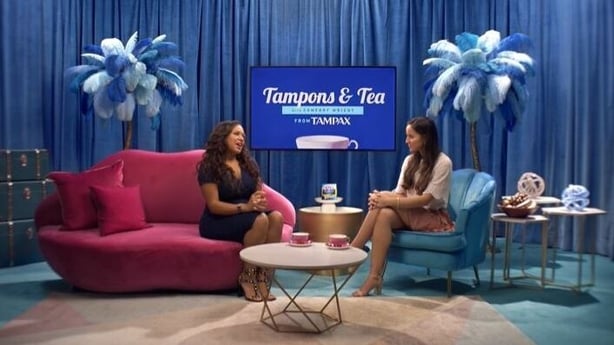 The complaints to the ASAI were categorised into four issues: General Offence; Demeaning to Women; Sexual Innuendo; Suitability for Children.
The ASAI said: "Some complainants considered it to be offensive and inappropriate to talk about such a sensitive topic in the manner portrayed and that the content had been over-descriptive, inappropriately expressed and with excessive detail."
Some complainants said that they had no issue with the message contained within the advertisement but "considered that the message could have been delivered in a discreet manner that was less crass".
Procter and Gamble, the manufacturers of Tampax, said it "believed in normalising the conversation around periods through awareness, information and education.
"The light-hearted advert had centred around a very common usage question and the intent was to educate people on how to use the product."
The ASAI reported that the advertisers said that while they appreciated that the advertisement had led to a higher number of complaints than they would have expected, they believed the copy delivered an important educational message to consumers as they were advised how best to use a tampon in a safe and secure manner.
"They [Procter and Gamble] said the advertisement had not featured explicit or graphic content, and the demonstration on how to use the product correctly was presented in a factual manner, as such they did not believe the advert was offensive and that it should be permitted to remain on air."
The ASAI noted the advertising code required that advertising should not cause grave or widespread offence.
In reaching its decision, the complaints committee noted that the advertisement, "although light-hearted in nature, provided factual information in a manner that was neither explicit nor graphic".
The ASAI has banned a tampon ad after they received 84 complaints as it was considered to have caused "widespread offence".

Orla Twomey, ASAI Chief Executive spoke to @boucherhayes on today's @drivetimerte about their decision.
Full interview here 📲 https://t.co/EvDWKYoJNw pic.twitter.com/GFriHrNfUo

— RTÉ Radio 1 (@RTERadio1) July 29, 2020
Committee members did not consider that the advertisement had caused grave offence.
"They noted, however, the level of complaint that had been received and the concerns expressed by complainants about the advertising and considered that it had caused widespread offence.
"In the circumstances, they considered that the advertisement had breached Section 3.16 of the Code."
As a result, the ASAI said the advertising should not run in the same format again.
Goss Media CEO Alexandra Ryan said the advert was trying to educate people and was a good way to grab attention among younger women in particular.
Also speaking on RTÉ's Drivetime, she said it is vital that these type of adverts do run.
Ms Ryan said women's real issues are not being spoken about again and that the ruling is bizarre.
The ASAI said it does not have a process where an advert can be reinstated but can work with an advertiser to edit it.