Around 30 residents of a controversial direct provision centre at Cahersiveen in Co Kerry, say they have begun refusing food, describing their living conditions as inhumane.
They are demanding to be moved to other direct provision centres elsewhere in the country.
The centre is located at the former Skellig Star boutique hotel and was opened in mid-March, when over 100 residents were moved there.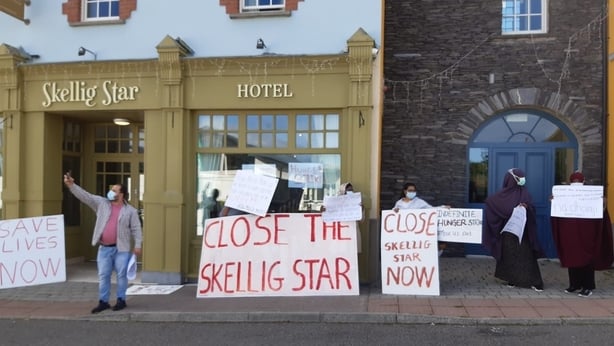 The first cases of coronavirus among residents were confirmed in early April, just over a fortnight after the centre opened.
Calls for its closure were made both by residents of the centre and by local people.
They claimed the centre was not fit for purpose, and social distancing was impossible there. Since then there have been around 20 cases of coronavirus among residents.
In May, then justice minister Charlie Flanagan apologised to the people of Cahersiveen for the manner in which the direct provision centre was opened there. However, he rejected calls for it to be closed.
A spokesperson for the residents said that 28 people began refusing food this morning in protest at conditions in the centre.
Minister for Children, Disability, Equality and Integration, Roderic O'Gorman tweeted that responsibility for direct provision currently rests with Department of Justice, and that it will be transferred to his Department in the coming months. He said he has kept in regular contact throughout today with the Minister for Justice Helen McEntee.
2) Responsibility for Direct Provision currently rests with Dept of Justice, and will be transferred to my Department in the coming months. I know that Cahersiveen is just one part of much wider, more fundamental problems with the Direct Provision system in Ireland.

— Roderic O'Gorman TD (@rodericogorman) July 28, 2020
4) It is clear that trust is broken between the State and people in Direct Provision. As we end Direct Provision, and work towards a system based on human rights, I pledge to ensure their voices are heard, and that trust is rebuilt.

— Roderic O'Gorman TD (@rodericogorman) July 28, 2020
"This place is not okay. We should be moved, but the department is not listening", Aswar Fuard said.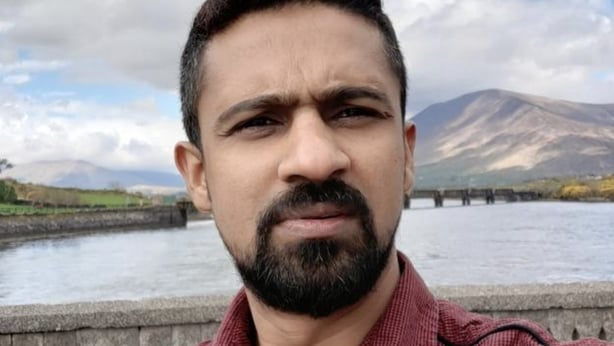 Mr Fuard came to Ireland from Sri Lanka in May 2019. He lives at the direct provision centre in Cahersiveen with his wife and one of his children.
"We started this hunger strike today; we will continue and we are not going to stop.
"One day, two days, three days, a week - we will continue", Mr Fuard said.
"If there is another wave of coronavirus, this place is going to be a problem and we will be affected. We should be moved to a self-contained unit, with access to a social worker.
"We need to restart our lives. While we are here, we will not recover".
Mr Fuard said the people refusing food represent ten different nationalities. He said all adults at the centre were refusing food as part of the protest.
The number of residents at the centre has reduced in recent weeks. It is understood there are around 40 people living there currently, including seven children.