Minister for Education Norma Foley will bring the school reopening plan before Cabinet tomorrow.  
Government sources have confirmed it will cost "in or around" €300 million.
It is understood the report will contain a lot of detail about how schools will reopen safely in a Covid-19 environment.  
It is expected to include details on the procurement process for health and safety items such as hand sanitizer.
There will be further detail on help for structural works that may need to be carried out in school buildings to create space for social distancing.  
Earlier this month, guidelines from the Health Protection Surveillance Centre stated that at least one metre distance "should be maintained" by students in the classroom - but only from third class upwards. 
In the school reopening plan, there will be money for extra teachers and substitute teachers in the event that schools need to cover sickness or absences.  
Opposition parties have been very critical of what they say has been a lack of clarity on the detail.
Both Sinn Féin and Labour today called for more long term plans in education; both say now is the time to try to reduce class sizes. 
The Government hopes this plan will be easy to navigate for schools.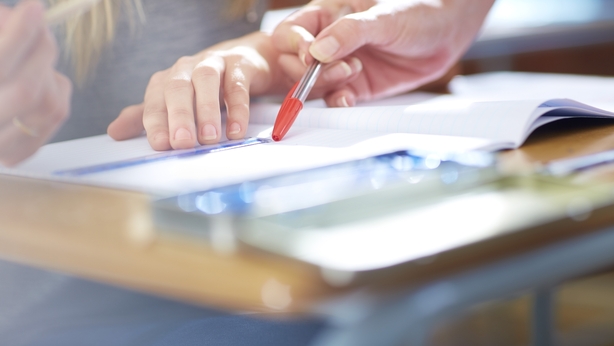 Later in the summer, it will launch an advertising campaign for parents and children using social media, along with TV and radio adverts to explain how schools will operate when they reopen.  
Earlier today, Tánaiste Leo Varadkar said the Government's plan to reopen schools next month involves a range of measures, including investment in changes to school buildings, more teachers, and strict cleaning regimes.
Speaking on RTÉ's The Week In Politics, Mr Varadkar said the plan was "very good" and ready to go to cabinet tomorrow.
The government's plan to reopen schools next month will involve a range of measures including investment in changes to school buildings, more teachers and strict cleaning regimes. pic.twitter.com/w7O4buccPv

— RTÉ News (@rtenews) July 26, 2020
He said it will also address the concerns of children and teachers who are considered vulnerable.
"A lot of work has gone into it and there has been a lot of consultations with unions," he said.
He is confident it will go through Cabinet and allow schools to reopen for all children, "all one million of them" by the end of next month.
Sinn Féin's Finance spokesperson Pearse Doherty, also speaking on The Week in Politics, criticised the Government, saying they have let their plan for reopening schools go "right down to the wire".
He added: "We need to get this right."
SF Deputy Party Leader @PearseDoherty talks about the plan to reopen schools. He says "we need this plan to work. They have cut it right down to the wire now so there is very little wiggle room". #rtetwip pic.twitter.com/4s6ph3pS5l

— The Week in Politics (@rtetwip) July 26, 2020
In other business for Cabinet, the Minister for Housing Darragh O'Brien will bring a memo about the Land Development Agency.
There was a promise to put the LDA on a statutory footing in the Programme for Government. That would see the LDA given more powers in terms of State lands being offered for sale and compulsory purchase orders.