The Green Party has re-elected Eamon Ryan as its leader.
However, the vote was tight with Mr Ryan winning 994 votes against Catherine Martin's 946.
Mr Ryan said: "It is a really close result. The numbers could have gone either way."
Green Party leader Eamon Ryan says he is glad to be re-elected as leader, and to have run a civil contest with Catherine Martin. He adds that the job ahead of the party is not impossible, but is difficult | More: https://t.co/JFF4aSB3nS pic.twitter.com/5muXRd53xa

— RTÉ News (@rtenews) July 23, 2020
He added: "I'm committed to help this party and our country and our people through this remarkably challenging period."
Ms Martin said she knew Mr Ryan would work to unite the party as it goes forward and "heal the divisions" that have been caused in recent months.
Green Party Deputy Leader Catherine Martin thanks those who voted for her and canvassed on her behalf. She says although she and her team were not successful, they ran a great campaign and "initiated an important conversation" | More: https://t.co/JFF4aSB3nS pic.twitter.com/0PFUFZlo5x

— RTÉ News (@rtenews) July 23, 2020
Ballots from 1,950 members were received by yesterday evening's deadline and votes were counted today.
Almost 3,000 ballots had been sent to members here and in Northern Ireland.
Green Party Deputy Leader Catherine Martin says it is now an "important and testing time" for the party. She says the most important thing the party can do now is stay united | More: https://t.co/JFF4aSB3nS pic.twitter.com/c5diJuYTpy

— RTÉ News (@rtenews) July 23, 2020
A total of 2,923 ballots were sent out, and there was a turnout of 66.7%, with 1,950 ballots returned. There were ten spoiled votes.
Ms Martin got 946 votes, while Mr Ryan got 994 votes, a margin of victory of 48 votes.
Both Mr Ryan and Ms Martin took part in a series of online hustings over the past few weeks, where members around the country asked questions via videolink.
Mr Ryan has been the party leader for nine years and he said he had the experience to continue being leader.
Challenging him, Ms Martin said it was good to bring fresh eyes to the leadership and to encourage people to step up.
The leadership contest was seen as controversial when it was announced during the Government formation talks in June.
However, the party said that it was holding it because of its rules, which say any leadership contest must be held within six months of a general election.
Ms Martin said that now it is time to move on after a difficult time for the party.
She said the party should examine why they are losing members, adding that there may be a need to reform the party and show that all members are valued.
Ms Martin called on members who may be thinking about leaving the party to stay with them.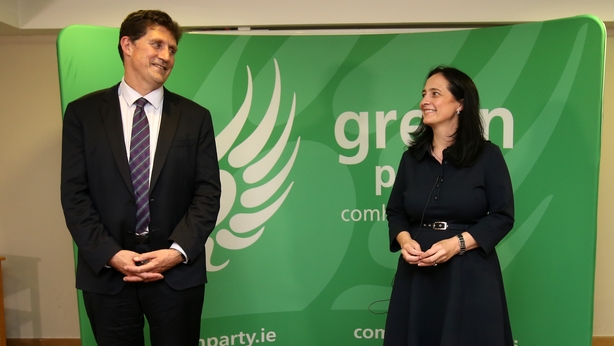 Mr Ryan was first elected in 2002 and served as minster for communications, energy and natural resources in the Fianna Fáil-led government of 2007.
He sat around the cabinet as that administration grappled with the economic collapse and the arrival of the IMF.
He lost his seat in the Green wipeout of 2011 and had the unenviable task of taking over the leadership of the party.
The rebuilding had to be done with limited funding and support.
But in 2020, he led the party to its best-ever electoral success gaining 12 seats.
He was seen as an early proponent of entering talks with Fianna Fáil and Fine Gael on putting together a coalition.
The resounding 76% support for the programme for government was also seen as an endorsement of his leadership.
He became Minister for Climate Action, Communications Networks and Transport in the new Government.
During the leadership campaign, he had the backing of the majority of the parliamentary party, but he was also seen as making a few gaffes during the past month.