For the first time in decades, GAA has returned to east Belfast. The unionist area's newest team made its debut last night against St Micheal's GAC in Magheralin, Co Down.
East Belfast GAA had around 130 players to select its 15 man team from, of varying levels of skill.
One of the players who started had never been part of a GAA club before.
The first half was going well, but then "not so much", according to club co-founder David McGreevy.
"That's just how it happens, you know. Things just don't click straightaway. There's talent in there, and you know, you're trying to get together," he said.
They lost the game but enjoyed the challenge.
And their opponents presented them with a plaque to welcome them to the Down Senior County League.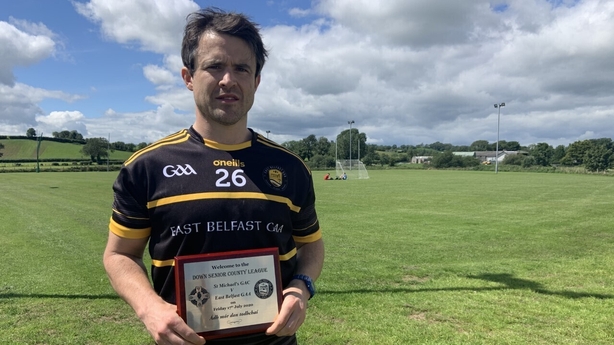 East Belfast GAA only formed in May. The club is now fielding senior teams in hurling and camogie, and men and women's Gaelic football.
Its keen to attract members from all communities.
The club's colours are neutral yellow and black and its crest seeks to represent all.
It features the red hand, shamrock, thistle and the area's iconic Harland and Wolff cranes, along with the club motto "together" in English, Irish and Ulster Scots.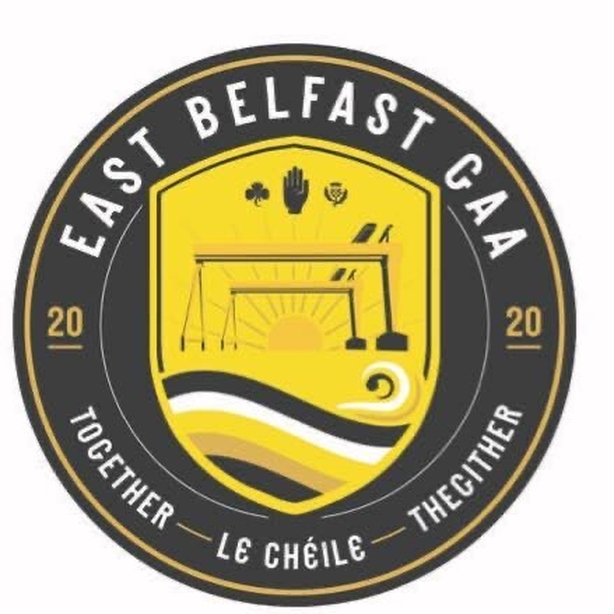 East Belfast GAA is the brainchild of Mr McGreevy and his friend Richard Maguire. They came up with the idea after discussing how there was no GAA club in East Belfast.
It all began with a tweet at the end of May.
A new GAA club for East Belfast, if you're interested in playing, coaching or admin (More than likely all 3!) All ages, genders and backgrounds welcome. Please email EastBelfastGAA@gmail.com to register

— EastBelfastGAA (@EastBelfastGAA) May 31, 2020
Mr McGreevy said: "I just sent the tweet out and it exploded. We were just expecting really to get together an under-12s boys' team out there then for next season. You know hopefully we got the numbers, but yeah we got more than that!"
He said he's not thinking about any negativity the club might receive.
"We're just about sport. And bringing people together. Dialogue is important but that's all we really are is a sport bringing people together," said Mr McGreevy.
The club's new president is Irish language enthusiast Linda Irvine, who is from a unionist background in East Belfast.
"I was a wee bit worried about some people's reaction but then you know, if you didn't challenge things, nothing would ever change," she said
The ladies' football team is in action today against Saval GAC in Newry.
As the club still only has one kit, Mr McGreevy had to wash the jerseys after the men's game last night and hand them out to the ladies' team today.
Tonight, he will have to wash them again ahead of a reserves match tomorrow.
Structural Engineer Fionnuala Boyle is a half forward on the team.
Originally from Derry and now living in East Belfast, she said the excitement is high among the players.
"The boys have set the bar very high last night for the first game and we just can't wait to get out there and have some fun."
"We've only been playing together for 3 weeks at training, so obviously we're still finding our feet a bit. But its great and we can't wait to get out tonight," she said.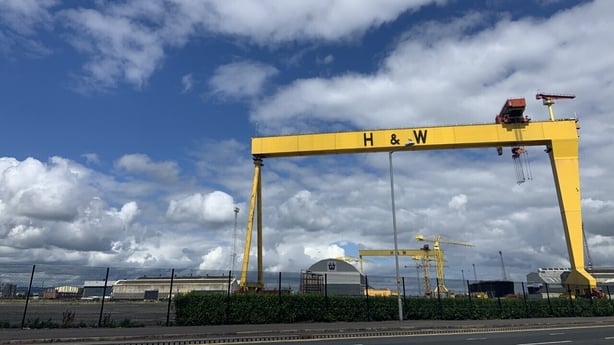 Ms Boyle thinks it's great for the city and to see it's finally moving forward.
"We've got a lot of girls from different backgrounds and different communities in the team that I know that I'd be quite friendly with. So it's great to see, and you also have a lot of girls from different sports.
A lot of girls might have been playing rugby, or even soccer and they've come to join in. It's great, everyone brings something different to the team," she said.
Ms Boyle said they "did some snooping on Facebook" to check out their opponents' Saval GAC.
"They seem to be quite good, they've won quite a few cups. So here's hoping we can hang in there and keep it together and do East Belfast proud," she said.