Less than 20 countries are expected to be on the so-called 'Green List' of destinations considered safe to travel to.
The list is due to be published on Monday and updated on a fortnightly basis.
Anyone arriving to Ireland from a Green List country will not be required to restrict their movements for 14 days. Those arriving from non-Green List countries will still be expected to restrict their movements.
Earlier, the Minister for Foreign Affairs said that the United States will not be on the Green List, and Britain is also unlikely to make the list.
Speaking on Newstalk's Pat Kenny Show, Simon Coveney also said the list of countries will "not be particularly long".
Mr Coveney said the list was not compiled based on politics, but on the "epidemiological data and numbers".
He said countries that are included in the list "represent no higher risk than Ireland represents".
"So in other words, travelling to one of these countries wouldn't be any different than travelling to Kerry, Connemara or Donegal," he said.
The minister said there is "no question" that the US will not be on the list, and added that it is "very unlikely" that Britain will make the cut either.
It's "really unfortunate", he said, because of the integration between Ireland's economy and the US and UK.
He said the number of people arriving to Ireland from the US at the moment is "down between 96 and 98%" and that most of those are "Irish people coming home".
Mr Coveney added that they are looking at increasing safety measures in airports, including having testing available there.
Speaking on RTÉ's Six One News, Mr Coveney said that the Government will be proceeding with caution on the opening up of international travel.
He also said that it would be unhelpful at this time to name what countries may be on the Green List.
The minister said that the Cabinet will be meeting on Monday and will make a decision based on the advice from NPHET, as well as EU Public experts to make a responsible decision on the make-up of the list.
He said the Government must consider that not all countries have similar risk levels and it will be applying a data-based approach when making decisions.
However, he said international travel does represent a very significant risk of reintroducing Covid-19 back into Ireland, and the Government would not be rushing into making a decision.
Mr Coveney said the criteria used by the EU on travel to countries outside the bloc is based on the number of cases per 100,000 of population over the previous 14 days.
He said the Government will be taking the same approach but will applying a much more conservative approach in relation to the actual number for a Green List in an Irish perspective.
The Department of Health has confirmed that there have been three further deaths from coronavirus, bringing the total number of deaths here to 1,752.
It also said that there were 34 confirmed additional cases of Covid-19, bringing the total number of confirmed cases in Ireland to 25,730.
---
Latest coronavirus stories
Leaving Certificate results to be published 7 September
---
Meanwhile, Minister for Justice Helen McEntee has said gardaí will only be called in as a last resort, in cases where people are not complying with wearing face masks.
The Government announced this week that face coverings must now be worn in all shops, retail settings and shopping centres.
The Government said the strong advice is for people to start obeying the guidance immediately but regulations will take some time to draft.
Ms McEntee said she spoke to Garda Commissioner Drew Harris this morning about compliance with wearing face masks on public transport.
She said, but for a few incidents, gardaí have not had to be called because people have been generally compliant.
Minister McEntee is also appealing to people to be responsible this weekend and is urging them to think of others if they are organising get-togethers.
She said house parties are not a new phenomenon and she urged people to adhere to the guidelines if they are socialising this weekend.
Gardaí have powers to enforce the regulations and public order offences, she said, however she added that the vast majority of people are adhering to the guidelines.
The minister would not be drawn on what countries will be on the 'Green List' of safe-travel countries.
She said there will be no certainty about what countries will be on the list until it is published on Monday, saying "it's being worked on".
Minister McEntee said the guidance remains the same, that people should not travel unless they have to.
Warning of possible step back to Phase 2 if Covid-19 case rise
If we get to more than 100 cases of Covid-19 per day, we "would be looking at perhaps taking a step backwards into Phase 2" of restrictions, according to the Consultant Virologist and Laboratory Director, at the National Virus Reference Lab.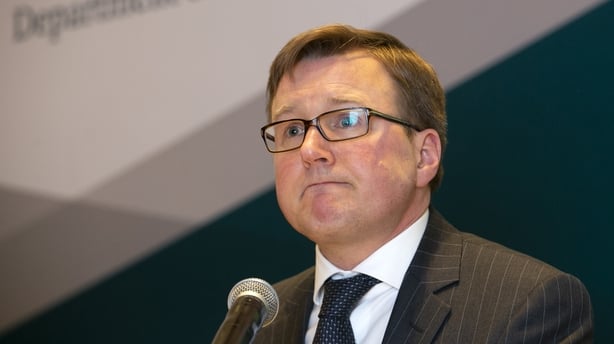 Speaking on RTÉ's Today with Sarah McInerney, Cillian De Gascun said: "If there's widespread community transmission of the virus, then it will get into schools, into residential care facilities, and into nursing homes - but if we can stamp it out in the community, that's how we protect everybody."
Dr De Gascun said they have a "very good handle" on where infections are occurring and cases are "not popping up unpredictably" around the country.
He said people can have an effect on what happens in two or three weeks from now. "We have controlled this already," he said.
Dr De Gascun stands by the decision to close schools in March, saying it was "effective".
He said as other countries reopen their schools they have not seen significant issues, with the exception of Israel. But he said we have to stop looking at particular sectors at risk and look at all areas of society to best protect everyone from this virus. 
"We have to stop looking at different pockets of society and saying how do we protect that pocket.
"Basically, the way we protect all pockets of society is by reducing community transmission. If there is widespread community transmission it will get into schools and nursing homes. If we can stamp it out in the community that's how we protect everybody."
In relation to the number of visitors to households, he said they changed their guidance earlier in the week as houses are "an uncontrolled setting and physical distancing tends to go out the window".
The World Health Organization says data to date suggests 80% of Covid-19 infections are mild or asymptomatic, 15% are severe infection, requiring oxygen and 5% are critical, requiring ventilation.
Generally, you need to be 15 minutes or more in the vicinity of an infected person and within two metres of them, to be considered at-risk, or a close contact.