More than 125 million people in India were put under a new lockdown today, as international dignitaries gathered in Spain to honour coronavirus victims while infections surged across the world.
Governments in many countries have been forced to reimpose restrictions as Covid-19 refuses to fade, having officially infected over 13 million people, killed more than 584,000 and crippled the global economy since it emerged late last year.
The virus has been running rampant through the United States and Latin America, and the Red Cross has warned that South Asia is fast becoming the next epicentre.
"While the world's attention has been focused on the unfolding crisis in the United States and South America, a concurrent human tragedy is fast emerging in South Asia," said John Fleming, Asia-Pacific head of health for the organisation.
After India registered more than 600 deaths in a single day, the 125 million people in impoverished Bihar state, neighbouring Nepal, started a new 15-day lockdown today.
'Symbolically saying goodbye'
Badly-hit Spain honoured its more than 28,000 virus dead at a solemn state ceremony joined by bereaved families and top EU and World Health Organization figures today.
The memorial, held barely three weeks since Spain ended its state of emergency, comes as the country fights more than 120 active outbreaks.
"Today, we are symbolically saying goodbye to mothers, fathers, children, siblings, friends," Hernando Calleja, who lost his brother in April, said at the ceremony.
Spain's King Felipe VI said that "this act cannot heal the pain felt by so many families at not being at the side of their loved ones in their final hours.
"But what it can do is pay tribute to their lives, to their contribution to our society, to their memories."
Elsewhere in Europe, Germany was preparing plans for tougher, more localised lockdowns to contain fresh outbreaks.
Meanwhile, France will make it compulsory to wear a face covering indoors in public places from next week, the government has said as the country reported an uptick in new coronavirus cases.
Wearing face coverings on public transport has already been compulsory, coverings will become compulsory in all indoor places frequented by the public, Prime Minister Jean Castex said in the Senate.
It comes as IMF chief Kristalina Georgieva said despite some signs of recovery, the global economy faces continued challenges, including the possibility of a second wave of Covid-19, and governments should keep their support programs in place.
Activity "has started to gradually strengthen ... But we are not out of the woods yet", Ms Georgieva said in a message to G20 finance ministers ahead of their weekend meeting in Saudi Arabia.
The Washington-based crisis lender late last month downgraded its growth forecasts.
It now expects global GDP to fall by 4.9% this year due to the deeper contraction during lockdowns than previously anticipated, and only a "tepid recovery is expected for next year".
The $11 trillion in stimulus provided by the G20 nations helped to prevent a worse outcome, but "these safety nets must be maintained as needed and, in some cases, expanded", Ms Georgieva urged in a blog post.
She highlighted measures including paid sick leave for low-income families and access to health care and unemployment insurance.
But the recovery faces risks, she said, including the possibility of "a second major global wave of the disease could lead to further disruptions".
While she acknowledged that the "substantial and rising debt levels are a serious concern," Ms Georgieva said "at this stage in the crisis, however, the costs of premature withdrawal are greater than continued support where it is needed".
Many countries have moved to reopen, so, "clearly, we have entered a new phase of the crisis," she said in a blog post, adding it will require "further policy agility and action to secure a durable and shared recovery".
Many jobs that have been lost amid the pandemic may never come back, so workers will need support and training to move into new sectors.
"The bottom line is that the pandemic is likely to increase poverty and inequality", she said, but noted that policymakers have "a once-in-a-century shot" at building a better, greener and more equitable world.
Florida faces mounting medical pressure as Covid-19 patients surge
In the United States, Florida is facing increasing pressure as the number of Covid-19 patients keeps booming.
The number of coronavirus cases in the US surpassed 3.47 million yesterday, reaching 3,478,017, according to the Center for Systems Science and Engineering (CSSE) at Johns Hopkins University.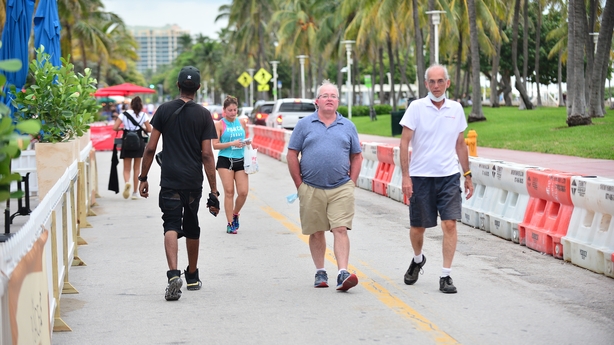 The national death toll from the disease rose to 137,106, according to the CSSE. The country saw 71,072 new cases and 862 new deaths in the past 24 hours, data showed.
Due to the increasing number of patients that have been hospitalised, the data released by the health authorities of Florida yesterday show that the state is facing a shortage of hospital beds and continuous pressure on its medical system.
According to the data, there were no ICU beds available in at least 54 hospitals and only 10% of ICU beds are available in 40 hospitals.
Data of Miami-Dade County show that as of Tuesday, 31% of its residents had been infected with the disease and in the past two weeks, local medical institutions faced increasing pressure from Covid-19 patients.
Following Starbucks and Costco, the world's biggest retailer Walmart yesterday issued a statement on social media, asking its consumers to begin wearing masks from 20 July.
Walmart's CEO said wearing face coverings is a simple procedure to ensure the safety of production and service.
The US Department of Health and Human Services on Tuesday confirmed that from yesterday on, all the hospitals in the country are required to submit the information about the Covid-19 patients to the department, bypassing the US Centers for Disease Control and Prevention (CDC).
The hospitals used to report the information to the CDC's National Healthcare Safety Network, the nation's most widely used healthcare-associated infection tracking system.
The move sparked public concerns.
Yesterday, CNN reported that the move will reduce the transparency of the information to the public and harm the credibility of the data due to political interference.
The New York Times also reported on the same day that if relevant information about patients and ICU beds was no longer available, it would greatly affect medical researchers and health officials to make correct forecast and key decisions.
Australia announces scheme to retrain workers
Elsewhere, Australia announced a A$2bn (€1.22bn) to retrain workers impacted by the coronavirus fallout, as unemployment rose to its highest level in more than two decades.
Prime Minister Scott Morrison said the new funding would create more than 300,000 places in training programmes that aimed to funnel graduates and the newly jobless into "growth" sectors.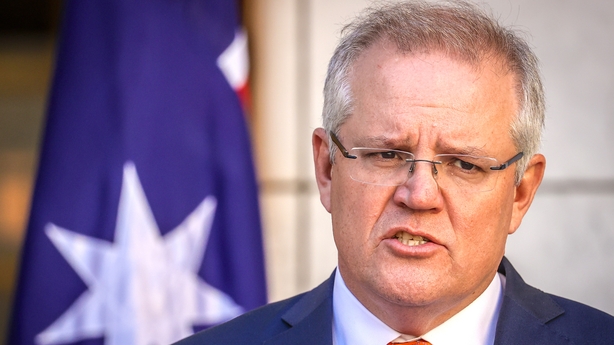 The unemployment rate rose from 7.1% to 7.4% in June, according to the Australian Bureau of Statistics, bringing the jobless total to almost one million in a country of 25 million.
It is the country's highest unemployment rate since 1998 and comes as Australia heads into its first recession in nearly 30 years.
The conservative government has spent billions on propping up the economy since a nationwide shutdown that began in March, including wage subsidies for worst-hit businesses and boosting support for welfare recipients.
With those subsidies due to expire in September, today's announcement was an early indication of how Mr Morrison plans to follow them up.
Mr Morrison said the Australian economy was "fighting back", with most of the country easing restrictions in recent weeks since curbing the virus spread.
But a growing outbreak in Melbourne is casting a pall over economic recovery hopes, with a fresh lockdown imposed on Australia's second-biggest city last week expected to cost the economy Aus$6bn.
Mr Morrison acknowledged a record 317 cases detected in Victoria state over the previous 24 hours was "a big setback", saying he expected July's unemployment figures to be impacted as a result.
Today's new cases pushed the national daily total to its highest level since late March, as the outbreak continues to frustrate Australia's early success in suppressing Covid-19.
Seven coronavirus patients have died since Friday, bringing Australia's total fatalities to 113, out of nearly 11,000 infections.
Health officials are now focused on restricting the virus to Victoria, which has been effectively sealed off from the rest of the country.
A cluster centred on a popular pub in Sydney has been traced back to a man visiting from Melbourne, raising concerns it is already spreading.
Japan's domestic tourism campaign faces scrutiny as coronavirus spikes in Tokyo

A multi-billion dollar Japanese campaign to boost domestic tourism faced scrutiny with the economy minister due to meet experts as critics worried that encouraging people to travel out of Tokyo risks spreading the coronavirus.
The concerns in Japan highlight a conundrum facing countries around the world over how to balance reviving economies battered by the coronavirus while safeguarding public health.
Economy Minister Yasutoshi Nishimura is due to meet experts to discuss the government's "Go To" campaign to promote domestic tourism, a day after Tokyo Governor Yuriko Koike questioned its timing and methods.
Japan has not seen the kind of explosive spread of the coronavirus that has killed tens of thousands in other countries. But new cases, in Tokyo in particular, have stoked alarm, with the city raising its coronavirus alert to the highest level.
Governor Koike said the capital was likely to see coronavirus cases top 280 today, in what would mark a record daily high for the city.
More than 13.59 million people have been reported to be infected by the novel coronavirus globally and 583,005 have died, according to a Reuters tally.
Infections have been reported in more than 210 countries and territories since the first cases were identified in China in December 2019.