The Minister for Children has announced Cabinet approval for parents of children born during the pandemic to take an additional three weeks of parents leave.
Speaking at a post-Cabinet briefing, Roderic O'Gorman said the move recognised the difficulties experienced by parents - specifically those of children born after 1 November 2019 - during the Covid-19 crisis.
Mr O'Gorman said the Government has also proposed to examine in the context of Budget 2021 an extension of parents leave which would see each parent receiving an additional three weeks.
He said the leave would be paid at the rate of €245 a week for the additional three weeks.
The National Women's Council of Ireland (NWCI) said the increase of paid parent's leave from two to five weeks falls far short of the needs of mothers who were on maternity leave during lockdown.
Orla O'Connor, director of the NWCI said: "Increasing paid leave is in itself a welcome measure and also welcome is the fact that all parents are eligible.
"However, this announcement was expected to be made in the forthcoming Budget, and was reiterated as a Programme for Government commitment.
"The leave announced today does not come into effect until November 2020 and therefore will not retain links between women and the workplace," she added.
"In many cases, women gave birth without a partner or loved one present, and faced into motherhood without family or professional support. They also could not access the many support groups that provide critical support when becoming a new mum.
"This is why extending maternity benefit was so critical for new mothers and this measure does not go far enough to meet the needs that new mothers have raised with NWCI since the start of the Covid crisis."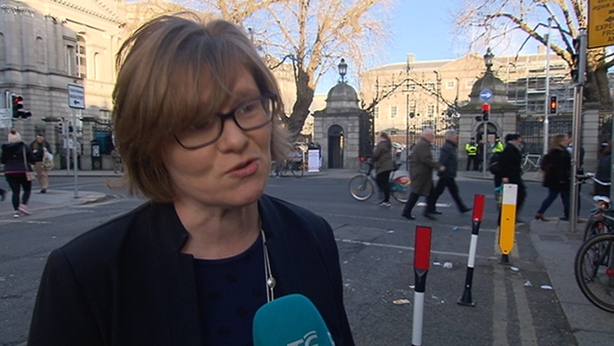 Earlier, the Director of the Child Care Law Reporting Project urged all policymakers - particularly at Government - level to "make children a priority in any decisions that are made" during the Covid-19 pandemic.
Dr Carol Coulter told RTÉ's Morning Ireland that "obviously going back to school is very, very important because teachers are a crucial contact for children".
She said: "Children who might be in very unhappy or stressed situations desperately need the contact with other children and with teachers and with other adults that were very, very difficult during the pandemic."
Dr Coulter said as soon as the pandemic emerged Tusla, the child and family agency, deserved credit for setting up emergency measures to try to ensure there was no undue interruption in services to children.
She said they set up an emergency fostering panel and try to ensure that food parcels were delivered to children at risk, but she said "with the best will in the world, not everything could be sorted, that needed to be sorted".
Dr Coulter said Covid-19 has continued to pose problems for children in care, for those who are not yet in care and for those who are attempting to achieve re-unification with their families.
---
What is the difference between parental leave and parent's leave?
Parental leave entitles parents to take unpaid leave from work to spend time looking after their children. Currently both parents can take up to 22 weeks parental leave and from 1 September 2020, this will increase to 26 weeks.
Parent's leave is specifically for parents during the child's first year.
---