Garda representatives have warned that laws requiring face coverings to be worn on public transport will be unworkable unless transport staff are willing to be involved.
The Association of Garda Sergeants and Inspectors (AGSI) have warned that gardaí have no power to act unless brought in by transport staff.
The new regulations provide for fines of up to €2,500 and six months imprisonment for not wearing a face covering on trains, trams and buses when the case is brought to court by gardaí.
However, AGSI General Secretary Antoinette Cunningham warned that garda officers can only become involved if transport staff take action "in the first instance".
The laws allow transport staff to stop a person boarding or ask them to get off for not wearing a mask and it is only if the person refuses to comply that gardaí can be called in.
"If transport staff refuse to become involved in enforcing these regulations it will have to go back to the legislator because the way they are currently written they do not allow a garda to become involved at the first stage of enforcement" said Ms Cunningham.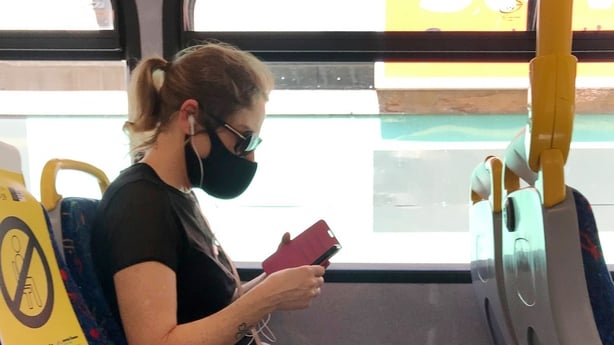 Transport Minister Eamon Ryan said he wanted to thank passengers who had complied with the regulations.
"This a very simple measure that will save lines.," he told RTÉ's Drivetime.
Asked about enforcement of the law, he said ultimately the Garda have those powers of enforcement but that "has to involve the help of other parties, including those working in transport."
He said if drivers could report someone not wearing a face covering to the control centre, then it would help the problem to be addressed. "We are not going to arrest someone immediately for not wearing a mask."
Public transport companies are reporting a high compliance rate for the new face covering regulations that came into effect today.
Asked was he hoping that the threat of fines or imprisonment was enough, Mr Ryan said enforcement " would be rolled in" if needed.
"There will be mechanisms where the drivers will be able to report problems without putting the driver in any undue difficulty or danger. We are still working on this."
The issue of whether or not we have a separate transport police would take a huge amount of time, the Minister said. "This whole process has been designed to come into operation quickly."
Passengers arriving at Heuston Station in Dublin were around 95% compliant, according to Irish Rail staff.
Transdev estimated that up to 80% of Luas passengers were wearing masks.
Compliance rate on Dublin Bus ranged from 80-90%, while Go Ahead reported the same on its commuter services but its city services ranged between 60-70%.
Passengers boarding InterCity trains were being asked to put on masks and referred to vending machine machines if they did not have any.
The regulations make the wearing of face coverings on public transport compulsory.
However, unions representing transport workers have expressed concern about how the regulations will be policed.
John Murphy of SIPTU said his members do not have the expertise to be involved in enforcement which should be done by gardaí.
Meanwhile, Dermot O'Leary of the National Bus and Rail Union said his members will not become involved in potential confrontation.
The regulations come into force as concern grows about the rise in new cases of Covid-19, particularly among young people.
Passengers must wear face coverings on public transport from today or face fines or a prison sentence. Transport companies say there has been a high compliance rate, but unions have raised concerns over the policing of the new Covid-19 measures. | Read: https://t.co/s16cKvQALY pic.twitter.com/3R7yhrkgE2

— RTÉ News (@rtenews) July 13, 2020
---
Read more:
Latest coronavirus stories
---
Sixty-five new cases of Covid-19 have been confirmed in the past 72 hours.
Acting Chief Medical Officer Dr Ronan Glynn warned that the virus is still in people and needs only the smallest window of opportunity to become a major problem once again.
Meanwhile, a new survey on behalf of the Irish Pharmaceutical Healthcare Association, has found that 72% of people would be likely to get a Covid-19 vaccine if one was found.
But most people do not expect one to be available until next year or 2022.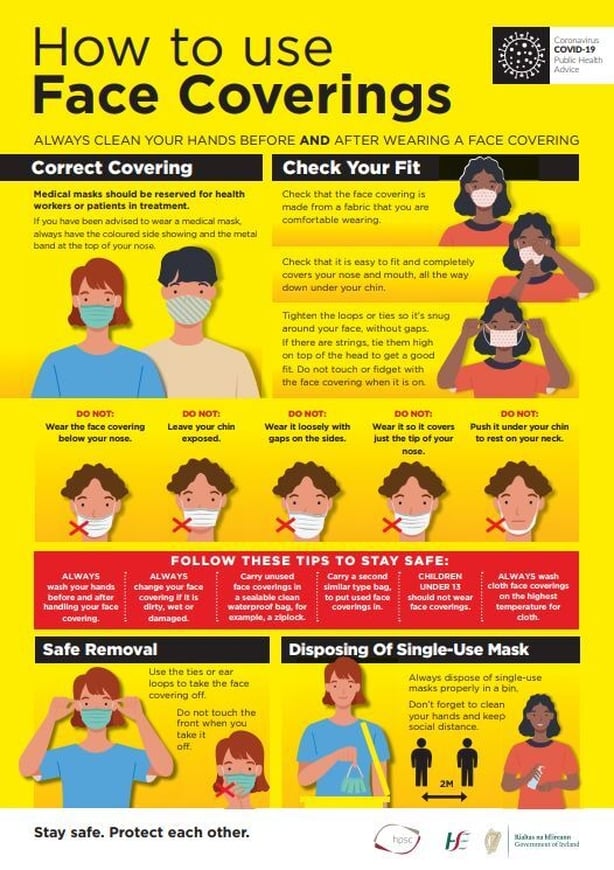 For the second day in a row, the Department of Health has reported no further deaths of people who had previously been diagnosed with Covid-19. The overall death toll remains at 1,746.
The department also said there was an additional 11 confirmed cases of the coronavirus, bringing the overall total number of cases here to 25,638.
The World Health Organization says data to date suggests 80% of Covid-19 infections are mild or asymptomatic, 15% are severe infection, requiring oxygen and 5% are critical, requiring ventilation.
Generally, you need to be 15 minutes or more in the vicinity of an infected person and within two metres of them, to be considered at-risk, or a close contact.
Additional reporting Orla O'Donnell