The World Health Organization has reported a record increase in global coronavirus cases, with the total rising by 230,370 in 24 hours.
The previous WHO record for new cases was 228,102 on 10 July.
Deaths remained steady at about 5,000 a day.
The number of total global confirmed cases is nearing 13 million, according to a Reuters tally, marking another milestone in the spread of the disease that has killed more than 565,000 people in seven months.
The biggest increases were from the United States, Brazil, India and South Africa, according to its daily report.
The US state of Florida reported a record increase of more than 15,000 new cases.
If Florida were a country, it would rank fourth in the world for the most new cases in a day behind the US, Brazil and India, according to a Reuters analysis.
Florida's daily increases in cases have already surpassed the highest daily tally reported by any European country during the height of the pandemic there. It has also broken New York state's record of 12,847 new cases on 10 April when it was the epicentre of the US outbreak.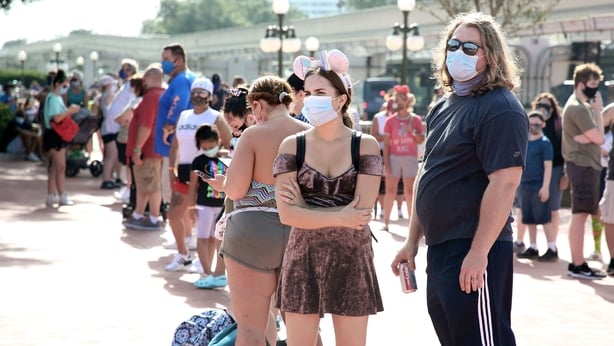 Anti-mask activists in several states, including Florida and Michigan, have organised protests against local mandates, arguing that the measures infringe upon individual freedom.
Coronavirus infections are rising in about 40 US states. Nationally, the United States has broken global records by registering about 60,000 new cases a day for the last four days in a row.
Hospitalisations and positive test rates are also rising in Arizona, California, Florida and Texas.
---
Read more:
Latest coronavirus stories
---
In Europe, Hungary's government has said it is barring travel from South America, Africa, most of Asia, and restricting entry from several European countries.
Prime Minister Viktor Orban's Chief of Staff Gergely Gulyas said that Hungarian health officials have placed 154 countries into three risk categories based on numbers of coronavirus infections.
Entry into Hungary would be barred for citizens from countries assessed as "red" from Tuesday midnight, including all African, South American and Asian countries apart from China and Japan.
European countries in the red zone are Albania, Bosnia-Herzegovina, North Macedonia, Kosovo, Belarus, Montenegro, as well as Hungary's neighbour Ukraine.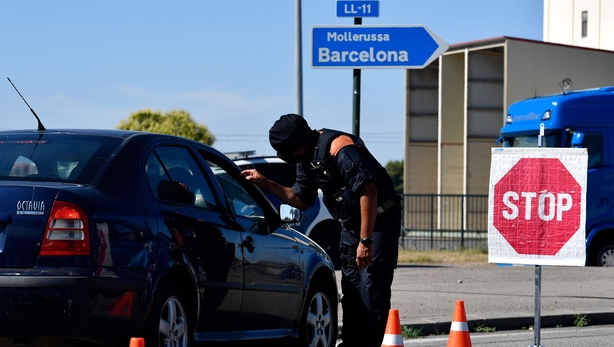 Citizens from countries in a "yellow" category - including the US, UK, Norway, Serbia, Russia, China and Japan - will have to enter two-week quarantine unless they have tested negative for the virus within five days. Four of Hungary's fellow EU members - Bulgaria, Portugal, Sweden, and neighbouring Romania - will also face the same restrictions.
Countries in the "green" category can continue to enter without restrictions.
Meanwhile, the government of Spain's Catalonia region has ordered residents in and around the northeastern town of Lerida to go back into home confinement as cases of coronavirus spiked.
"The people must stay at home," regional health official Alba Verges told a news conference.
The area, with a population of more than 200,000, was already ordered isolated from the rest of the region last weekend.
It marks the first time that Spaniards have been confined to their homes since the hard-hit country exited confinement on 21 June.