DUP leader and Northern Ireland First Minister Arlene Foster has condemned the actions of people who lit bonfires amid coronavirus restrictions in Belfast last night, some of them displaying sectarian messages.
Ms Foster said despite the "exemplary" leadership shown by the marching institutions who told their people to stay at home and mark Twelfth of July celebrations in a way that would not cause damage to people, some did not take that course of action.
Speaking on the BBC's Sunday Politics programme, Ms Foster said those people need to take a look at themselves and ask what type of Northern Ireland they want to live in.
"Do they want to live in a Northern Ireland where everyone is allowed to proudly celebrate their culture and identity? Or do they want to live in a split Northern Ireland?
"I know certainly the one I want to live in. It is one where we can all proudly celebrate but do so in a way that is not offensive and not sectarian."
She said ahead of the Twelfth of July celebrations it is important to remind people why social distancing guidelines are in place.
"I know people are frustrated when they saw the scenes in west Belfast Tuesday-week ago and say if that happened there, why can't I do it."
She was referring to the large-scale republican gathering last month for the funeral of IRA veteran Bobby Storey.
Ms Foster said people should not fall below the standard requirement of the community just because others do so.
While there were fewer fires than usual, significant crowds did gather at several of the bonfires that did go ahead.
In north Belfast, there was a second night of sporadic disorder as police came under attack from petrol bombers in the nationalist New Lodge, close to a bonfire in the loyalist Tiger's Bay area.
Crowds well in excess of 30 were witnessed at a number of fires that were lit late last night.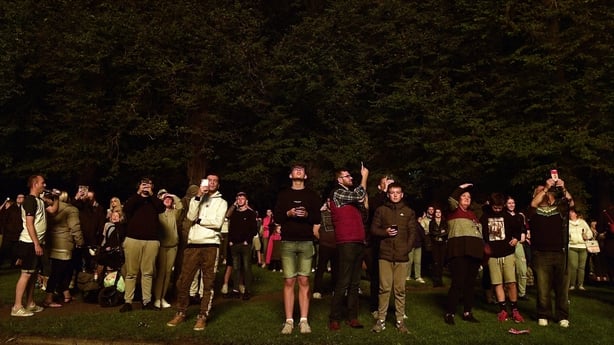 The Northern Ireland Fire Service said it responded to 24 bonfire related incidents between yesterday evening and the early hours of this morning.
It said that this represents an almost 30% decline in the number of incidents reported during the Twelfth of July celebrations last year.
It said there were no attacks on fire service personnel or fire engines during the incidents.
Many of the fires were cancelled during the Covid-19 lockdown, with a number of sites cleared of wood by the local authorities.
However, the recent easing of restrictions in Northern Ireland led to some reversing the decision to cancel.
The Orange Order has cancelled its plans for traditional 12 July parades and demonstrations, which were scheduled to take place tomorrow, 13 July, due to the fact the Twelfth falls on a Sunday.
Some loyalist bands are planning to take part in localised events tomorrow, urging people to stay in their homes while they parade past.
Meanwhile dozens of drive-in services were held by the Orange Order across Northern Ireland today in response to the the Covid-19 restrictions.
In Ballymena, Co Antrim, more than 100 cars attended one such service, ensuring socially distancing as people remained in their vehicles. 
More than 100 cars at a drive in @OrangeOrder church service in Ballymena, County Antrim this afternoon. Dozens of similar services across Northern Ireland today as part of response to Covid-19 restrictions @rtenews pic.twitter.com/ky6CwT2jBH

— Vincent Kearney (@vincekearney) July 12, 2020
'Damage' done to relationship with O'Neill
Asked about her relationship with Deputy First Minister Michelle O'Neill following the fallout of Mr Storey's funeral, Ms Foster said "damage" has been done to it and they have tried to work to deliver together coming out of lockdown.
"I think what we have now is some real challenges. It will be difficult but we have to work together as we are in a mandatory coalition," Ms Foster said.
She said it is about trying to rebuild credibility and Sinn Féin have a major role and challenge to rebuild their credibility.
Ms Foster said she is looking forward to welcoming the Taoiseach Micheál Martin to Northern Ireland this week, his first visit as leader.
She said discussions will be about mutually respecting each others' jurisdictions and looking forward to a future in a way that does not affect relationships which have come under pressure over the last couple of years.
Additional reporting: Vincent Kearney