US President Donald Trump has worn a face mask in public for the first time, yielding to intense pressure to set a public health example as the coronavirus rampages across America.
Mr Trump put on a black mask before he walked through the corridors of Walter Reed military hospital outside Washington to meet with wounded veterans, according to television news footage.
The President walked past reporters and did not stop to speak to them about what had become a hotly anticipated moment - his possible change of heart on a practice recommended by the US government's own medical experts.
"I think it's a great thing to wear a mask. I've never been against masks but I do believe they have a time and a place," Mr Trump said as he left the White House.
News reports earlier this week said aides practically begged the president to relent and wear a mask in public - and let himself be photographed wearing it - as coronavirus cases soar in some states and Democrat Joe Biden is doing better than his Republican rival in polls ahead of the November election.
Mr Trump has steadfastly defended his administration's handling of the pandemic even though the US is the hardest-hit country in the world.
The United States has suffered 134,430 deaths from 3,215,861 cases. The country has recently seen several daily increases of more than 60,000 new cases.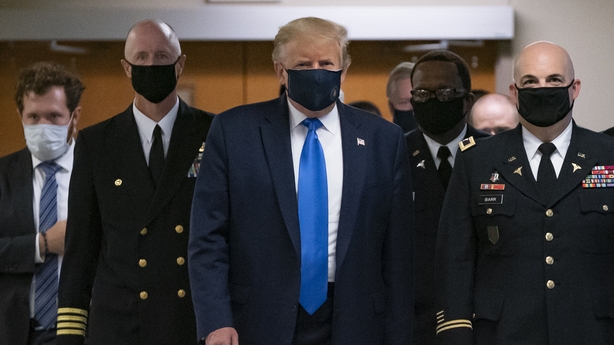 Mr Trump's first public appearance in a mask came 24 hours after British Prime Minister Boris Johnson was pictured wearing a face covering for the first time during the pandemic while visiting businesses in his Uxbridge constituency.
Mr Johnson said he wanted to be "stricter" on insisting people wear mouth and nose coverings in confined spaces where they are meeting people they do not normally see.
"We are looking at ways of making sure that people really do have face coverings in shops, for instance, where there is a risk of transmission."
Regulations to enforce the compulsory wearing of face coverings on public transport here in Ireland will come into effect from Monday.