Florida's Walt Disney World theme park has reopened in a state hard hit by the coronavirus, as the World Health Organization issued a fresh warning that countries should step up pandemic restrictions.
Hundreds of people in face masks and some in red Mickey Mouse ears queued to enter the Magic Kingdom, with social distancing and hygiene precautions in place.
Star Wars stormtroopers enforced mask-wearing and Mickey Mouse waved from a distance as Walt Disney World reopened to the public for the first time in four months.
A limited number of guests were welcomed to its sprawling Orlando complex, the most-visited theme park resort in the world.
Executives felt confident they had developed a responsible plan for reopening in phases during the pandemic, said Josh D'Amaro, chairman of Disney's parks, experiences and products division.
"This is the new world that we're operating in, and I don't see that changing anytime soon," Mr D'Amaro said after he greeted guests and workers at the park.
At the Magic Kingdom and Animal Kingdom, the two Disney parks that opened, guests and employees wore face masks, underwent temperature screenings and were told to social distance everywhere from streets to rides.
Plexiglass separated rows of queues and ground markings indicated where people should stand.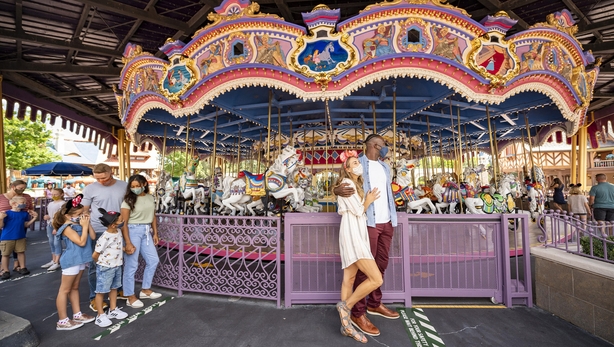 The resort suspended parades, fireworks and other activities that create crowds, as well as up-close encounters with Mickey Mouse, Cinderella and other characters. Instead, characters appeared on floats or on horseback.
The reopening came as coronavirus cases surged in Florida. Over the past two weeks, the state has reported 109,000 new cases, more than any other US state.
The WHO yesterday urged countries grappling with Covid-19 to step up control measures, saying it is still possible to rein it in, as some nations clamped fresh restrictions on citizens.
With case numbers worldwide more than doubling in the past six weeks, Uzbekistan returned to lockdown and Hong Kong said schools would close from Monday after the city recorded "exponential growth" in locally transmitted infections.
Coronavirus has killed over 560,000 people since the outbreak emerged in China last December, according to a tally from official sources compiled by AFP.
More than 12.5 million cases have been registered in 196 countries and territories, triggering massive economic damage.
WHO chief Tedros Adhanom Ghebreyesus called on countries to adopt an aggressive approach to tackling the virus, highlighting Italy, Spain, South Korea and India's biggest slum to show it was possible to stop the spread, no matter how bad the outbreak.