A ceremony marking the close ties between Ireland and France and commemorating the Flight of the Wild Geese in 1691 was marked in Limerick today.
The Flight of the Wild Geese refers to the 10,000 Jacobite soldiers and 4,000 women and children who fled to France under Patrick Sarsfield following the siege of Limerick in 1691.
Many went on to fight in French and European armies after that, and the thousands of Irish ancestors of those Wild Geese are settled across France today.
The commemoration also marks the French national Bastille Day on 14 July, the anniversary of the storming of the Bastille in 1789 a pivotal day in the French revolution.
The special ceremony marking the historic links between France and Ireland began last year with a special ceremony at King John's Castle, the site of much of the fighting during the siege of Limerick in 1691.
 
It was intended to have a three-day festival this year beginning on 12 July, and incorporating Bastille Day celebrations, but those plans had to be deferred because of the Covid-19 crisis.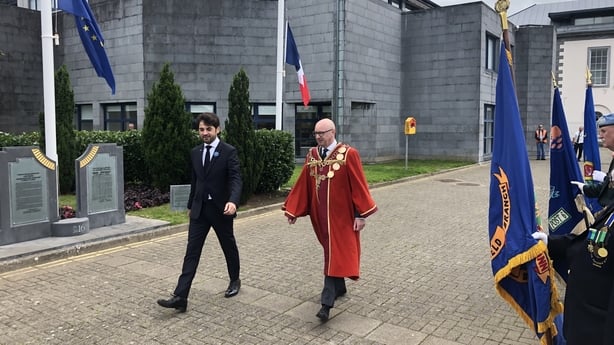 A smaller ceremony took place today in the garden of Limerick City Hall, beside the castle and looking out to the River Shannon, remembering the thousands who fled Limerick following the fierce battles of 1691.
Mayor of Limerick Cllr Michael Collins laid a wreath at the fountain of the Wild Geese in which a special bronze sculpture commemorates that time.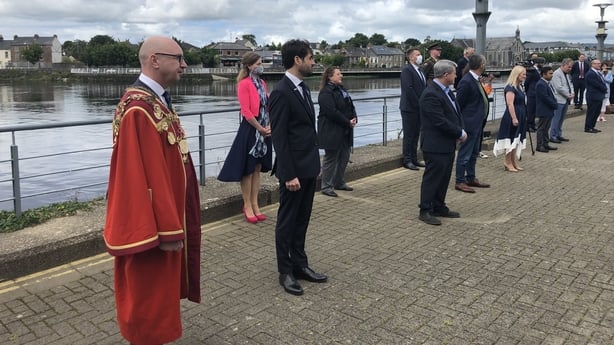 French Honorary Consul in Limerick Dr Loïc Guyon said the Flight of the Wild Geese was a cruel and sad episode in Irish and French history for the thousands who had to flee to France. 
But this ceremony marks the shared history and the close ties between the two countries and acknowledgesand  marks the Wild Geese heritage.
He said a major  three day commemoration is planned for July 2021 to celebrate the 330rd anniversary of this historic event.