Australia's second most populous city began a six-week lockdown today following a spike in new coronavirus cases, as states around the country tightened internal borders to prevent a second wave sweeping the country.
Australia has avoided the high casualty numbers of other countries to the Covid-19 pandemic, which has killed 544,055 people globally, but an outbreak in Melbourne prompted the state of Victoria to impose "self isolate" orders for the city's estimated five million.
Victoria today reported 165 new infections have been detected in the last 24 hours, an increase on the previous day's 134 cases.
Other states and territories have recorded few or zero cases in recent weeks and are continuing to reopen their economies, but Prime Minister Scott Morrison told residents not to become complacent.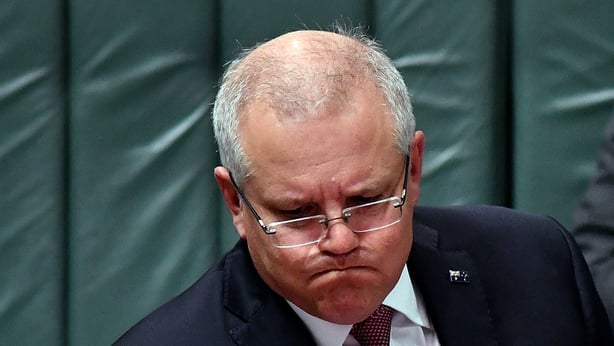 "We must continue to follow those social distancing protocols all around Australia, even in states or territories where the number of cases is effectively zero," Mr Morrison told reporters in Canberra.
The northern state of Queensland said it would ban non-residents arriving from Victoria. It will open its borders to people from other states and territories tomorrow.
Even people travelling from Victoria who were willing to pay for the mandatory 14-day hotel quarantine would be banned, the Queensland government said.
---
---
"They are making the decision that that two weeks and that cost is worth it to get out of Victoria", deputy premier Stephen Miles said in a televised news conference.
"We don't want that to continue," he added.
The country's most populous state, New South Wales (NSW), closed its heavily trafficked border to neighbouring Victoria yesterday.
South Australia also closed its border with Victoria. "We're definitely at a different stage of the pandemic," NSW Premier Gladys Berejiklian told reporters in Sydney.
The NSW authorities reported 13 new coronavirus cases in the 24 hours to this morning, of which 11 were overseas arrivals in hotel quarantine and two were members of a family who had returned from Melbourne.
NSW says anyone arriving from Victoria must self-isolate for 14 days.The island state of Tasmania kept its border closed to Victoria and extended a state of emergency to the end of August because of the Victorian outbreak.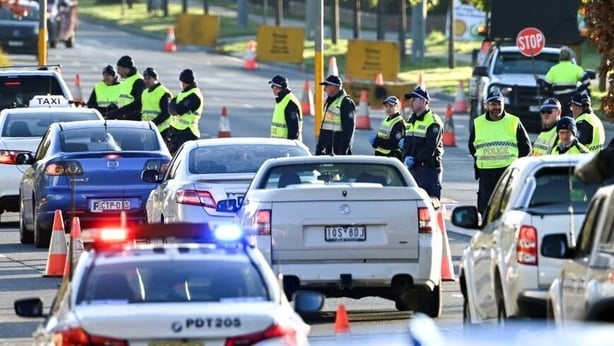 Tasmania itself has not reported a new case in nearly eight weeks. Western Australia state had closed its border to the rest of Australia indefinitely before the latest outbreak in Victoria.
After enforcing restrictions early in the coronavirus outbreak compared to most other countries, Australia had begun to ease its lockdown in May to revive its economy after a significant slow down in infection rates.
Australia has so far recorded about 8,900 infections and 106 deaths by today.
Meanwhile, the number of global coronavirus cases has risen to over 12 million.
That is three times the number of severe influenza illnesses recorded annually, according to the World Health Organization.
Covid-19 has killed more than half a million people.
The first case was reported by the WHO in early January having first been seen in Wuhan in December. It took 149 days to hit six million cases.
It has taken less than a third of that time - just 39 days - to double to 12 million cases.
Many hard-hit countries are easing lockdowns put in place to slow the spread of the virus.
Others, such as China and Australia, are implementing another round of shutdowns in response to a resurgence in infections.
The disease is spreading the fastest in Latin America - and the Americas account for more than half the world's infections and almost half its deaths.
Trump's Tusla rally linked to spike in coronavirus cases
A controversial campaign rally held by President Donald Trump in Tulsa, Oklahoma, last month likely contributed to a rise in the number of coronavirus cases there, a top local health official has said.
Tulsa has confirmed hundreds of new cases of Covid-19 over the past two days, said Dr Bruce Dart, health director for the city and county.
Asked by a reporter if Mr Trump's campaign event at the Bank of Oklahoma Center on 20 June could be responsible for that surge, he said: "In the past few days, we've had almost 500 cases. And we know we had several large events a little over two weeks ago, which is about right. So I guess we just connect the dots," Dr Dart said, apparently referring to the rally and accompanying protests.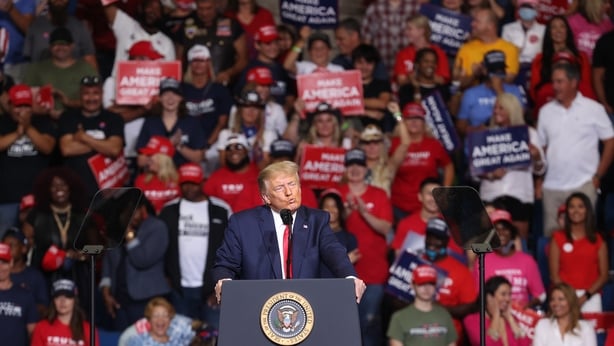 He cautioned that several more days of results would be needed to determine if the spike represented a trend.
White House spokeswoman Kayleigh McEnany said she had not seen data to support Dr Dart's conclusions.
"There were no health precautions to speak of as thousands looted, rioted and protested in the streets and the media reported that it did not lead to a rise in coronavirus cases," Mr Trump campaign spokesman Tim Murtaugh said.
"Meanwhile, the President's rally was 18 days ago, all attendees had their temperature checked, everyone was provided a mask, and there was plenty of hand sanitiser available for all. It's obvious that the media's concern about large gatherings begins and ends with Trump rallies," Mr Murtaugh said.
Hours before the rally began, Mr Trump's campaign announced six members of its advance team had tested positive for Covid-19.
The Tusla rally drew widespread attention for not imposing coronavirus restrictions, including social distancing and masks.
Masks were handed out in Tulsa but not specifically encouraged.
Mr Trump has refused to wear a mask in public or recommend that others do so, in contrast to the messaging from US health experts on the White House coronavirus task force.
The Trump campaign has planned an outdoor rally on Saturday in Portsmouth, New Hampshire.
In announcing Saturday's rally in Portsmouth, the campaign said, "There will be ample access to hand sanitiser and all attendees will be provided a face mask that they are strongly encouraged to wear."
Japan will not reintroduce state of emergency as Tokyo coronavirus cases jump
There is no need to reintroduce a state of emergency, Japan's top government spokesman said when asked about a record one-day rise in Tokyo coronavirus cases.
Chief Cabinet Secretary Yoshihide Suga told reporters that plans to further loosen rules on mass gatherings would go ahead tomorrow.
He said there were 224 new cases of coronavirus infection in Tokyo today, marking a new daily record in Japan's capital since the crisis began.
About 80% of those new cases were among people in their 30s or younger, Mr Suga said, adding that it was not possible to reduce infection risks to zero after the country's lifting of a state of emergency in May.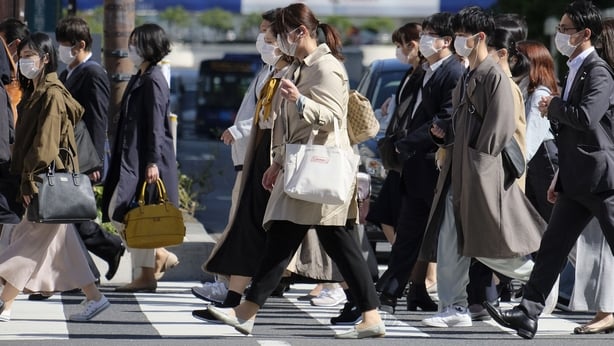 Meanwhile, the metropolitan government in Tokyo has announced plans to offer nightclubs subsidies to close as many of the new coronavirus infections in the city are linked to entertainment districts.
Under the proposals, the government will give 500,000 yen (€4,113) to nightclubs and other venues - including so-called host and hostess bars - if they close for more than 10 days.
Host and hostess bars offer guests the opportunity for flirtatious conversation with attractive companions, alongside high-priced drinks. The bars are often used by businessmen to entertain clients.
Hong Kong tightens social distancing to combat new virus outbreak
Hong Kong tightened social distancing measures today to combat a fresh coronavirus outbreak in a city that had largely managed to quash local transmissions in recent months.
Health officials have been rattled by a cluster of new infections that have suddenly spread through the tightly packed business hub of 7.5 million people.
The city recorded 34 locally transmitted coronavirus cases today, the highest daily tally in more than three months.
"Now that the pandemic is coming back, I appeal to everyone to reduce outings, gatherings and dining together," health minister Sophia Chan told reporters.
Authorities announced a reintroduction of limits to how many people can gather together, a repeat of measures taken earlier in the year that helped stifle the coronavirus outbreak.
A maximum of eight people can sit together at restaurants while bars, pubs and nightclubs are capped at four people per table.
Catering businesses can only operate at 60% of their usual capacity. Gyms and karaoke lounges must have no more than 16 people in each room or facility.
Hong Kong was one of the first places to be struck by the coronavirus earlier this year after it burst out of central China.
But authorities made impressive headway against the disease, helped by a population with previous experience of outbreaks who readily adopted facemasks and social distancing.
The city has recorded 1,365 cases of the disease since January, with seven deaths.
However the new outbreak shows the stubborn resilience of the coronavirus, even in a city with a strong record of stopping its spread.
New infection clusters started to emerge in the past two days, including at an elderly care home that reported at least 32 cases.
At least 12 new infections in the last five days have been classified as unknown in origin, meaning authorities are struggling to work out how the disease is spreading in those instances.
Last month, Hong Kong relaxed its social distancing rules to allow public gatherings of up to 50 people, reopen theme parks and scrap customer restrictions for restaurants.