A rise in the number of people seeking treatment for crack cocaine use has been described as a "worrying trend" by the Health Research Board.
According to the board's annual report, the number of people being treated for crack cocaine use increased by 44% between 2018 and last year.
The numbers being treated for cocaine overall have tripled since 2013.
HRB research officer Dr Anne Marie Carew said in general those seeking treatment for cocaine are male, 30 years of age, in paid employment and most likely to use alcohol as an additional drug.
"However, a rise in reporting of crack cocaine is a worrying trend where cases with chronic problem drug use, mix crack cocaine with opioids.
"These cases are more likely to be unemployed and homeless. It is important that this distinction is noted in order to monitor trends and tailor treatments accordingly."
The report found that there were a total of 10,664 cases of drug treatment last year, which is up 18% on 2013.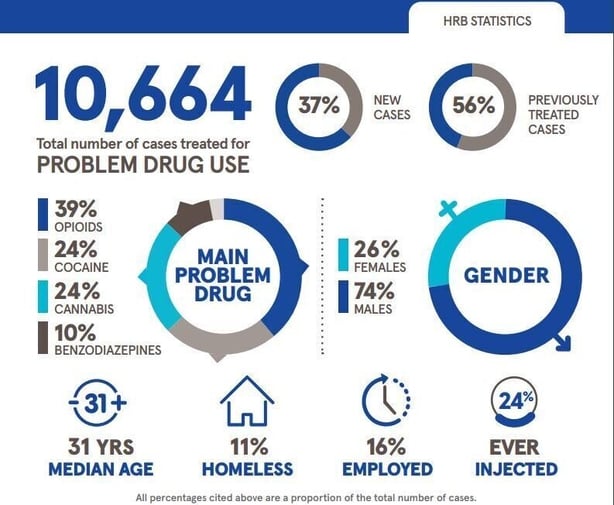 Abuse of opioids - mainly heroin - is still the biggest reason for drug treatment, accounting for 39% of cases in 2019. However, this is down from 51% in 2013.
Cocaine has now overtaken cannabis as the second most common main drug accounting for 24% of cases last year compared to just 8% in 2013.
Cannabis is just behind cocaine as a main drug at 23.5%, while abuse of benzodiazepines or sedatives has remained roughly the same since 2013 at 10%.
Heroin abuse and injection of drugs are both decreasing among recent cases with opioids making up just 17% of new cases coming forward compared to 30% of existing ones.
The number of new cases who have ever injected drugs is down from 17% in 2013 to 6.4% last year.
However, the number of crack cocaine cases is up from 255 in 2018 to 367 last year which is an increase of 44%.
The report shows that the number of cases who are homeless nearly doubled to 1,173 over seven years while the number from the Traveller community increased by nearly 40% to 320.
While Dublin (1,317 cases), Cork (220) and Limerick (147) were the counties with the biggest numbers in drug treatment, the biggest increase was in Tipperary going up from 11 in 2013 to 85 in 2019.
Dr Carew said a separate report dealing with alcohol abuse will be released shortly, adding that a distinction is made between drug and alcohol cases because they tend to be different profiles and require different types of treatment.
Meanwhile, a GP specialising in addiction medecine has said crack cocaine is decimating families, people and communities and society has not "got a handle on it" in terms of trying to reduce the amounts of the drug that is finding its way onto the streets.
Dr Garrett McGovern told RTÉ's Today with Sarah McInerney he is not surprised at the increase in use of crack cocaine in Ireland and said he has witnessed an increase in this drug over the past ten years.
Dr McGovern said the drug is largely used by opoid users and the noticeable thing about a crack cocaine user is the weight loss and they are "basically fading away". 
In addition some patients can get very paranoid, while others can become violent, he said.
Dr McGovern said the people who use crack, which he desribed as a "rather grotty" drug, are struggling and society needs to look at underlying problems in communities and how people can be supported. 
He added there is a hopelessness associated with crack cocaine.
Prof Colin O'Gara, Head of Addiction Services St John of God Hospital, said there has been a big normalisation of powder cocaine within certain work places.
He said the drug is typically used by "men with a decent income" and often goes hand in hand with alcohol.
Every setting in recent years, he said, has been affected by powder cocaine.
Prof O'Gara said there was a significant problem with cocaine pre-Covid, and treatment continued throughout the pandemic.