Social distancing circles are proving to be a popular addition to the Irish Museum of Modern Art in Dublin.
The circles have been painted on IMMA's lawns, so that friends and families can meet safely.
The grounds of IMMA reopened on Monday, while the first galleries reopened on Tuesday.
The Director of IMMA, Annie Fletcher, said: "The roadmap to recovery has placed a new focus on the importance of outdoor convivial spaces where we can gather safely and I am pleased that we can celebrate this at IMMA.
"We know people might be a bit anxious coming back out of lockdown. We think these circles are a great initial step to mark that we are open for business and we want people to enjoy the grounds."
Social distancing circles are being employed by parks throughout the United States, including cities like Brooklyn and San Francisco.
Sandra Pedersen, from Beaumont in Dublin, was picnicking in one of the IMMA circles with her daughter Annie.
She said: "I think it's quite safe because it's laid out for you to sit within the circles. It's a lovely idea."
Across the lawn, Shauna Moggan was drinking coffee in a circle with her sister and aunt.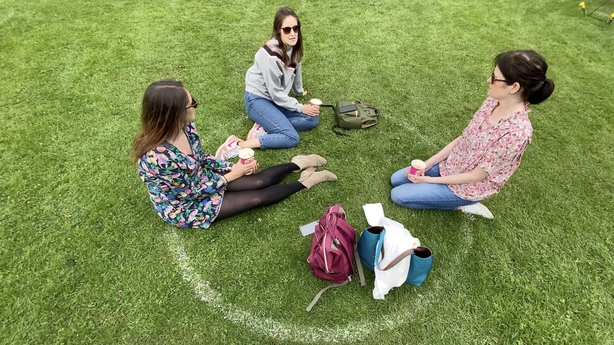 "I think it's a real novelty and it does encourage you to sit down. If they weren't here we wouldn't have sat on the grass actually," Ms Moggan said.
11-year-old Conor Church from Greystones in Co Wicklow was another fan of the circle initiative.
"We're in our own little space and it's quite cool," Conor explained.
While IMMA's social distancing circles have been roundly praised by visitors, the museum admits they will need to be maintained if they are to survive the summer.
Annie Fletcher said: "We painted them in sunshine, but it's been pouring with rain all week. They are fading a bit, so as soon as it stops raining we'll paint them again!"