A Government fund aimed at helping small and medium-sized enterprises to reopen and rebuild - as the Covid-19 pandemic restrictions are eased - needs to be at least quadrupled in size, according to employers' group Ibec.
Ibec also said that loans with 100% State-backed credit guarantees and an interest rate holiday of 12 months are required if small firms are to get back on their feet.
The policy recommendations are contained in a new plan called Sustaining SMEs.
Ibec wants this plan to be considered by Fine Gael, Fianna Fáil and the Greens as part of the 'July Stimulus' contained in the proposed new programme for government.
However, the organisation also points to the ongoing instability around government formation as another issue that needs to be resolved.
"A stable political executive and legislature is crucial to enable implementation of urgent policy measures," Ibec's chief economist Gerard Brady said. 
The business group said the SME sector has been the worst impacted by the lockdown measures here, and action is required to save firms.
Ibec said over 100,000 SMEs were among those worst impacted by the shutdown and they employ over half a million people.
We need your consent to load this rte-player contentWe use rte-player to manage extra content that can set cookies on your device and collect data about your activity. Please review their details and accept them to load the content.Manage Preferences
"The average SME has run up a debt of around €50,000 during the lockdown," Mr Brady explained.
"If they're expected to carry that in terms of loans and supports, it would take more than half their profits to pay those debts back. In many cases, they will just shut their doors."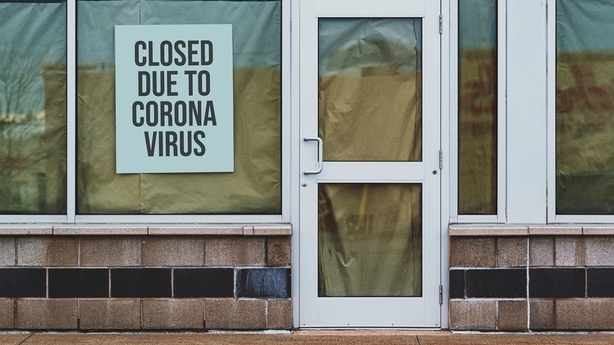 Mr Brady said it is recognised that not all SMEs will manage to survive, but it is crucially important that as much of the ecosystem as possible is protected through the implementation of a range of unprecedented measures.
These include the introduction by the Government of a fund to write down debts under the Revenue Commissioners tax warehousing scheme when such debts threaten business viability.
The group also wants the commercial rates waiver to be extended for a further three months, to a total of six months, with an additional deferral of six months.
In order to deal with the rents issue, Ibec is seeking a binding mandatory arbitration system for commercial lease disputes, including a form of state burden-sharing based on the Swedish model.
It also wants the €250m Restart Grant fund supercharged to over €1 billion. This would include a flat payment of €15,000 for every company, rather than the current €2,000 to €10,000, with the link to the rates system removed.
Credit guarantees on loans with 100% guarantees (the existing scheme guarantees 80%), no portfolio limit and an interest rate holiday of 12 months is also required, followed by interest rates below the euro zone average, according to Ibec.
"If you put those measures in place, you'll see the cost of Covid going from more than half of the company's profits over the next 3 years to still over 20%, but it gives them the breathing space to get back to normal," Gerard Brady explained.
The group said its cashflow modelling work shows that if normality begins to return by the end of this month and demand reaches a break-even point by November, the average SME in consumer facing sectors will have fixed cost debts amounting to €45,000. 
This increased leverage, it said, is equivalent to almost 80 weeks' post-tax profits. 
Over 40% of this debt is owed to the Revenue Commissioners and local authorities, with another 27% owed to the firm's commercial landlord. 
The remainder is split roughly three ways between utilities, insurance and loan repayment, and suppliers.