A Church of Ireland rector in Donegal has begun what he calls a "pedal-powered parish pilgrimage" after being separated from his flock due to the coronavirus pandemic.
Archdeacon David Huss, who looks after four parishes in south Donegal, has been getting on his bike and cycling around to meet and pray with parishioners whom he has not met face-to-face with in months.
While he has been conducting services online and people have kept connected in that way, Archdeacon Huss said it was not the same as meeting up.
So with the easing of restrictions, he decided to start visiting his flock. His wife Beverly, who is a GP, suggested that he do his rounds by bike to get more exercise and so began his mission to cycle around and meet the faithful.
The rector's visits are social and spiritual, spinning by for a chat and a prayer at a social distance outside parishioners' homes. He said the reaction has been terrific with locals really appreciating him being there in person.
For one woman, the visit had a special significance. The archdeacon cycled up to her house the day before what should have been Rachel Wilson's wedding day.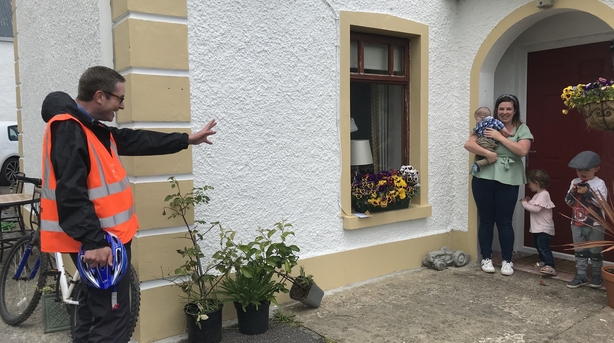 Dropping off a card, Archdeacon Huss said it contained a note empathising with the situation Rachel and her partner Christopher McCaul found themselves in.
Rachel said she's not the only bride to have her big day postponed until next year but Rev Huss had been "a great support" to her and she was delighted to see him in person.
In the context of Covid-19, Archdeacon Huss said that physical distancing doesn't mean spiritual distancing, so it was important to keep in pastoral contact.
He said many people have realised over the past few months that the Church isn't just about a building, it's about the connectivity of community and people and his pilgrimage is a way of trying to keep that connectivity going.