Seven more people have died from Covid-19 in Ireland, bringing the overall death toll to 1,670.
Twenty-eight more cases of the coronavirus have also been diagnosed in the Republic, bringing the number of confirmed cases to 25,163.
Another one person has been admitted to intensive care in the last 24 hours.
The hospitalisation rate for the illness is 13.2%.
Today's data from the Heath Protection Surveillance Centre, as of midnight, Wednesday 3 June (25,135 cases), shows that 57% of cases are female and 43% are male.
The median age of confirmed cases is 48 years.
The data shows 3,312 cases (13%) have been hospitalised. Of those hospitalised, 410 cases have been admitted to ICU.
Of all the cases, 8,046 cases are associated with healthcare workers.
Dublin has the highest number of cases at 12,118 (48% of all cases) followed by Cork with 1,527 cases (6%) and then Kildare with 1,419 cases (6%).
In Northern Ireland, one further death as a result of the coronavirus has been reported, taking the official death toll to 536.
Just three new cases of Covid-19 have been diagnosed, bringing the total number of cases in the region to 4,776.
The new figures come as Taoiseach Leo Varadkar announced that plans to ease coronavirus lockdown restrictions are being accelerated and the country will move to 'Phase 2 Plus' on Monday.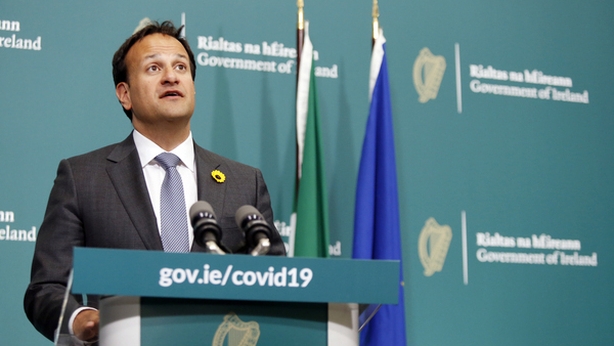 Phase 3 will start on 29 June and Phase 4 on 20 July. 
Among the measures from 8 June are that people can travel anywhere in their own counties and it is planned to remove all domestic travel restrictions in Phase 3 on 29 June. 
Groups of up to six people can meet both indoors and outdoors for social gatherings.
Organised outdoor exercise, sporting, cultural or social activities of up to 15 people may take place where social distancing is observed.
Public libraries can also open on Monday.
Speaking this evening, the Chief Medical Officer Dr Tony Holohan said that over the coming weeks individuals, families and communities would be increasingly responsible for suppressing the spread of Covid-19.
Dr Holohan said there had been no recommendation for personal services like hairdressing, or nail or other treatments to recommence at this stage.
On reports that clinics providing services such as botox are preparing to reopen soon, Dr Tony Holohan says that the NPHET is not recommending that these reopen at this stage. | Follow live updates: https://t.co/KT4vRqZ5pl pic.twitter.com/ppJ4npWFUe

— RTÉ News (@rtenews) June 5, 2020
If progress continued, he said that further restrictions would be coming down the line.
He said that people were still being advised to 'stay local', and that he did not want people to be travelling across the country for holidays.
Dr Holohan said the Government wants retailers that are due to reopen from next week to do so with "staggered opening times".
He said this would help to ensure that there would not be too much pressure on public transport, and that people going shopping would not be taking buses or trains at the same times as essential workers.
Dr Holohan said that shops reopening next week would not do so until 10.30am each day.
---
Read more:
HSE says contact tracing at meat plants as high as 90%
Spain opening to foreign tourists from 1 July
Progress on SNA support schemes welcomed
---
Meanwhile, the Pandemic Unemployment Payment and the wage subsidy scheme have been extended until the end of August but there will be two levels of PUP payment from 29 June. 
Those whose prior earnings were above €200 will continue to get €350 per week but those below €199.99 per week, will get a PUP of €203 per week.
A quarter of those receiving the €350 weekly Covid PUP are to have their benefit cut to €203 per week under reforms. 
The move will hit part-time and lower paid workers who were earning less than €200 per week prior to the Covid-19 emergency in March.
At the peak of the Covid crisis, 600,000 people were dependent on the Pandemic Unemployment Payment, but the scheme had anomalies.  
Some lower paid workers, including part timers and students, received more on the flat rate €350 Covid welfare payment than they had earned in their pre-crisis jobs.
No confirmed Covid cases in many hospitals now - HSE
Elsewhere, the Health Service Executive said there are 140 confirmed Covid-19 cases in hospital as of this morning.
This is down 85% from a peak of 879 on 13 April, according to HSE Chief Executive Paul Reid.
"Many hospitals across our system now have no confirmed cases," he added.
The week ahead is a very important one with the further reduction of restrictions, he said, but added that Ireland is still a society living with Covid.
There are 37 patients in intensive care units this morning, and 81% of beds filled in ICUs at present are not Covid-related.
Around 80% of cases of Covid-19 will be a mild to moderate illness, close to 14% have severe disease and around 6% are critical.
Generally, you need to be 15 minutes or more in the vicinity of an infected person and within two metres of them, to be considered at-risk, or a close contact.