We now have a good idea of what flying will look like this summer, after the publication of new aviation protocols.
The Covid-19 operational guidelines were published by the European Union Aviation Safety Agency (EASA) and European Centre for the Prevention for Disease Prevention and Control (ECDPC).
Airlines and airports will sign a project charter pledging to abide by the new protocols and the EASA will monitor their implementation.
The Dublin Airport Authority (daa) said: "We are studying the new EASA guidelines to ascertain how they would apply to Dublin and Cork airports. Overall travel policies in relation to Covid-19 are decided by the Irish Government."
At present, official Government advice is for people to avoid all non-essential travel outside of Ireland.
From tomorrow, it will be mandatory for all arrivals into Dublin ports and airports to complete a Covid-19 Public Health Passenger Locator Form. They are also urged to self-isolate for 14 days. 
This two-week quarantine has been strongly criticised by Ryanair boss Michael O'Leary.
Health Minister Simon Harris says the regulations will be reviewed on 18 June and will be in force only as long as they are necessary.
If and when restrictions on travelling abroad are lifted, what will the experience of flying look like in a post-Covid world?
Here's what to expect, according to the new aviation guidelines:
Travelling through the airport
Physical distancing should be observed at all times – with 1.5 metres the suggested distance. Airports are being asked to space out queues for passengers boarding aircraft accordingly.
Access to airport terminals will be restricted to passengers, crew and airport staff. Accompanying persons should only be provided access in special circumstances (e.g. accompanying or picking up a passenger requiring assistance).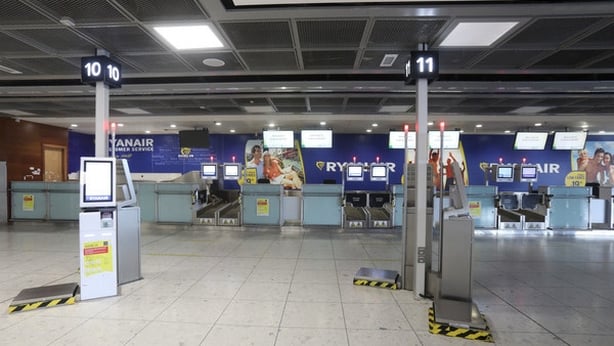 Strict hand hygiene, physical distancing and other measures should be reinforced at all times with visual and audio messaging.
Masks are recommended
The wearing of medical face masks "should be recommended for all passengers and persons within the airport and aircraft, from the moment they enter the terminal building at the departure airport until they exit the terminal building at the destination airport".
Children below six years old and people having a medical reason for not wearing face masks can be exempted.
Passengers should be reminded that typically, face masks should be replaced after four hours, or when becoming wet or soiled. Passengers should ensure a sufficient supply of masks adequate for the entire duration of their journey
On the plane
The guidelines take account of the specific conditions on an aircraft and offer some flexibility due to the operational constraints and limited space.
But they are clear that, wherever possible, passengers should be physically distanced, except in cases where they are travelling together. 
While the guidelines suggest minimising hand luggage onboard, they do not seek to impose a single-bag rule, for example, which could restrict travellers from carrying shopping onboard.
Onboard the aircraft, the report says, "operators should reduce onboard service to the minimum necessary to ensure comfort and wellbeing standards for passengers and limit the contact between crew members and passengers".
Among the measures that would aid this goal are:
- No duty free or other non-essential product sales on board
- Reduced food and drink service
- Preference for pre-packaged and sealed food and drink products, such as canned drinks
- Wherever possible, payment procedures involving touch or contact, such as cash payments, should be avoided to mitigate transmission between crew members and passengers.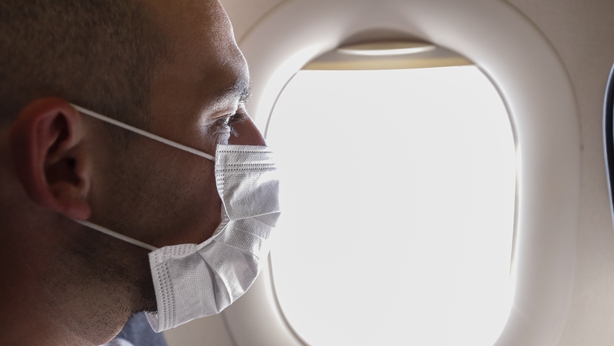 Personal responsibility
Passengers are encouraged to use their own common sense. If  you are displaying any coronavirus symptoms (for eg, fever, cough, sudden loss of smell, shortness of breath) or have been in close contact with someone who has the disease, you should postpone your journey.
Will shops and restaurants be open at the airport?
Each airport will respect the public health advice of its own government. For example, Schiphol Airport in Amsterdam has several retail outlets open at present while passengers in Heathrow, London report that the vast majority of shutters remain down.
The EASA guidelines say the "reopening of non-essential airport services should be pursued, initially opening those that can ensure physical distancing with respect to national provisions on similar services outside of the airport".
At present, the daa says that "almost all retail is closed" in Dublin airport with just "a couple of cafes open". It points out that passenger numbers are down to around 600 a day, compared to almost 105,000 passengers a day this time last year.
Immunity passports
The EASA says that testing passengers for Covid-19 in order to allow flying under "immunity passports" is not supported by the current scientific knowledge or the available testing methods. "Nevertheless, EASA and ECDPC will update their recommendation as appropriate if a suitable test becomes available."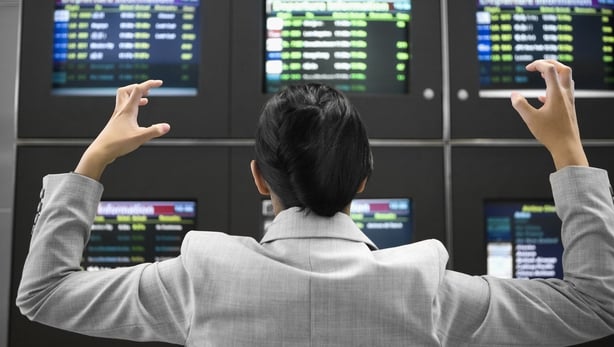 Things could get messy
Travelling is stressful at the best of times and the EASA acknowledges that some passengers will struggle to adhere to the new guidelines.
"In the context of these measures, an increase in cases of unruly or disruptive passengers should be expected, either prior to departure or in-flight. This may be due to passengers not wishing to sit next to each other or accusing each other of not following the rules.
"There is a strong potential for conflict if it is not managed properly. In the worst case, panic could become quite a serious threat to flight safety – for example if there are significant displacements within the cabin. To address this, operators are invited to consider the raised likelihood of these factors within their procedures and training."
The EASA is now inviting European airports and airlines with their national authorities to apply the new standards in practice and report back on their experience, with the objective of fine-tuning the guidelines and developing best practices.