Nursing Homes Ireland repeatedly requested the Department of Health to come to the aid of the sector in the battle with coronavirus, according to correspondence released by the department.
Throughout March, NHI raised its concerns on staffing, personal protective equipment and its representation on the National Public Health Emergency Team.
CEO Tadhg Daly also requested urgent meetings with senior department officials and the Minister for Health, but he did not meet Simon Harris until the end of the month.
On 12 March, Mr Daly was told that a named official could not respond as he was involved in multiple high level meetings, but that the matter was being given "urgent consideration".
On 19 March, Mr Daly requested an urgent meeting/teleconference with the minister.
The following day, he had a conference call with officials.
On 24 March, he again requested an urgent meeting with the minister. This was finally held on 30 March.
Mr Daly told a hearing of the special Oireachtas Committee on Covid-19 that it was only when they met Mr Harris that "matters took off" and there was no specific plan for the sector until early April.
The correspondence shows that Mr Daly repeatedly highlighted the lack of staffing and by 9 March, he said that a HSE recruitment drive would be "to the severe detriment of people in nursing home care".
He said it would "threaten the capacity of nursing homes to meet their care needs ... and will endanger older people".
On 17 March, he wrote again "we plead with you the State to desist targeting the recruitment of staff from the private and voluntary sector".
The next day, in another email, Mr Daly said that matters had become urgent; the provision of PPE, oxygen and other supplies was "challenging" and delays in testing were having "cataclysmic consequences".
On 25 March, he said that there were significant challenges in maintaining care due to the recruitment and retention of staff.
The Department of Health said it received correspondence from HIQA in mid-March.
It says it forwarded the correspondence to the HSE on the same day, as the HSE has operational responsibility and the HSE initiated urgent action on receipt of the correspondence.
Minister for Health Simon Harris has said he did not see the letter.
Speaking on RTÉ's Primetime, Mr Harris said it is his understanding that a list of nursing homes that HIQA was concerned about was passed onto the HSE when his department received it.
He said that a special Oireachtas Committee on Covid-19 earlier today was told that there were over 400 pieces of correspondence between the department and nursing homes, and that he is "very satisfied" there was a "high level of proactivity".
On Nursing Homes Ireland it says it received a request for a meeting on 19 March and there was a conference call between Nursing Homes Ireland and the Department the following day.
Nursing Homes Ireland says it did not meet with the Minister until the 30 March.
We need your consent to load this rte-player contentWe use rte-player to manage extra content that can set cookies on your device and collect data about your activity. Please review their details and accept them to load the content.Manage Preferences
Nursing Homes Ireland CEO Tadhg Daly says that key state organisations left nursing homes and their residents isolated in the early days of the Covid-19 pandemic pic.twitter.com/FTnFEUkzCm

— RTÉ News (@rtenews) May 26, 2020
Earlier, The Health Information and Quality Authority said regulations in terms of staffing in nursing homes are weak.
Its Chief Inspector Mary Dunnion told the committee that staffing levels are determined by the legal entity which is the provider of a nursing home whether private or statutory.
Responding to the Green Party TD Patrick Costello, she said it was not true of Mr Daly to say this morning that HIQA does not allow ratio staffing, which is the number of staff to the number of patients.
Ms Dunnion said HIQA would be happy to contribute to a discussion on staff regulations in nursing homes.
Asked by Labour's Duncan Smith whether HIQA had visited nursing homes where there have been outbreaks, Ms Dunnion said it had not.
However, she said as the authority moves into a risk-based assessment, nursing homes that have had outbreaks will be inspected.
From March, inspections by HIQA centered around contingency planning in nursing homes where there was no covid.
Róisín Shorthall of the Social Democrats asked HIQA representatives when had they raised concerns about nursing homes that had previously faired poorly in infection control inspections.
Ms Dunnion said HIQA sent a list to the Department of Health in February/March of nursing homes that would be high risk.
Ms Shortall asked what response it received from the department. Ms Dunnion said: "Just an acknowledgement".
People Before Profit TD Bríd Smith said her party went through the minutes of NPHET and the first mention of care of the elderly since it began sitting in January, was in March.
She asked David Walsh of the HSE, who is a member of NPHET, what his role was.
He said he joined as a senior operational manager on 10 March, when NPHET was broadening its membership.
Ms Smith said there was no mention on care of the elderly until Mr Walsh came on NPHET despite a global pandemic.
Mr Daly said that early March was a distressing period for the sector, and the problem was exacerbated by what they saw as a lack of engagement with the authorities.
Fine Gael TD Fergus O'Dowd has said that it was "patently and obviously untrue" that NHI was left isolated by key State organisations.
"To say that you were left isolated is not a fact," he said.
Mr O'Dowd said he believed the State, the Health Service Executive, the Minister for Health and the Department of Health did help the sector and there was a lot more that NHI could have done for itself but did not do so.
Mr O'Dowd said that NHI was privately funded with a lot of money for doing testing, paying for accommodation and extra staff.
He asked Mr Daly how much NHI spent to deal with coronavirus.
Mr Daly said the figure ran into millions and he would get the exact number.
Mr O'Dowd said the care of older people in nursing homes was not acceptable.
He said the nursing homes were very wealthy companies complaining that the taxpayer was not doing enough for them and he said the system of care needed to be totally changed.
Nursing Homes Ireland CEO Tadhg Daly says early March was a distressing period for the sector, and the problem was exacerbated by what they saw as a lack of engagement at that time | More: https://t.co/DeUVLt499h pic.twitter.com/pYcUpxBwNA

— RTÉ News (@rtenews) May 26, 2020
Ms Smith told Mr Daly that it was pretty clear that he was shifting responsibility to the HSE and he asked if anything should have been done differently.
Mr Daly rejected that suggestion and said he was highlighting the fact that there were gaps in supports.
He said there were elements that could have been improved but there was nothing that stood out that he should have done differently.
He also said that pay for health staff was set by the level of support received from the State through the National Treatment Purchase Fund.
Ms Shortall pointed out that Mr Daly's claim that the movement of people from acute hospital settings to nursing homes had increased the number of cases of Covid-19 was disputed by Chief Medical Officer Tony Holohan.
Mr Daly said the transfer of residents was a significant contributory factor and testing shows that 40% of people were found to be asymptomatic after the mass testing took place.
Mr Daly said that extra pressure was put on the sector during the pandemic by the HSE actively targeting the recruitment of healthcare staff.
He said nursing staff were scarce and they asked for a moratorium on that recruitment during the pandemic.
Sinn Féin TD David Cullinane told the committee that Nursing Homes Ireland was crying out for help and was not getting an appropriate response.
Mr Daly said there was good engagement with officials, but it was only when the organisation met the minister at the end of March that matters took off.
He said it was very challenging and there was a lot of frustration and anxiety with no specific plan until early April.
Mr Cullinane said it was profoundly shocking that some nursing homes were using painters overalls for personal protective equipment.
Mr Daly said that PPE should have been directed to the nursing home sector.
---
Community group making Covid-19 crisis easier for elderly people
No new Covid-19 related deaths reported in NI for first time in over ten days
---
Asked if he felt patients were left down, Mr Daly said that as a society not enough attention was paid to the care and needs of those in residential care.
Fianna Fáil's John McGuinness said that what happened in nursing homes was a "huge scandal" and the country would reflect on it with great sadness and shame.
He asked whether a general inquiry was needed to go through the correspondence between NHI and the Department of Health to tease out step-by-step failings.
Mr Daly said the Dáil committee and the expert group should do their work first and that would inform next steps but he said there would be lessons for us all.
He also said there was a very ambitious and necessary plan for acute hospitals and their view was that didn't happen for community care which he said was a failure.
He said nursing homes did not withhold test results from family members.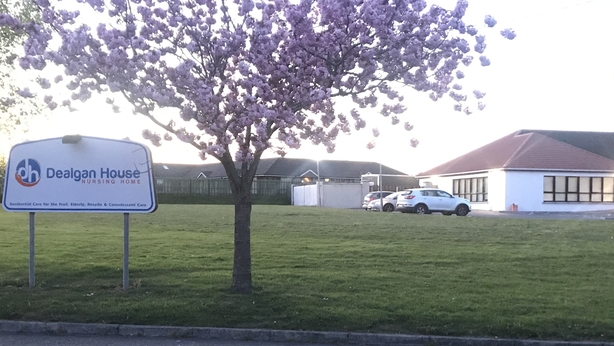 Sinn Féin TD Ruairí Ó Murchú has said there was "huge amounts of issues" at Dealgan House Nursing Home and he asked when HIQA and the HSE both became aware and when they escalated those issues.
Ms Dunnion said nursing homes will always have a designated inspector.
She said they were aware of the issues in the nursing home which were escalated in the formal way.
She said a review of the situation has started and they have now completed meeting the relatives of residents and she said they would be inspecting as of tomorrow.
Mr David Walsh, National Director, Community Operations, HSE said the first two suspect cases in Dealgan House became known on the 31 March and confirmation of diagnosis was on the 4 April.
He said from that time Community Health Organisation (CHO) Midlands Louth/Meath was involved with the nursing home.
He said around the 17 March the RCSI hospital group became so concerned they thought it was appropriate to put in a bigger management team.
He said a number of supports had been given in the interim period - including staff supports as well as PPE and infection control advice.
Nursing homes faced four critical issues
Earlier, Mr Daly said he did not accept that visitor restrictions in nursing homes were inappropriate or that visitors brought Covid-19 into nursing homes. 
Speaking on RTÉ's Morning Ireland, Mr Daly said no one can say with any certainty how the virus was transmitted into any facility. 
However, he said the discharge of a large number of patients from acute hospitals to nursing homes, without testing at the start of the Covid-19 outbreak in Ireland, contributed to the problems faced by nursing homes. 
Mr Daly said nursing homes were well prepared for the virus and the first guidance to nursing homes was issued at the end of January, with guidance on visitors issued at the end of March. 
He said there were four critical issues that impacted on the ability of nursing homes to deliver high quality care - testing, PPE, recruitment by the HSE and the discharge of a large number of patients from acute hospitals without testing. 
Furthermore, he said, nursing homes have been dealing with the surge "very well" and four out of every five residents who contracted Covid-19 have recovered. 
Mr Daly said nursing homes did not have the kits to carry out their own testing because the testing programme was being done nationally and run through the national virus laboratory.
He said the sector has paid millions for PPE for staff and the difficulty was in sourcing the equipment, adding that when efforts were made to get PPE from the usual sources, much of it had been "sequestered for the national efforts". 
He denied that a lack of critical clinical knowledge and expertise among nursing home owners could have played a part in the sector being unprepared, saying there was a lack of clinical oversight by GPs and geriatricians. 
However, he added, there were lessons to be learned by everyone.
Additional reporting Aisling Kenny and Ailbhe Conneely