The World Health Organization's Special Envoy on Covid-19, Dr David Nabarro, has said two-metre distance guidance "keeps you safe 99% of the time", but you can "greatly reduce your risk by maintaining a one-metre distance".
Speaking on RTÉ's Today with Sarah McInerney, Dr Nabarro said that 70% of droplets from a person's cough will travel within one metre, and that "very few of them travel further than two metres".
"The WHO and others have said the best distance to keep away from people if you want to avoid inhaling a droplet is two metres.
"That's because that will keep you safe 99% of the time but you can greatly reduce risk even at one metre because 70% of the droplets will stick within one metre."
Dr Nabarro said it is a balance of risk, and a choice that must be made based on a personal set of circumstances.
If you really want to reduce the risk of picking up an infection stay at least two metres away, he said.
"But if you are in a difficult situation where you have to be in close proximity to someone, if you're providing care or if you are working in [a] factory where two metres doesn't work you can still greatly reduce the risk by being one metre away," according to Dr Nabarro.
Ventilation, the weather, and an individual's style of coughing are three factors that can affect the transmission capacity of the virus, Dr Nabarro explained.
"We have confirmed that the risk of transmission of this virus is greatly reduced if you are in a place with good ventilation or if you are outdoors. This virus seems to travel further in cold weather than it does in hot weather. It also depends on how somebody coughs.
"If they cough in an explosive way they seem to be able to project the virus much further that someone who coughs in a softer way or don't have explosive coughing."
We need your consent to load this rte-player contentWe use rte-player to manage extra content that can set cookies on your device and collect data about your activity. Please review their details and accept them to load the content.Manage Preferences
---
Read more:
1m versus 2m rule: What experts say
Latest coronavirus stories
Live: Updates as they happen
---
Dr Nabarro cited how South Korea saw a surge in cases that were linked to a number of night clubs.
He said, "A lot of attention needs to be paid to ventilation" when deciding how pubs and night venues can reopen, as well as "being more respectful of physical distancing".
On decreasing social distancing from two metres to one, Chief Medical Officer Dr Tony Holohan said "at the moment we think that two metres is a reasonable compromise given where we are".
Speaking at the daily Department of Health press briefing this evening, Dr Holohan said all the public health advice is under constant review and they will continue to look at it.
He said it is not a magic thing on its own, the risk of transmission from two metres is less than that from one metre.
Dr Holohan said he "can understand the impatience that's there to see us making progress with this" but if we show that we can keep our numbers low in terms of infection, impact of infection in terms of hospitalisation and mortality, compared to what we might have been seeing, we can continue through the phases.
Earlier, two Government ministers said the two-metre social distancing rule remains in place "for now".
Speaking to RTÉ's 2FM, Minister for Health Simon Harris said the two metre rule is constantly under review but it was "important that we continue to stick to the two-metre rule, for now".
Earlier, the Minister for Business, Enterprise and Innovation said it was "a little premature" to discuss reducing social distancing from two metres to one metre but it would be "looked at" in June.
Speaking on RTÉ's Morning Ireland, Heather Humphreys said the advice from the National Public Health Emergency Team (NPHET) has "served us well" so far, and the two-metre rule is "the norm" across Europe.
"We're only a week into the gradual easing of restrictions. It'll be early next week before we start to see the data on whether the lifting of restrictions in Phase One has had an impact on the number of new cases.
"Until we receive that data, it's a little premature to start talking about moving away from two metres."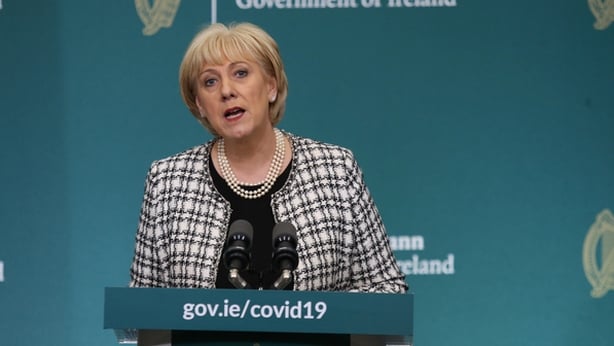 Ms Humphreys said that if the trend "continues to be positive" then reducing the measure to one metre is "something we can look at".
She added: "The real test is to allow the first two weeks to happen, assess the data, and hopefully we will be in a better position to make changes. We need to see how things go after 5 June."
This is when the Government is expected to issue an update about Phase Two of the roadmap on the easing of restrictions, due to come into place on 8 June.
Fianna Fáil spokesperson on Public Expenditure and Reform Barry Cowen said reducing social distancing from two metres to one metre would "clearly" make things a lot easier for many people in certain industries.
Also speaking on RTÉ's Morning Ireland, he said it might bring some "clarity" if NPHET made the criteria for the two metre social distancing advice "clear" to the public.
Mr Cowen said he expects the Government to "move with clarity" and inform the public as to what criteria would determine a reduction in social distancing from two to one metres.
"The Government and the Taoiseach have said on numerous occasions, especially at the time when the roadmap for reopening was published, that it is a living document and is open to change," Mr Cowen said.
We cannot get sloppy, warns Minister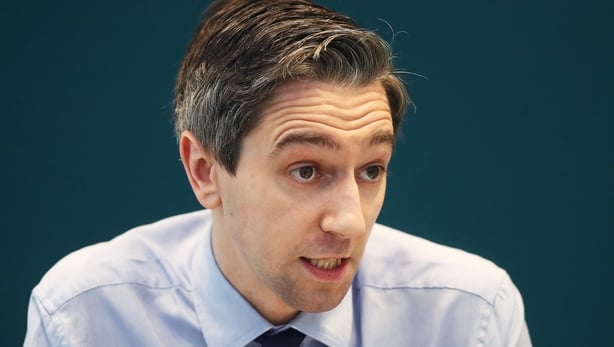 Minister Harris said we should see whether the first phase of easing restrictions has had an impact of the number of new coronavirus cases in Ireland, sometime this week.
Mr Harris said he is "feeling optimistic" and that efforts being made by the Irish people have been "amazing".
But while "there is absolutely no doubt we are in a better place with Covid-19, he warned that we "cannot get sloppy" and must continue following public health advice.
Mr Harris said that people entering the country will have to fill out a form saying where they will be staying and will be expected to self isolate for 14 days.
He said there is no way to say "definitively" when people can gather in large groups again and events, like weddings, can be held.
Mr Harris said he hoped that creches can reopen in the timeline - they are due to be back up and running on 29 June - but this will require "a lot of work". He said he knew this issue had been a huge burden on people.
Minister Humphreys also said the issue of childcare was "difficult" and they are working with the childcare sector to try to find a resolution.
Liz Canavan, Assistant Secretary at the Department of the Taoiseach, said "thousands of lives" have been saved as a result of observing social distancing guidelines.
Speaking at today's Government press briefing, Ms Canavan said the two-metre rule is still the advice from Government, and that public advice is there to protect people.