Chile's healthcare system is under strain and "very close to the limit," President Sebastian Pinera has said, as the number of confirmed novel coronavirus infections approaches 70,000 after a rapid increase in recent days.
The Ministry of Health reported 3,709 new cases in the last day, bringing the total to 69,102. The death toll is at 718.
"We are very close to the limit because we have had a very large increase in the needs and demands for medical care, andfor intensive care unit beds and ventilators," Mr Pinera said during a visit to a hospital in Santiago, which has the highest concentration of cases.
More than 1,000 people have been hospitalised for disease associated with the coronavirus, according to the government.
Chile, the world's top copper producer, confirmed its first case of coronavirus in early March and surpassed 50,000 infections this week.
A third of Chile's population of about 19 million is under mandatory quarantine after the government put Santiago and several other cities under lockdown.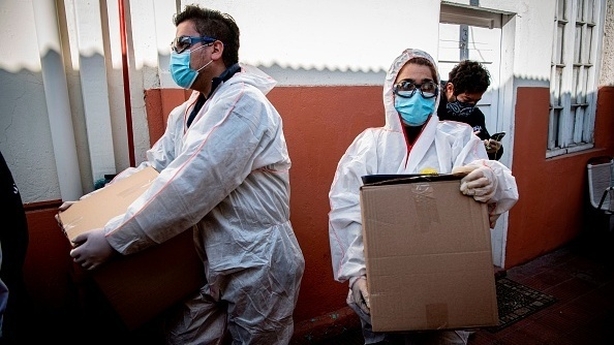 Earlier this week Chilean officials warned the country's economy has taken a hit unlike anything since the 1980s, when almost half of Chileans lived below the poverty line and the country was rocked by protests against Augusto Pinochet's regime.
Poor neighbourhoods in the capital Santiago have seen a resurgence in the use of community kitchens as coronavirus shutdowns put pressure on jobs and send thousands into poverty.
"My people are getting desperate, they have nothing to eat so we asked for help and as always, the people answered," Sandra Cariz, the president of a community association in the Puente Alto suburb of Santiago said on Friday.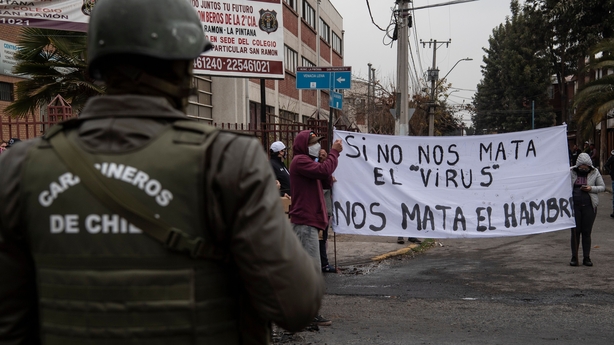 The kitchens come alongside a growing number of drives circulating on social media for food, money and clothing donations.
The government has announced a rescue package equivalent to more than 5% of GDP but opposition politicians and protest leaders say it is insufficient.
Brazil's political scandal heats up amid pandemic
Meanwhile, Brazil's President Jair Bolsonaro hailed supporters rallying in the country's capital earlier today to back his administration as an unfolding political scandal adds to the public health crisis driven by the coronavirus outbreak.
Surrounded by security guards wearing masks, but not wearing one himself, Mr Bolsonaro was shown in a live streaming video on his Facebook page greeting protesters waving Brazilian flags and calling him a "Legend," days after Brazil topped Russia to become the world's No. 2 virus hot spot after the United States.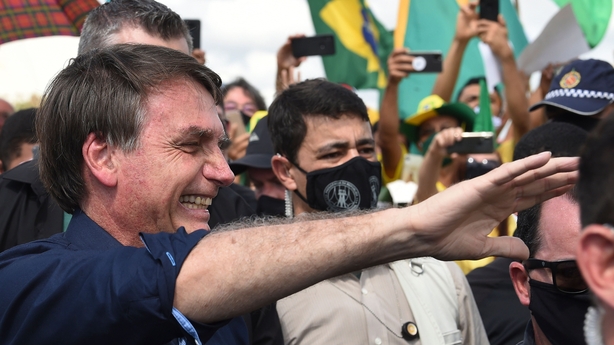 The rally, one of several such demonstrations Mr Bolsonaro has encouraged in recent weeks, came as the administration of US President Donald Trump, a close ally of the far-right Bolsonaro, mulls a ban on travel from Brazil because of the worsening outbreak there.
Health Ministry figures released yesterday evening showed that 16,508 new cases were recorded in the past 24 hours, bringing the total above 347,000, while the death toll increased by 965 to 22,013.
Mr Bolsonaro was seen posing for photographs, shaking people's hands and even carrying a young boy on his shoulders, part of a pattern of flouting and discouraging social isolation measures advised by health professionals to curb the pandemic.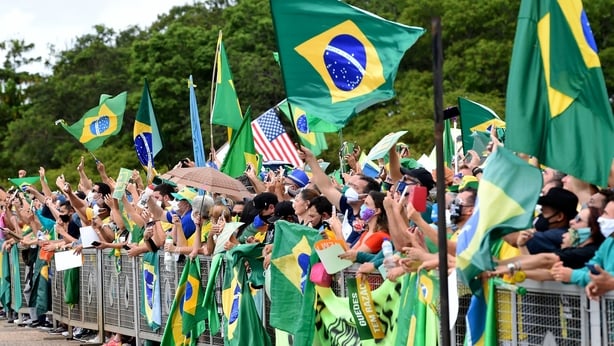 More pro-Bolsonaro rallies were expected to take place in Sao Paulo, Brazil's most populous city and the epicenter of the Covid-19 pandemic.
The demonstrations follow a decision by Brazil's Federal Supreme Court late last week to release a video recording of a 22 April ministerial meeting, in which Mr Bolsonaro said he wanted to change security officials, their bosses or even ministers to stop his family and friends from getting "screwed".
The political scandal revolves around an accusation by former Justice Minister Sergio Moro, a popular anti-graft crusader, that President Bolsonaro aimed to interfere in police investigations.
---
---