The emergence of clusters of Covid-19 in the health sector was not exactly surprising.
Healthcare workers are at the very front line of this pandemic. Their exposure to the virus is a reality for them.
The intubation of Covid-19 patients is a high-risk procedure; if the patient coughs, the viral load that could be spread in that moment is strong and more potent, according to experts.
There is some evidence that those who contract the virus in such circumstances have a more serious and acute Covid-19 experience.
Healthcare workers know the risk. The fact that nearly 8,000 healthcare workers here have had Covid-19 is a stark reminder of how they expose themselves to danger to treat people who are struggling to cope with the virus.
But who would expect that, outside of nursing homes and hospitals, the meat industry would be the other flash point for Covid-19?
International experience might have given us a warning. Some of the biggest meat processors in the United States have been hit hard.
A vast shutdown of meat plants has led to pigs being gassed to death on farms because there was nowhere to bring them for slaughter. For meat eaters, the animal welfare implications of meat plants shutting down are an uncomfortable reminder of how the industry functions.
Around 5,000 workers in the US meat industry have been diagnosed with Covid-19. It's been ripping through slaughterhouses in Germany, Portugal, Australia, Spain and Brazil too.
The Irish experience is not isolated.
But the admission this week that the Health and Safety Authority has not carried out a single inspection, despite numerous complaints and obvious issues, has shocked many.
SIPTU has slammed the organisation. The trade union claims workers are being exposed by an industry that is failing to come to grips with the pandemic.
It's an industry that is dominated by migrant labour. Although, Meat Industry Ireland claimed on RTÉ's Morning Ireland this week that non-EU citizens account for about 20% of the workforce.
In Germany, the sector depends on migrant labour too. The government there has introduced a range of new rules. People working in abattoirs must now be employed directly by the company.
This is an attempt to push out agencies who organise labour, taking a cut of wages and driving down take-home pay for workers.
Workplace inspections are being stepped up in Germany. Interestingly, inspectors there will now have the power to check on workers' living accommodation.
The fact many migrant workers share accommodation, principally due to their low pay, has been attributed to the spread of the virus in the sector. But there are other reasons Covid-19 is a bigger problem in the meat sector.
Here comes some science ... 
---
Five reasons Covid-19 is an issue in the meat industry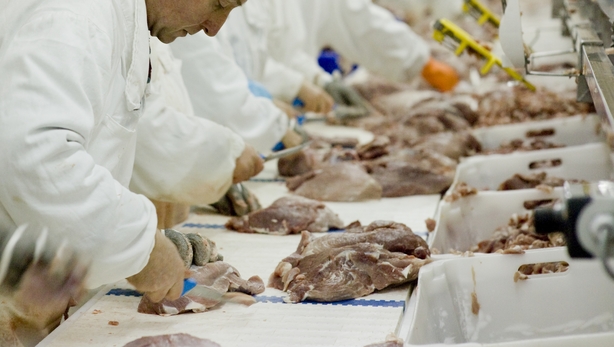 1. Social distancing
It some situations, social distancing in meat factories borders on impossible.
Workers are packed tight along production lines. The work is physical and often two workers are needed in close proximity.
It is simply unavoidable.
There are numerous workers in the sector who have said social distancing is just not enforced in parts of some plants.
Large numbers of workers share lockers, canteens and toilets.
Despite efforts to stagger breaks and shift start times, the facilities are still communal and the risk of spreading the virus is very obvious.
---
2. Air filtration
Meat processing plants are cold places.
It is necessary to maintain low temperatures to keep meat cold and for hygiene reasons.
The low temperatures help the virus to survive.
There is no real evidence for the next claim, but some people in the industry have suggested that the air circulation systems could actually be spreading the virus around facilities. It is a claim made not only here, but in several other countries too.
---
3. Shouting
Yes, shouting! The source of this claim is Mount Vernon in Washington.
A choir group met for a rehearsal. One person there thought they had a cold. They had Covid-19. Within weeks, 53 choir members got sick, two died. A super-spreading event, if ever there was one.
Scientists at the London School of Hygiene and Tropical Medicine looked at a 2019 study, which found that some people breathe out more particles than others when they speak.
The volume at which they speak was a factor, louder speakers spread more particles.
Meat factories are loud places, so people tend to shout. So, there is a theory that could be a factor in spreading the virus more.
---
4. The Zumba factor
In South Korea, there was a cluster of 65 cases that originated in Zumba classes. So, we've moved now from shouting loudly, to breathing heavily as a risk factor for spreading the virus.
Experts say that slow, gentle breathing is not a risk factor, but deep rapid breathing is.
This could explain why there have been no outbreaks connected to Pilates classes, but there have for Zumba classes.
If there is a basis to this science and research, it could explain why meat factories are a problem.
The work on meat factory production lines is tough. Sure, we are used to seeing familiar scenes of people packing burgers or chicken nuggets, which doesn't exactly look strenuous. But, we don't see the very intense physical work further back along the production line.
Lifting, cutting, carrying - all activities in meat plants that could lead workers to breath heavily or deeply, possibly spreading the virus.
---
5. Living conditions
This is such a significant issue. German authorities now have the power to examine meat workers' homes.
Low-paid migrant workers struggling to pay rent share accommodation widely.
It is not just an Irish issue, but, given the reality of the rental market here, it is a significant factor here.
If two people fall ill with Covid-19 in a house in that eight workers live, there is a problem.
The risk of it spreading is high. In fact, one Japanese study found that our risk of infection indoors is 19 times higher than outdoors.
The HSE has provided accommodation for people who need to self-isolate. But the meat industry cannot say how many people have availed of the facilities.
---
A special National Outbreak Team has been put in place to deal with the growing number of clusters at meat plants.
That group has been asked to file a report to the National Public Health Emergency Team.
It will study that report and it could be crucial in advising authorities on how to manage the issues facing the meat sector in the weeks ahead.