Thousands of shops, businesses and construction sites have reopened as part of the first phase of the easing of Covid-19 restrictions.
Minister for Health Simon Harris said people's behaviour and actions over the next three weeks will determine whether public health experts can recommend moving to Phase Two.
The National Transport Authority confirmed that passenger numbers on public transport were "up moderately today".
However, a spokesperson said they remained comfortably within social distancing capacity requirements.
Popular walking spots remained quiet while queues formed outside some garden centres and hardware outlets as businesses reopened.
Beaches in Sligo reopened, but popular walking spots Strandhill and Rosses Point remained quiet.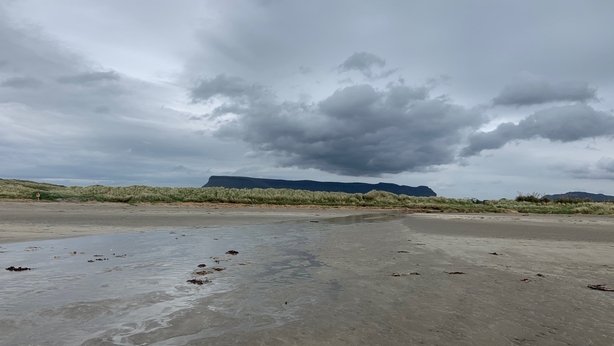 The easing of Covid-19 restrictions means groups of up to four people from different households can now meet up outdoors at a social distance.
But there was no evidence of people availing of this new measure on the beaches today.
Locals said they did not know if the low numbers of people out walking were due to the overcast and blustery weather, or because it was Monday, or if people are just being cautious and sticking to the stay at home guidelines.
Another factor is the car parks, which will remain closed until phase two next month.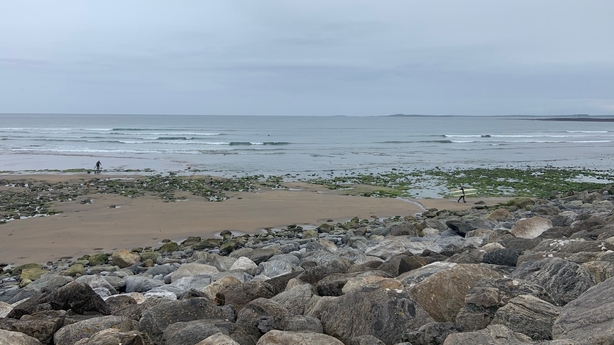 Many people would not travel to the beach to walk it without being able to use their car, even within their 5km radius.
Improved weather conditions are expected later in the week, so it might determine whether or not the beaches stay as quiet as they were today.
However, queues formed outside some garden centres and hardware outlets as businesses across the country reopened.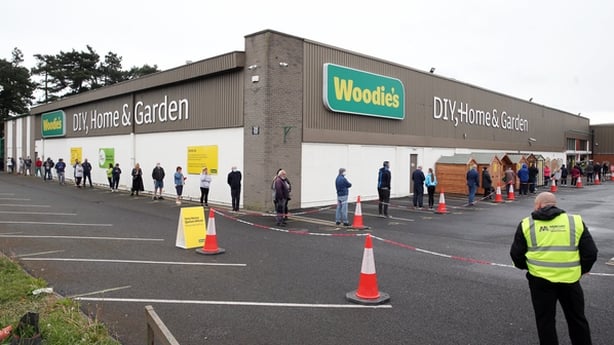 Electrical stores also reopened, as well as farmers' markets, opticians, hearing aid testing services and some sports facilities, including golf courses.
Some strict social distancing measures are in place at reopened businesses, with retailers reporting widespread compliance from members of the public.
Even though businesses reopened, remote working is to continue for all workers or firms that can do so.
Among those who returned to work for the first time in weeks were outdoor workers, including those employed in construction, as well as landscaping and gardening.
Motor and bicycle repair outlets could also reopen their doors and vehicle and motorcycle sales could resume.
It marks an important development for the motor trade ahead of the start of the second phase of vehicle registrations in July.
However, on Friday the Government decided homeware shops, originally listed in phase one of the road map, may not reopen. Retail Ireland described the decision as disappointing.
The Government said customers should restrict visits to stores that have reopened for essential supplies only, while physical distancing requirements would continue to apply to all businesses who resumed trade today.
Many of those companies spent considerable time and money preparing their premises and staff for this over the last few weeks.
One of the first businesses to open its doors this morning was Chadwicks Group, one of the biggest builders suppliers in the country.
It reopened its 50 stores nationwide at 7am and saw a steady stream of customers with many builders phoning in their orders and collecting supplies at allocated collection bays.
Patrick Atkinson, CEO, said the company has done a huge amount of work in the past few weeks to make sure it has new protocols in place to protect its colleagues and its customers.
"That includes social distancing measures, perspex screens, hand sanitising units, and we are restricting the number of people going into our stores," Mr Atkinson said.
The cost of introducing the new protocols and retraining staff, which included completing an e-learning programme, came to €200,000.
The Health and Safety Authority will be able to carry out inspections of workplaces to ensure they comply with the National Return to Work Safely Protocol.
Although the gradual reopening starts here, the Government said remote working is to continue for all workers or businesses that can currently do so.
"Today is a very welcome day and marks the first steps on the road to recovery," said David Fitzsimons, Group Chief Executive of Retail Excellence Ireland.
"Irish retailers are ingenious and resourceful and have invested great effort in planning for today to ensure they open safely for their customers and colleagues," he said.
"As consumers come out of hibernation to purchase non-essential items, we remind everyone of the importance of our local independent stores. Please use them as we don't want to lose them," Mr Fitzsimons added.
---
Read:
Latest coronavirus stories
Latest Business stories
---
Retail Excellence Ireland has called for additional Government assistance for retailers, including a commercial rent grant equivalent to 60% of the rent payable during the period of emergency, a 12-month local authority rates waiver and 0% loans for all affected business.
Meanwhile, the Trade Union Federation (TUF) have called on construction employers to ensure maximum protection is provided for workers when they return to work.
The TUF, which includes SIPTU, BATU and CONNECT trade unions, said that additional protection beyond the national protocol is required.
"Our members require more specific and written assurances which detail how the regulation of the new Covid-19 measures will be monitored in a meaningful way between worker representatives, the Health and Safety Authority (HSA) and the employers," said SIPTU Construction Sector Organiser John Regan.
"In the past, we have had a situation where construction workers were penalised after raising safety issues and this situation must not be repeated during this crisis," he added.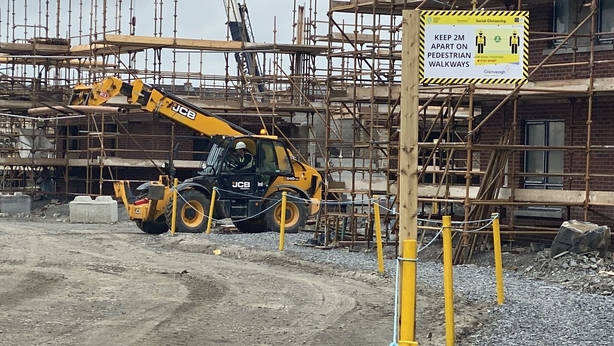 To protect yourself from Covid-19 you should:
Keep a space of 2 metres (6.5 feet) between you and other people
Avoid communal sleeping areas
Avoid any crowded places
Not shake hands or make close contact with other people, if possible
Additional reporting Will Goodbody and Fran McNulty