The number of new cases of Covid-19 reported by the Department of Health has fallen below 100 for the first time in two months.
92 new cases of the virus were confirmed this evening, while a further 15 people with Covid-19 have died in Ireland, the department said.
It brings the death toll here to 1,533. Overall there have been 24,048 cases reported.
Health Minister Simon Harris, speaking in a video posted to Twitter this evening, said the number of new cases falling below 100 for the first time since 18 March was an encouraging sign.
"It's also encouraging to see the number of people in ICU down to 56 from 72 this day last week."
Mr Harris said the start of restrictions being eased on Monday was "not the time to get sloppy, people need to keep following the public health advice ... this next phase is crucial and in many ways it will be our biggest test so far".
The Chief Medical Officer, Dr Tony Holohan, said the past nine weeks had been particularly difficult for those who are cocooning, as well as parents with young children.
However he added that "today's numbers give reassurance that we have all learned and adopted new behaviours of handwashing, respiratory etiquette and social distance that will serve us well as we work together to re-open retail, business and society."
Data from the Health Protection Surveillance Centre, from midnight, Thursday 14 May (relating to 23,879 cases), reveals that 57% are female and 42% are male with a median age for confirmed cases of 48.
3,092 cases (13%) have been hospitalised, 389 of whom were admitted to ICU. A total of 7,530 cases are associated with healthcare workers.
Dublin has the highest number of cases at 11,657 (49% of all cases) followed by Kildare with 1,357 cases (6%) and then Cork with 1,346 cases (6%)
The number of people who have died after being tested positive for coronavirus in Northern Ireland has risen to 473 after a further four deaths were reported by the Department of Health today.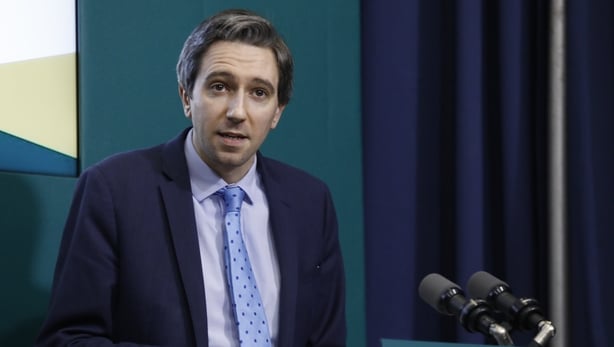 Harris signing regulations for businesses to reopen
Earlier today, Minister for Health, Simon Harris, said he will be signing modified regulations over the weekend to regulate the businesses which can and cannot open when restrictions are eased on Monday.
He said it would be illegal for businesses to open if they did not have permission to do so.
Mr Harris said the central advice from government was still that people should stay home except in limited circumstances. He said people had been really compliant but there was a legal mechanism to deal with businesses which should be closed.
The Minister also encouraged business owners to make sure their premises were ready and safe to open. And he urged them to take some extra days before they opened up if they needed to.
Minister Harris said people were being advised to consider wearing face coverings in certain circumstances in which they may be of benefit - on public transport or in enclosed, indoor spaces.
But he didn't want stigma to be attached people if they did not wear face masks. He said people under 13 should not wear them, nor should people with certain medical conditions.
He said people with autism and people with allergies may also not be in a position to wear them. If any group of workers felt the wearing of masks should be mandatory in their workplace, they should engage with their employer.
Mr Harris said he would be signing regulations in the next week to make it mandatory for all passengers coming into Ireland to fill out a form giving an address at which they intend to self isolate for 14 days.
The current advice was that people should not travel off the island but if people did decide to do so, they would have to bear in mind that they would have to isolate for a fortnight when they came back.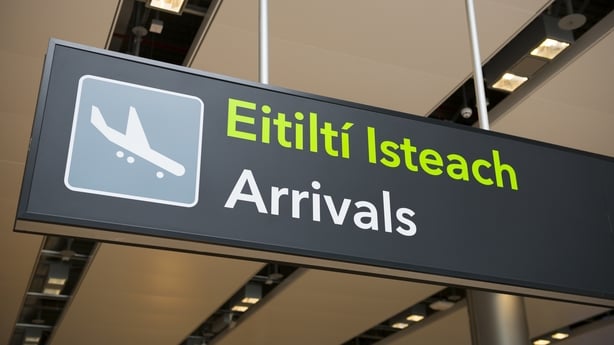 He said it was a matter for the government's legal advisers and the attorney general to consider if the 14 day quarantine could be legally enforced.
Minister Harris said he was encouraged by the continued downward trend in intensive care and hospital admissions. He said there were now 56 people in ICU with confirmed cases of Covid-19, down from a peak of 160.
He said the gradual easing of the restrictions would be the biggest national test so far when it came to Covid-19. He said we had to see if it was possible to live alongside the virus for the next three weeks, which would be very important.
The number of people in hospital with Covid-19 is continuing to fall. There were 688 patients in hospital last night with confirmed or suspected cases of the disease - 390 confirmed cases and 298 suspected cases.
The highest number of confirmed cases was in the Mater hospital in Dublin, with 59 cases, followed by St James' with 56.
There were 56 patients with confirmed cases of Covid-19 in intensive care and 17 with suspected cases of the disease. At least 44 of these patients were on ventilators.
Hospital admissions were down by 8.5% between Thursday and Friday mornings. There were 155 available ICU beds across the hospital system and 1,137 vacant general beds.
This day a week ago, 792 people were in hospital with confirmed or suspected Covid-19 - 535 confirmed cases and 257 suspected cases.
Easing instructions likely to increase cases but we have 'wriggle room'
Cillian de Gascun, director of the National Virus Reference Laboratory, said any impact from lifting restrictions on Monday will not be evident for at least five to seven days.
Speaking on RTÉ's Saturday with Cormac Ó hEadhra, he said it will be week two when they can see what type of effect it is having. "Hopefully it won't be any."
He said considering it will take some time to see the impact that is why they wanted a three week period for Phase One to see where they are at before moving into the next phase.
"I don't want to pre-empt decisions, there are likely to be increases (in Covid-19 cases) as people will be moving about more. But because people have done so well and cases have fallen, we have wriggle room."
He said if Phase One goes well, we should be moving into the next phase by 8 June, but warned there is also the risk of staying in Phase One or even going back to "Phase nought" if the situation worsens.
Mr de Gascun said being allowed to meet up with up to four people from Monday should be done sensibly.
He said he would discourage anyone who has the idea of meeting four for breakfast, another four for lunch and four others for supper.
"It is about broadening it out gradually. You don't have to be the same four people for the three weeks, but ideally it would constitute the majority."
He said we do not want the virus to resurge and said we are still seeing cases and deaths from Covid-19.
Holohan warns about syndrome affecting children
Yesterday, Chief Medical Officer Dr Tony Holohan warned doctors to be on the lookout for a severe inflammatory syndrome affecting children, which is possibly linked to Covid-19.
An alert from the European Centre for Disease Control (ECDC) says several countries recently reported cases of children being hospitalised in intensive care because of a rare paediatric inflammatory multi-system syndrome.
Symptoms include fever, abdominal pain and Cardiac issues, and are a mix of those for Kawasaki disease and toxic shock syndrome.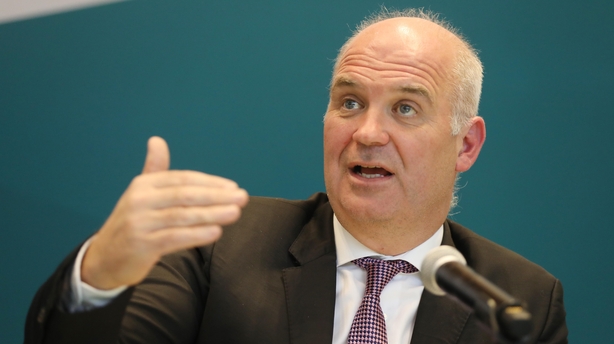 A link with Covid-19 has not been established, but appears plausible, according to the ECDC.
The World Health Organization confirmed it is studying a possible link between Covid-19 and a rare inflammatory illness among children.
Only 230 suspected cases have been reported in Europe and two children have died.
Authorities in Ireland say there have been seven cases which could be associated with the syndrome.
Dr Holohan said it was a very rare disease but has asked doctors to be aware of it.
---
Latest coronavirus stories
Doctors explore possible link between Covid-19 and inflammatory disease
---
Dr Holohan also provided more detailed information on the age group of people with Covid-19:
0-4 age group - 128 cases,18 hospitalisations, none in ICU
5-14 age group - 266 cases, 17 hospitalisations, 2 in ICU
15-24 age group - 1,688 cases, 68 hospitalisations, 5 ICU
25-34 age group - 3,936 cases, 4 hospitalisations, 14 ICU
Dr Holohan also said he was aware of how challenging and difficult the current situation had been for children.
He said the National Public Health Emergency Team needed to consider measures to ease the burden on children.
However, he said he did not anticipate schools would reopen before September.