Couples, celebrants and businesses have called for more clarity on when and how weddings can take place in Ireland again.
More than three thousand people have signed a petition started by WeddingsOnline.ie calling on the Government to provide more clarity.
Under the Government's plan to ease restrictions, small weddings will be permitted in phase four which is provisionally scheduled for after 20 July.
Larger weddings will be permitted in phase five, currently scheduled for after 10 August, and restrictions will remain in place.
Beyond maintaining social distancing there has been no further guidance on the restrictions or on what constitutes a small or large wedding, and those dates may also change.
The Chief Medical Officer Tony Holohan has said that gatherings of this kind are going to be some of the most challenging to see resumed.
Jonathan Bryans of WeddingsOnline.ie said the website had had a "flood of couples reaching out" to it, asking how they should deal with the crisis, and wondering whether they should postpone their wedding.
"Wedding venues and suppliers in the country are doing trojan work in terms of trying to accommodate couples for the future, so they are changing dates and they are holding provisional dates," Mr Bryans told RTÉ News.
"Without the clarity of knowing what the rules are, couples don't know how many guests they can bring, they don't know if the weddings can actually take place and the businesses don't know how they will be able to accommodate people with social distancing guidelines," he added.
The founder of the wedding website One Fab Day, Naoise McNally, has raised similar concerns.
"As the weeks have gone on the situation is effecting more and more couples and it's becoming more difficult for the wedding industry to manage," Ms McNally told RTÉ News.
"It has become extremely stressful for couples who are unclear as to how they can have their wedding and for suppliers in the industry it has become a huge source of stress, because they are losing revenue day on day, week on week, without much clarity on when a resolution will come."
"While the roadmap that was released last week is helpful in that it gives us a broad overview, it is lacking specifics about the wedding industry's particular problems, unlike say in Germany where they have made more concrete proposals around larger gatherings."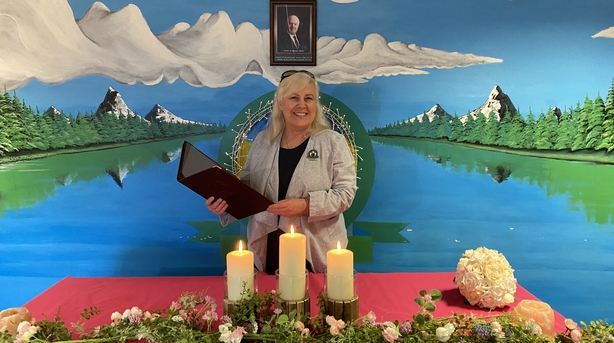 Solumniser Sandra Losty's last marriage ceremony before the stricter Covid-19 restrictions came into force was a socially distanced affair.
She married Mike Downey and Inbal Elazari on 21 March in the sanctuary of The Spiritualist's Union of Ireland in Clondalkin in Dublin.
The couple, who are American and Israeli and are living in Dublin, brought forward their original ceremony which was due to take place on 4 April, knowing that none of their family and friends would be able to travel.
Just seven people attended and the event was streamed live on Facebook.
Ms Losty describes them as a couple who embraced the situation and created a memorable and special day.
However, she says many of the couples contacting her now are looking for clarity about their own marriage plans.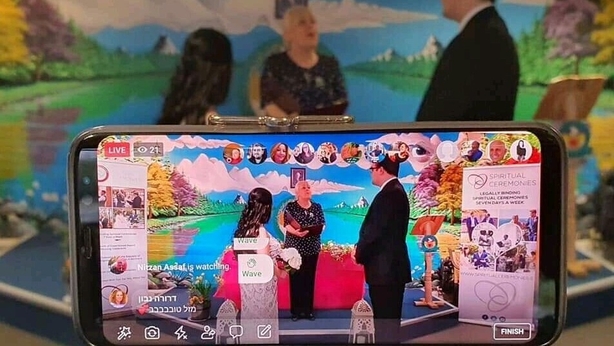 "The first thing [people want to know] is, how many people can we have at our wedding, they want concrete numbers of guests that they can have," Ms Losty said.
A celebrant with Spiritual Ceremonies, Ms Losty says they find they are now trying to interpret the guidelines to see what's possible.
With small gatherings permitted in phase two, provisionally scheduled for after 8 June, they will be able to host marriage services with just a couple and their witnesses in attendance.
Caroline Kent has found the lack of information very frustrating.
She was due to marry her partner, the father of her two children, on 19 May.
The registrar has now asked Ms Kent to select another date, however with so much uncertainty she told RTÉ that she doesn't know what to do.
Ms Kent said the registrar wasn't sure, for example, if her children would be allowed to attend her marriage service.
"If my kids can't be there, I won't be getting married," Ms Kent said.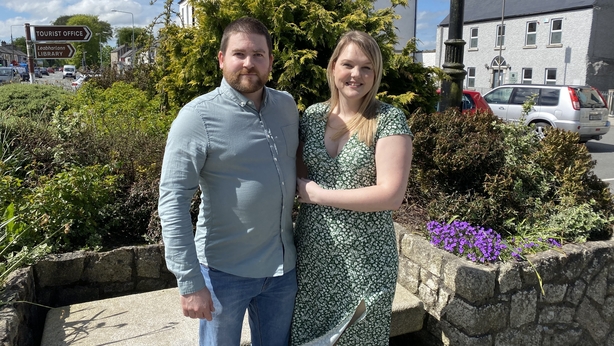 Dave McGinn and Amy Shields are among the thousands of couples who had to cancel their wedding due to Covid-19 restrictions.
They were due to get married on 11 April.
Their venue offered them an alternative date in October, and initially the couple believed they would get married on that date, however continued uncertainty has led them to cancel it altogether for now.
Ms Shields is from Pretoria in South Africa, and having her family at their ceremony was a deciding factor.
"There's still too many questions... passenger flights aren't looking like they're going to be coming back in the near future so we decided we were going to call it and cancel it altogether."
The couple still plan to get married but are now looking at having a smaller affair.
"We're looking at a registry office, dinner afterwards with some family and then hopefully go to the pub afterwards with some friends... it still kind of depends the pubs opening again and all of that," Mr McGinn said.
"I feel better now that we've decided to do it on our own terms," Ms Shields added.
A survey of 153 venues by WeddingsOnline.ie found that almost half (49.69%) have facilitated couples who had to cancel their wedding due to Covid-19 restrictions in moving their wedding 6-12 months from the original date, and 40.5% facilitated dates being moved by more than a year.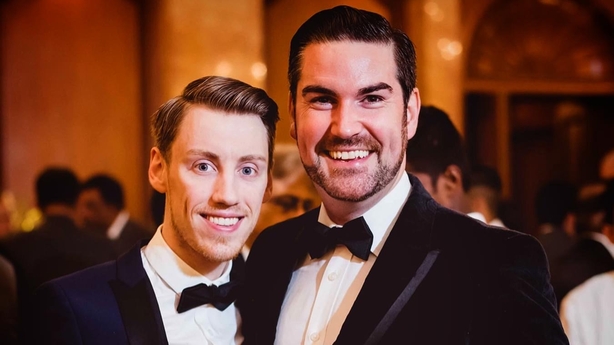 Mark O'Looney and his fiance Eoin Cannon are among those who have chose to move their wedding back to 2021.
"We just changed it yesterday," Mr O'Looney told RTÉ News.
The couple are living in New York and had intended on getting married in Ireland on 21 November, two years to the day after their engagement.
However, they have now put back the wedding until August 2021.
Theirs will be a big wedding, with over 300 guests invited.
"The government aren't giving any guidelines, we really didn't know where we stood," Mr O'Looney said. "So we could continue with the stress, or postpone it and relax."
"We don't want to have a socially distanced wedding," he added. "We're finding it hard enough to be away, our wedding is supposed to be a celebration."
Lead singer of The Dream Band Jo Petit is also looking for clarity on how they as musicians can set up at a wedding and adhere to social distancing.
"As a six to 12-piece band, sometimes we find it very difficult to set up because we get a small portion of the room," Mr Petit said. "If we're to adhere to social distancing and play as a 12-piece we're going to need a pretty big room."
He says they are also working to accommodate as many of the couples who are attempting to replan their wedding as possible.
"It is very heartbreaking when couples come to you and you don't have the date available... because things are starting to merge into next year, and we also have an amount of bookings for next year already." Mr Petit told RTÉ News.
According to the WeddingsOnline.ie survey, 20% of the venues asked said they would reimburse a booking deposit to a couple cancelling because of Covid-19, 40% said they would not, and another 40% were dealing with it on a case-by-case basis.
The Competition and Consumer Protection Commission advises that ultimately whether a couple is entitled to a refund depends on the terms and conditions of their contract.