The US President has said that he will announce new members of his coronavirus task force by Monday, as its focus turns to medical treatments and easing restrictions on businesses and social life.
Speaking at the White House, Donald Trump said he thought he would be able to wind down the high-level team sooner, but he had no idea how popular it was.
His comments come after the White House had suggested that the taskforce could close around the start of June.
Earlier, President Trump appeared to backtrack on the plan in a series of tweets.
He said the task force had been so successful that it "will continue on indefinitely with its focus on safety and opening up our country again".
We need your consent to load this rte-player contentWe use rte-player to manage extra content that can set cookies on your device and collect data about your activity. Please review their details and accept them to load the content.Manage Preferences
At the White House event this evening, President Trump said the fallout from the Covid-19 pandemic had hit the United States harder than the Pearl Harbor attack in 1941 and the terrorist attacks on 11 September 2001.
He also said that he did not wear a face mask during a tour of a mask-making factory in Arizona yesterday after consulting the company's chief executive, although he said he tried one on backstage.
The US President wore safety goggles during the factory tour but did not wear a mask, even though production workers at the facility did and a sign was visible that read: "Attention: Face Mask Required in this Area. Thank You!"
The White House CoronaVirus Task Force, headed by Vice President Mike Pence, has done a fantastic job of bringing together vast highly complex resources that have set a high standard for others to follow in the future. Ventilators, which were few & in bad shape, are now being....

— Donald J. Trump (@realDonaldTrump) May 6, 2020
....produced in the thousands, and we have many to spare. We are helping other countries which are desperate for them. Likewise, after having been left little, we are now doing more testing than all other countries combined, and with superior tests. Face masks & shields,....

— Donald J. Trump (@realDonaldTrump) May 6, 2020
....gloves, gowns etc. are now plentiful. The last four Governors teleconference calls have been conclusively strong. Because of this success, the Task Force will continue on indefinitely with its focus on SAFETY & OPENING UP OUR COUNTRY AGAIN. We may add or subtract people ....

— Donald J. Trump (@realDonaldTrump) May 6, 2020
....to it, as appropriate. The Task Force will also be very focused on Vaccines & Therapeutics. Thank you!

— Donald J. Trump (@realDonaldTrump) May 6, 2020
Vice President Mike Pence, who heads the task force, said he was "starting to look at the Memorial Day window, early June window" for shutting it down. That holiday falls on 25 May.
The team has spearheaded the complex response to the fast-spreading coronavirus, which has already killed more than 70,000 Americans.
The group coordinates between medical institutes, political staff and state governors, some of whom have spent weeks frantically trying to help overwhelmed hospitals.
The task force also drew on medical experts to formulate national recommendations on social distancing that led to the economic shutdown.
Members of the task force gave daily press conferences meant to inform the nation on the latest status of the pandemic. But they were often overtaken by President Trump's own freewheeling question-and-answer sessions and ended more than a week ago.
He said that while he wants a "safe" reopening, the hardship caused by the economic shutdown is the main threat to the United States.
"We can't keep our country closed for the next five years," President Trump said in Arizona yesterday.
He conceded that some people would be "badly affected" by loosening the practice of social distancing.
Critics say that the health situation remains far from secure and that Mr Trump is rushing to try and boost the devastated economy in time for his difficult reelection battle in November.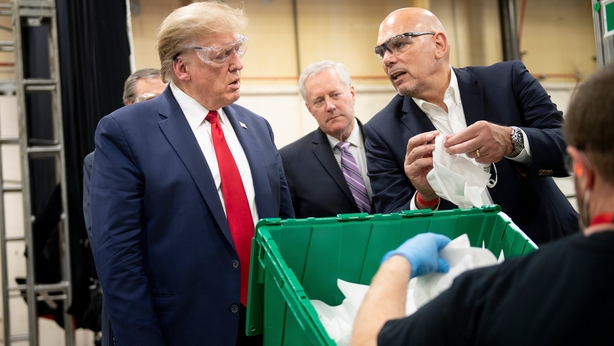 The US coronavirus death toll climbed by 2,333 yesterday, according to a tally by Johns Hopkins University, more than twice as many as the day before.
The figure - standing at more than 72,000 people - is the highest in the world, followed by the UK.
---
---
President Trump acknowledged there might be a resurgence of the virus as states loosen the restrictions on businesses and social life aimed at curbing its spread.
"It'll be a flame and we're going to put the flame out," he said.
Asked whether a lifting of social distancing measures and reopening of the shuttered economy will lead to higher death tolls, Mr Trump said: "It's possible there will be some."
Democratic politicians and some Republicans have criticised the president for playing down the threat and encouraging states to start to reopen their economies.
Mr Pence said the trend lines for infections in the US are on a positive course and that the country "could be in a very different place by late May or early June".