The death toll from coronavirus in France has passed 25,000 as its prime minister defended the government's plan for easing a lockdown in the face of bitter criticism.
The country is due to emerge on 11 May from a lockdown that began in mid-March to combat Covid-19, with some schools reopening in a strategy different to other European countries.
Signs have grown that the epidemic is slowing in France although today's increase in deaths to 306 - more than double the day earlier - took the total number of fatalities to 25,201.
But there are 123 fewer patients suffering from coronavirus in intensive care, with a total of 3,696 receiving such urgent treatment.
French Prime Minister Edouard Philippe rejected concerns that the government is moving too fast especially by reopening schools.
"We're at a decisive moment, we cannot remain in confinement," he said. "Economic life must resume imperatively and quickly."
France is now the fifth country to have recorded over 25,000 coronavirus deaths after the UK, Italy, Spain and the United States.
Spain begins four-phase plan towards reopening
Spain began a four-phase plan to reopen the country by the end of June, while the 24-hour death tally from coronavirus stayed under 200 for the second day in a row.
Red Cross workers handed out protective masks at Madrid's metro stations today as mask usage in public transport is mandatory.
Small businesses like beauty salons and bookstores can start limited services and customers can pick up take-away orders from restaurants.
Prime Minister Pedro Sanchez said on Saturday that six million masks were due to be distributed in Spain, one of the worst-hit nations by the global pandemic.
The death toll climbed by 164 in the previous 24 hours to 25,428 and cases reached 218,011, according to health ministry data released today.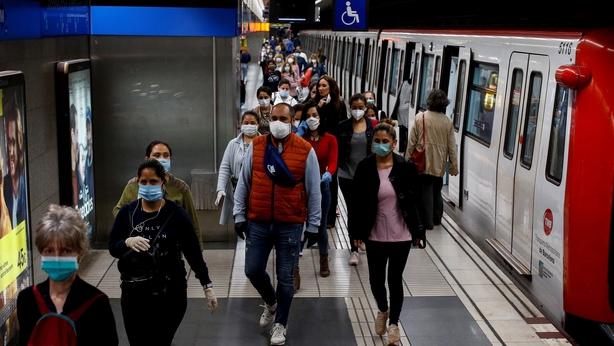 In the next stage, outdoor areas of bars and restaurants can open at half occupancy, while groups of up to ten people will be allowed in public places and in homes.
Three of the Canary Islands - La Gomera, El Hierro and La Graciosa - and the Balearic island of Formentera will enter this second phase and open outdoor terraces.
These islands have not registered new Covid-19 cases in 28 days.
The rest of the country is set to enter phase one on 11 May, if they meet the criteria established by the health ministry.
Over the weekend, people across Spain were allowed out of their homes for the first time in seven weeks as the government began easing tough restrictions.
Joggers, cyclists and walkers took to the streets in droves and some beaches were packed.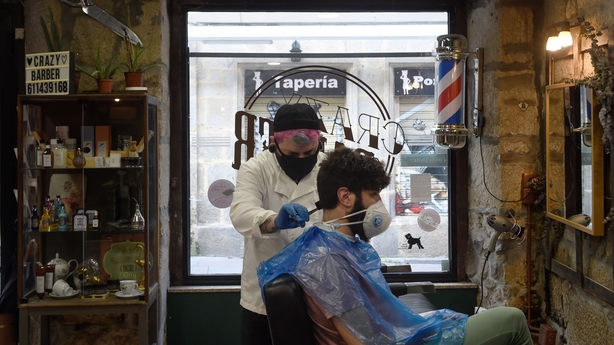 Spain imposed a strict lockdown in March, confining most of the population to their homes for all but essential trips.
As the rate of infection has fallen and hospitals have regained their footing, Mr Sanchez's government has shifted its focus towards gradually reopening the country and reviving a badly battered economy.
Portugal starts to emerge from coronavirus lockdown
Portugal has also begun to ease its coronavirus lockdown, with small shops, hair salons and car dealers resuming operations as a state of emergency was lifted after more than six weeks.
The wearing of face masks or a visor in stores and on public transport is compulsory under the government's plan unveiled last week for the gradual reopening of the country.
Portugal declared a state of emergency on 19 March and has so far recorded more than 25,000 virus cases, including over a thousand deaths.
That was lifted yesterday but people were still encouraged to stay home as the country takes tentative steps towards normal life.
Shops cannot open before 10am and should ensure social distancing measures are respected. Hairdressers and beauty salons can receive customers by appointment only.
Anyone found not wearing a mask or visor on public transport could be fined up to €350. Restrictions on movement will be eased in the coming weeks, the government said Thursday.
Senior schools will reopen 18 May, but long-distance learning will remain the norm for primary and middle schools through to the end of the year.
Museums, bars, restaurants and art galleries will also open their doors once more from 18 May as well.
Those who can, will be expected to work from home throughout May and groups of more than ten people are banned.
Football league action is slated to resume on the final weekend of the month.