Walls across Northern Ireland have been used for political murals for decades.
Republicans and loyalists have marked out territory, and spelt out their positions.
The letters IRA, INLA, UVF and UDA often formed part of the message.
But artists across the political divide are now at work on new murals featuring different letters - NHS.
From the iconic Free Derry corner in the nationalist Bogside area of Derry to housing estates across the River Foyle in the unionist Waterside area of the city.
The International Wall in nationalist west Belfast has been a canvass for political statements for many years.
Now there's a message of thanks.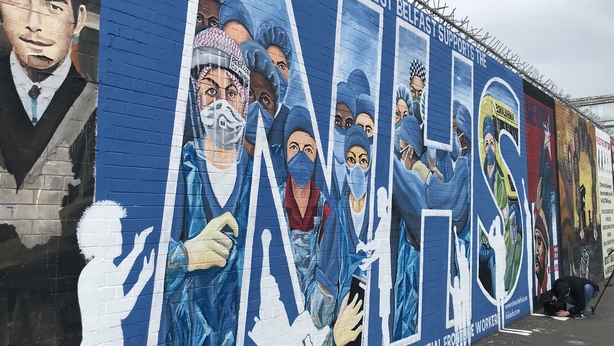 Two of Belfast's largest hospitals, the Royal Victoria and the Mater, the main treatment centres for coronavirus patients in the city, are just a short distance away.
"Many of them, whether domestic staff or health workers or frontline staff and doctors etc that work there would pass this mural on a daily basis," explains Harry Connolly, director of Failte Feirste Thair, the West Belfast Tourism development body.
"We wanted to send out a message of support, of solidarity and of hope to them. The plan is for it to stay long after this coronavirus crisis ends as a message of thanks."
Across the city in unionist east Belfast, a mural in the Clonduff area pays tribute to army veteran Captain Tom Moore, who raised over 30 million pounds for the NHS.
Carol McMeekin lives just across the road and watched the artist at work.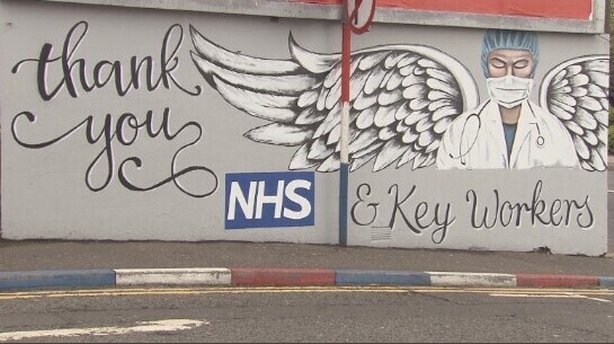 "It's wonderful every morning to look across the road and see that lovely face smiling out at you," she says.
"Some of the murals are amazing. There are some very talented artists throughout this wee island of ours.
"It has done something, this coronavirus, that the Good Friday Agreement couldn't do. It has united us all, Catholic, Protestant, and all nations that live with us now, it's wonderful to see."
The message isn't confined to walls.
Thousands of wooden pallets are burned every year on bonfires to celebrate the 12th of July.
Bonfires and Orange Order parades have been cancelled this year, so bonfire builders in the Corcrain estate in the Co Armagh town of Portadown have put them to different use.
They have used around 700 pallets to build a tribute to the NHS.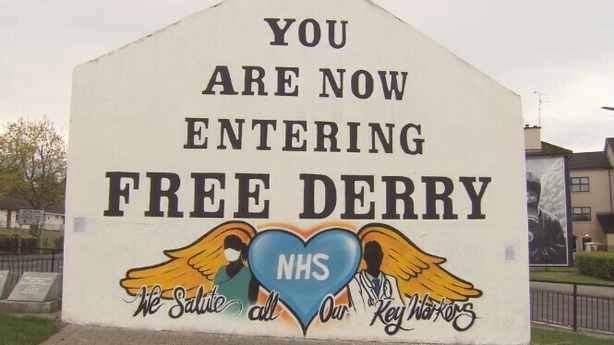 It stands around the height of a two-storey house and when completed will be covered with NHS flags and lit up with blue lights.
"Some people talked about putting Union flags on it but we decided against that as Catholics and Protestants work for the NHS and we didn't want to make it political," says a member of the Loyalist Corcrain Redmanville Bonfire committee.
The political divide in Northern Ireland remains as wide as ever.
But for now, in these most extraordinary of times, it's been bridged by a common cause.