The group representing private and voluntary nursing homes expressed concern about the availability of face masks in the coming weeks following guidelines to healthcare staff by the Health Protection Surveillance Centre (HSPC).
Nursing Homes Ireland (NHI) Chief Executive Tadhg Daly told RTÉ's Pandemic podcast: "A directive issued this week that all healthcare workers should wear face masks. That is going to put significant pressure on the availability of face masks over the coming weeks".
Mr Daly said that despite improvements there were continuing concerns around the supply of personal protection equipment (PPE).
Mr Daly said that where there had been Covid-19 outbreaks, the Health Service Executive had been very responsive in supplying PPE.
However he said there were "pockets" in the country where stocks of PPE were low and would be vulnerable were an outbreak to occur.
"We made the proposal 2-3 weeks ago that every nursing home should have at least three days stock of PPE in-house," he said.
Mr Daly said the proposal for a three-day stock of PPE to be on hand would allow local exchanges of equipment between neighbouring nursing homes in the event of an outbreak, which would provide faster relief than delivery from centralised stores.
Speaking at a Government press briefing, the Minister for Finance and Public Expenditure and Reform, Paschal Donohoe, has said the majority of Personal Protective Equipment continues to be imported into Ireland. 
"From a PPE point of view the majority of material that is being used is coming in from abroad."
He said while a number of companies in Ireland are looking to scale up their operations to produce PPE and test kits, "because of the scale of need, it is the case that the majority of it is coming in from other countries. "
---
Listen to full podcast here
---
Mr Daly also said its attempts to place restrictions on visitors in early March were put under "unnecessary pressure" by a National Public Health Emergency Team (NPHET) briefing.
Mr Daly said that the Chief Medical Officer's questioning of the necessity of their move placed NHI members under pressure from residents' families.
"Once the communication from NPHET hit the public domain, as it were, it did cause a lot of anxiety because we were getting an increasing number of calls to our member nursing homes but also to our own offices challenging our decision, so it created unnecessary pressure for us as an organisation and for our members.
"In essence the decision was made to ensure the safety and welfare of residents and staff and it did at that time probably take people off the front line dealing with questions and queries over that time."
NHI issued guidelines on 6 March that visits to nursing home residents should be limited. Mr Daly said the first response he received to the guidelines was from a NPHET press briefing some days later during which the Chief Medical Officer, Dr Tony Holohan, questioned the necessity of the move at that time.
Mr Daly said the remarks came as a surprise to his organisation.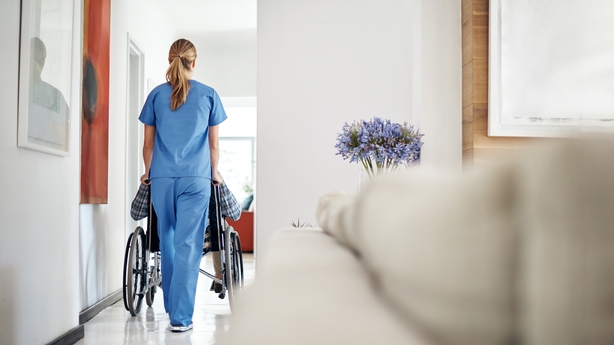 Mr Daly explained that there had been improvements in the supply chains in recent weeks: "Things have opened up, things have definitely improved."
He said he believes that concerns over the risks presented to nursing homes by visitors, staffing shortages and limited supplies of PPE might have been addressed had NHI been invited to be members of NPHET subcommittees. 
"I'd like to think we would have made a difference," said Mr Daly, pointing out that his members provide care to 25,000 people and employ 30,000 staff members.
Mr Daly said NHI was never informed why its request to be a part of NPHET had not been accepted. "To this day we've never received any reason as to why we shouldn't be on the NPHET or indeed the Vulnerable Persons' subgroup and there was also another subgroup on nursing homes and to this day I don't believe we've received any formal communication as to why we shouldn't be represented on such groups." He believes his organisation should be included in NPHET.
"There should have been a mechanism there, either directly on the national forum or indeed on the particular issues relating to nursing homes that absolutely the private and voluntary nursing home sector's voice should have a mechanism for reaching that particular forum."
On the allocation of €72m of extra funding to the nursing home sector, Mr Daly welcomed the funding but said there had been "a lack of engagement" on how the funding would be rolled out. The money is to cover extra staffing, cleaning and equipment costs, particularly in the area of personal protective equipment (PPE) such as gloves, gowns and masks.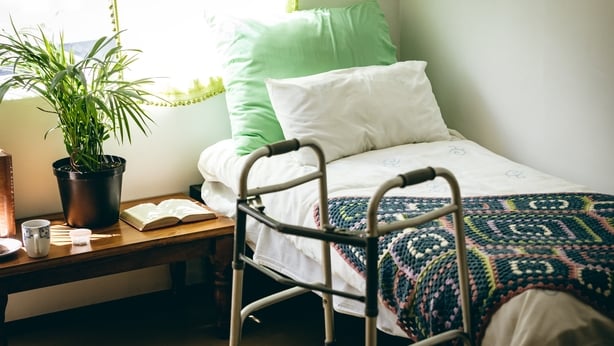 The scheme, which was announced on 4 April had only come into effect last Tuesday, 28 April, Mr Daly added.
"At this point, to the best of my knowledge, very limited funds have been drawn down, but I'm confident that will improve over the next week to ten days." Mr Daly said there had been improved engagement since the HSE had taken over the administration of the scheme.
Mr Daly said the Outbreak Assistance Scheme for homes that have experienced an outbreak of Covid-19 remains a concern.
"The funds that were allocated in the first tranche would be insufficient if you had an outbreak in either a large or a small home but that process is ongoing, but the HSE is very engaged in the whole consultation around that...but we do need a review [after one and three months] built into that."
On the issue of testing, Mr Daly said that he would favour rolling testing to continue in the nursing home sector once the current programme has been completed.
Mr Daly also said there remained areas of the country where turnaround times for testing of staff in nursing homes remained slow, taking anywhere from six to eight days.
He called for testing kits to be provided so that nurses in nursing homes could carry out swabs. Replacement staff for those with a positive diagnosis was also important, he said.
Mr Daly added that just 82 nursing staff had transferred from hospital to nursing home settings under a voluntary scheme announced some weeks ago.