Ryanair has said it could take at least two years for passenger demand to return to normal and this could result in up to 3,000 jobs losses, mainly among pilots and cabin crew.
The airline is also looking to implement pay cuts of up to 20% as well as the closure of a number of aircraft bases across Europe until traffic recovers.
It added that job cuts and pay cuts will also be extended to the airline's head office and back office teams.
Group CEO Michael O'Leary, whose pay was cut by 50% for April and May, has now agreed to extend this 50% pay cut for the remainder of the financial year to March 2021.
In a Covid-19 market update today, Ryanair said it would ground more than 99% of its flights until July and said it had begun negotiations with Boeing about cutting the number of aircraft deliveries over the next 24 months.
We need your consent to load this rte-player contentWe use rte-player to manage extra content that can set cookies on your device and collect data about your activity. Please review their details and accept them to load the content.Manage Preferences
Ryanair said that its first quarter passenger numbers of less than 150,000 passengers will be 99.5% behind its forecast of 42.4 million passengers.
It said that while some return to flight services is expected in the months from July to September, it expects to carry no more than 50% of its original traffic target of 44.6 million in its fiscal second quarter, which is usually its busiest season.
For the full year ended March 2021, Ryanair now expects to carry less than 100 million passengers, more than 35% below its original 154 million target.
It said it now expected a loss of €100m in the three months to the end of June, which Mr O'Leary said was the first time the airline has ever suffered a loss in that quarter.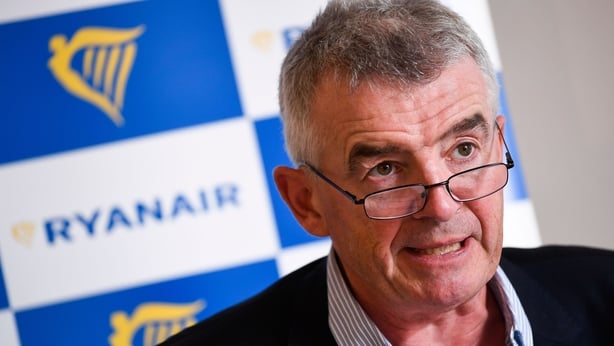 Mr O'Leary said that it could take "many months" for customers to get a cash refund for cancelled flights.
Speaking on BBC Radio 4's Today programme, he said: "We will give you your money back. If you want a cash refund, you will receive a cash refund."
But he added: "It's going to take us many months to process these cash refunds."
Mr O'Leary said that in a month the airline would normally process around 10,000 refunds. However it is now facing a backlog of 25 million refunds for cancellations in March, April and May which, he said, were caused by governments grounding the airline's fleet.
He said: "That's fine, we're not blaming government, but we have a backlog of 25 million refunds to process. Our staffing is reduced to 25% of normal levels because of social distancing and people being banned coming to work in offices, so it will take many months to eliminate this backlog.
"We're working through at the moment the March refunds, that will take us certainly two or three months, then we'll move to the April refunds, then the May refunds, but nobody will not get a cash refund."
Earlier, Mr O'Leary said he planned to challenge in European Courts what he described as more than €30 billion in "unlawful and discriminatory state aid" to a dozen rivals, including Lufthansa Group, Air France-KLM Group and Alitalia.
He said Ryanair would be "forced to compete with flag carrier airlines who have received €30 billion in state aid doping to allow them to sustain below-cost selling for months after this Covid-19 crisis has passed".
Gerry Byrne, an aviation journalist, has said job losses at Ryanair are "inevitable" and the only consolation is that the cuts are less in percentage terms compared with other operators.
Speaking on Today with Sean O'Rourke, he said Ryanair employees who are not part of a union can be laid off "on a whim" while for those who are unionised, the airline management will have to negotiate with them.
Stephen Furlong, Transport Analyst with Davy Stockbrokers, said Covid-19 is the worst crisis aviation has ever been in.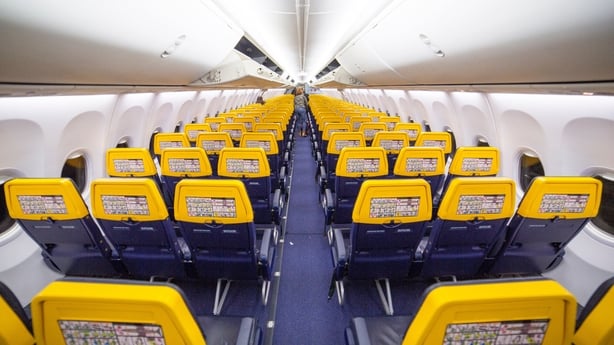 He said the airlines are at the epicentre of the crisis with very little revenue and a high operating leverage.  
He predicted that a lot of the airline industry is going to change after this, adding that the aviation industry will be a smaller industry and one that is more consolidated and concentrated. 
The analyst said he anticipates that it will not start recovering until 2023.  
"I would say that some airlines will disappear, some even strong airlines will be smaller and then others will be growing slower than they would have, but will emerge ultimately stronger, and Ryanair will be one of them," Stephen Furlong said.
He said Ireland is "quite lucky" to have two of the strongest airlines in the world, Ryanair and Aer Lingus (and its parent company IAG), which have good balance sheet coming into this crisis.
The Fórsa trade union, which represents Ryanair cabin crew and pilots, said it received a short communication from the airline shortly after reports of potential job losses and pay cuts emerged this morning.
Fórsa said it will seek an early engagement with the airline, and will make no public comment until management has formally outlined a detailed position to the union.
Meanwhile, Aer Lingus said today it will start negotiations with unions representing staff at the airline about cuts of up to 900 jobs.
Elsewhere, the daa, which operates Dublin and Cork airports, is planning to reduce costs, limit potential losses and seek to renegotiate commercial agreements, according to a new strategy document seen by RTÉ.
Entitled "Road to Recovery - Our Key Priorities", the document sets out goals on maintaining strong finances, ramping up businesses, right-sizing the organisation, building the right infrastructure, and successfully managing stakeholders.
Under the "Maintain Strong Finances" heading, the daa says it must ensure that it has the cash to support operations and deliver its recovery plans in the Covid-19 environment.
It stresses the need to stay financially strong to rebuild businesses, and to be very clear about what ecovery for the industry and business will look like over the coming period.
Additional reporting Ingrid Miley