German police have arrested dozens of protesters in Berlin for flouting the coronavirus lockdown measures they were demonstrating against.
About 1,000 people turned out for the rally, which has become a weekly event in the German capital.
Saturday's protest attracted mainly far-left activists but there were also right-wing supporters and members of other fringe groups.
Police put up barriers around Rosa Luxemburg square, where the protesters were headed, leaving the participants to gather in nearby roads.
We need your consent to load this rte-player contentWe use rte-player to manage extra content that can set cookies on your device and collect data about your activity. Please review their details and accept them to load the content.Manage Preferences
The protest "is not in line with the rules" in place to prevent the spread of the Covid-19 virus, police said on Twitter, telling those taking part to disperse.
Some of the demonstrators wore T-shirts accusing Chancellor Angela Merkel of "banning life" while others simply called for "freedom". Others brandished placards bearing slogans such as "Stop the pharmaceutical lobby".
The protest organisers' website called for "an end to the state of emergency" and played down the threat posed by the virus.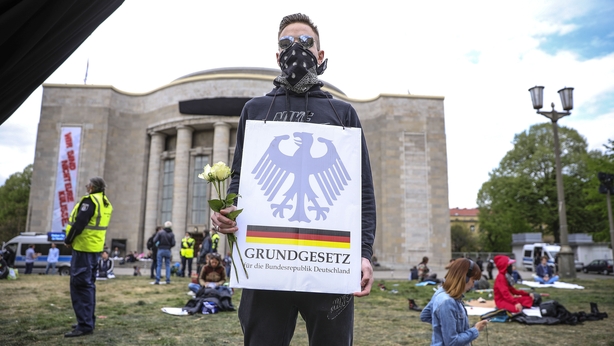 In her weekly video podcast earlier today, Ms Merkel said Germany will use its six-month presidency of the European Union - starting 1 July - to focus on the fight against the coronavirus and its social and economic impact.
"It will be clearly dominated by the issue of combating the pandemic and its consequences," she declared, adding that as long as there was no vaccine, the virus would dominate life in Europe.
The Chancellor said Germany would promote the idea of an efficient European health care system for all member states, as well as a financial transaction tax, minimum tax rates and a joint carbon emissions trading system for ships and planes.
The German cabinet will hold a special session on Wednesday to discuss the agenda for the German presidency of the EU, along with Jeppe Tranholm-Mikkelsen, the secretary-general of the European Council.
Germany has 152,438 confirmed cases of Covid-19 and 5,500 deaths.