The Taoiseach has told the Dáil that there was a real risk that if everyone became lax, control could be lost over the spread of coronavirus in Ireland.
Speaking as the Dáil began debating the Government's handling of the Covid-19 crisis, Leo Varadkar warned that complacency was the new enemy.
The Taoiseach and several ministers face questioning from Opposition parties on issues ranging from the economy to health to education.
Mr Varadkar said extreme vigilance was required and everything must be done to avoid a second wave of Covid-19.
He said there would be a gradual and stepwise easing of restrictions, with time between measures to monitor their effect.
However, he cautioned that certain stricter measures might have to be introduced.
Fianna Fáil leader Micheál Martin said that too many questions had been met by a lack of clarity or deflection.
Mr Martin said that too often there was resistance to being upfront until a solution was found.
Sinn Féin leader Mary Lou McDonald, who had tested positive for the virus, said she waited 16 days for her test results.
She said it would not be safe to unwind public health restrictions until we have a wide comprehensive testing and contact tracing system.
Green Party leader Eamon Ryan has said that we must implement the testing, tracing and isolation systems that are needed to be able to manage Covid-19 and reopen the economy.
He said we need to start thinking about the economic recovery because it would be an important part of the management of the crisis.
Labour leader Alan Kelly said there was a lack of transparency on how decisions were made, especially around the advice of the National Public Health Emergency Team.
Mr Kelly said that ultimate decision-making could not be in the hands of the few and he said elected office could not be subservient in tackling the crisis.
We need your consent to load this rte-player contentWe use rte-player to manage extra content that can set cookies on your device and collect data about your activity. Please review their details and accept them to load the content.Manage Preferences
The co-leader of the Social Democrats Catherine Murphy said the number of deaths in recent days is a stark reminder that the virus was still in a very active phase.
Ms Murphy said the nursing homes sector was a particular source of concern.
Aontú leader Peadar Tóibín said it was wrong not to restrict flights at the beginning of the crisis and he asked whether this policy would change.
Socialist Party TD Mick Barry called on the State to intervene to save the jobs under threat in Debenhams.
Minister for Health Simon Harris also faced questioning on the issue of how the State authorities are assisting and protecting people living in nursing homes from the coronavirus.
Minister for Education Joe McHugh will also be in the chamber, when it is anticipated there will be a particular focus on the Government's plans for the now-delayed Leaving Certificate.
Earlier, Sinn Féin's finance spokesperson said he would be concerned about potential changes to the pandemic unemployment payment or the wage subsidy scheme.
Pearse Doherty said the schemes should run for a 20-week period and not a 12-week period.
He told RTÉ's Today with Sean O'Rourke that it was clear that those who have lost their jobs need to be supported and the best way to do that is to fix the wage subsidy scheme.
Mr Doherty said the pain was still being felt from the last recession and called for investment and stimulus to bring Ireland out of the next recession.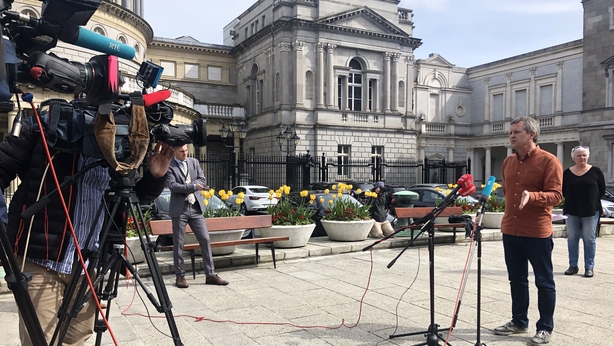 People Before Profit has said the country is at a watershed moment where important choices have to be made if we are to transition to something better.
Dún Laoghaire TD Richard Boyd Barrett said there should be no return to the "disastrous mistakes" of 2008 in terms of cutbacks and taxes on income.
Speaking ahead of today's Dáil sitting, he said there should be a massive Marshall Plan and big State intervention.
Bríd Smith said everyone should wear masks in public places, including public transport, and they should be made freely available.
Dail agrees to Richard Boyd Barrett's request for applause for frontline workers at 8pm if house still sitting.

— Sandra Hurley (@sandra_hurley) April 23, 2020
---
Read:
Latest politics stories
---