The Department of Health has confirmed that 39 more people have died with Covid-19, bringing the overall death toll here to 610.
A further 445 new cases of coronavirus have been diagnosed. In addition, there are 48 cases of Covid-19 from the backlog of tests at the laboratory in Germany, bringing the total additional cases today to 493.
There are now 15,251 confirmed cases of Covid-19 in the Republic of Ireland.
The Health Protection Surveillance Centre (HPSC) revealed that of the latest 39 deaths, two were in the west of the country with 37 in the east.
The deaths included 19 females and 20 males with a median age of 84. Twenty nine were reported as having underlying health conditions.
A summary of all 610 deaths with Covid-19 provided by the HPSC shows that 346 (57%) of those who died were male and 264 (43%) were female with an age range of 23 to 105. Of these cases, 337 were admitted to hospital with 46 admitted to ICU.
Further data from the HPSC, correct as of midnight, Friday, 17 April (relating to 14,602 cases) reveals 3,788 cases are associated with healthcare workers. This is a rise of 215 from the previous day.
The median age of confirmed cases is 48 years with 2,223 cases (15%) hospitalised and 303 patients admitted to ICU.
Dublin has the highest number of cases at 7,379 (51% of all cases) followed by Cork with 1,028 cases (7%). Of those for whom transmission status is known: community transmission accounts for 63%, close contact accounts for 32%, travel abroad accounts for 5%.
There are 454 clusters of the virus in the Republic of Ireland – a cluster relates to at least two linked cases. Nursing homes account for 165 of these clusters, while there are 71 in residential institutions and 22 outbreaks in community hospitals or long-stay units.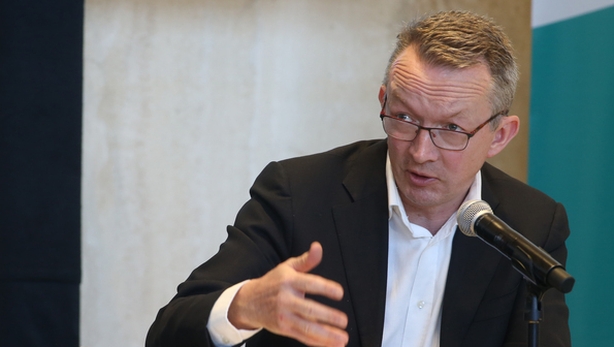 There are also 69 clusters of infection in hospitals across the country.
Earlier today, the HSE's Chief Clinical Officer, Dr Colm Henry, has said they are seeing "signs of stabilisation" in terms of the numbers of new patients being admitted to acute hospitals. He added there is still capacity in ICU units.
"We are scaling up in anticipation of any surge," Dr Henry added.
The HSE also apologised for an internal memo issued at a Dublin nursing home that used inappropriate language to describe patients.
"The language is unacceptable," said David Walsh, the HSE's National Director of Community Operations.
"It is really a matter of regret that any patient or their family would perceive from that [memo] that they were being treated in a differentiated way."