The health ministry in the UK has said the number of people who have died in hospital from coronavirus has risen by 847 to 14,576.
The increase over a period of 24 hours is slightly lower than the 861 new deaths recorded yesterday.
The latest data also shows a further 5,599 people tested positive for Covid-19 over 24 hours, taking the total number of infections in the UK to nearly 109,000.
In Northern Ireland, a further 18 people have died in hospitals after being diagnosed with Covid-19, bringing the overall hospital figure to 176.
Northern Ireland's Statistical Research Agency said an additional 39 deaths were not recorded by the Department of Health.
Wales' First Minister Mark Drakeford told a press conference in Cardiff there were reasons the nation could "look forward cautiously and carefully" to how the future would look after the pandemic.
"On 7 April, we saw the highest number of new admissions for coronavirus in the outbreak so far to Welsh hospitals," Mr Drakeford said.
"On that day, the figure was 196. It has been below that number every day since."
Mr Drakeford said there had been as few as 105 such admissions yesterday.
In terms of critical care, the highest figure - 161 patients - was recorded on 9 April, but this has since "stabilised", he said.
"These are the reasons why we are able to look forward cautiously and carefully to the future, to what Wales and the wider world will look like when the pandemic is over," Mr Drakeford said.
Meanwhile, community testing could prevent lockdown measures having to be implemented during potential future waves of coronavirus, British health select committee chairman Jeremy Hunt has said.
Speaking to the BBC, Mr Hunt said: "A test is not a cure, a test gives you vital information as to where the virus is in the community so you can track it and trace everyone who's been near the person who had it.
"And that means that you don't have to lock down because in Korea, Taiwan, Singapore, they've kept the offices open, the shops are open, the shopping malls are open and normal life is able to continue much more than it is able to do at the moment in the UK."
British war veteran raises £20m for NHS
Captain Tom Moore's bid to raise money for the NHS by walking laps of his garden has hit £20 million - less than two weeks after he started the challenge.
On 6 April the 99-year-old Second World War veteran set out to walk 100 laps of his garden in Bedfordshire before his 100th birthday on 30 April.
His initial target was to raise £1,000 for NHS Charities Together, a target that he has smashed by 4,008%.
He completed his 100th lap on Thursday, but as donations continue to pour in he has vowed to keep going.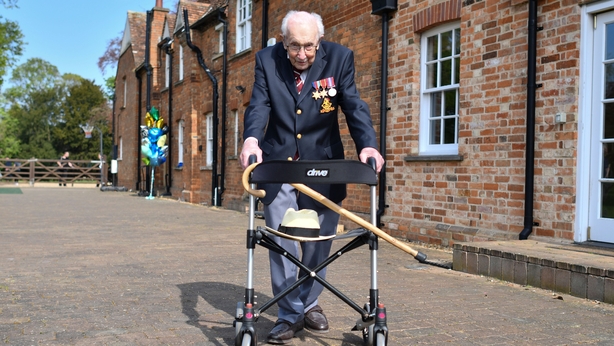 Legendary Irish jockey AP McCoy sent a message of congratulations to the retired army captain. "What you have achieved is phenomenal, I'm glad I was not competing against you when I was a jockey, I would not have liked to try and beat you with the mindset that you have."
Thanks @AP_McCoy - I wish I was a jockey! #walkwithtom #TomorrowWillBeAGoodDay pic.twitter.com/nTWaa4F2ER

— Captain Tom Moore (@captaintommoore) April 17, 2020
More than 97,000 people have supported Captain Moore's effort and donations are still pouring in.
Speaking on BBC Radio 2's Zoe Ball Breakfast Show on Friday, he said: "It really is absolutely enormous isn't it. That sum of money is very difficult to imagine but it's coming in so well."