There has been a three-fold increase in demand for flour at some Irish supermarkets.
Tesco Ireland said it has sold 600,000 bags of flour in the last week alone. Sales peaked in the week that the Covid-19 restrictions were imposed: a 300% increase in flour sales was recorded by Tesco stores in Ireland.
Odlums flour mill in Portarlington is working around the clock to meet the surge in demand for flour at retail outlets.
The Association of British and Irish Millers said the increase is unprecedented. Its members, including Odlums, are working around the clock to fill orders.
There is plenty of flour, the association said, but mills are struggling to package flour quick enough to cope with demand.
Alex Waugh of nabim, the association representing UK flour millers, said that it is a similar picture across Europe.
We need your consent to load this rte-player contentWe use rte-player to manage extra content that can set cookies on your device and collect data about your activity. Please review their details and accept them to load the content.Manage Preferences
"It is absolutely worldwide, in France, Germany, Italy, the United States, demand is up at unprecedented levels, I have been speaking to millers in Ireland the UK and they all say, 'we have never seen such demand for retail flour'.
He said that production in Ireland and the UK has doubled by running mills, "24 hours a day, seven days a week".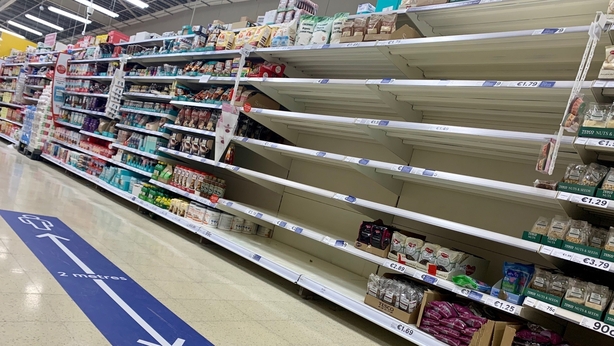 Stocks at some supermarkets have been cleared out, but product is being restocked within 24 hours.
The Commercial Director with Tesco Ireland Joe Manning has said: "sales have tripled, we have never seen the demand for flour that we have seen in the past six weeks."
Addressing the fact that some flour shelves are empty he said: "it has been tough at times, stock comes in every night, there will be odd days when you will have empty shelves, but stock will come in at night and the shelves will be full tomorrow".
Tesco has also seen a huge increase in sales of icing and chocolate chips, which seems to suggest that home baking rather than just bread baking is the real reason for the increased sales.
TV chef Catherine Fulvio said the boom in home baking products is not surprising, she said people are turning to something creative.
She said: "we have not really had enough time to be creative and now we have and we are getting a taste for it."
She said people have "taken it up a notch" and she added when it comes to home cooking and baking, the impact of Covid-19 restrictions on our movement, "will fundamentally change us".
Ms Fulvio said baking is also a great way to teach children, measuring and reading recipes are "secret lessons".
Millers have prioritised the production of the most popular flours, like cream, self-raising and plain flour. Other flours slow down the production process and so priority is being given to the most popular lines, which means supplies of other more niche flowers by the big producers will be affected.
However Ireland's three big flour mills, one in Laois and two in the north are supplemented by several smaller artisan and small scale mills around the country, many of which will be supplying specialist and niche flours.