The arrival of quintuplet lambs is being celebrated on the most westerly farm in Ireland, on the Dingle Peninsula, Co Kerry.
Farming experts say the birthing of quintuplets is extremely rare and the odds of all five lambs surviving are as high as one in a million.
Farmer Denis Ó Dubhda said it came as a complete surprise.
"We thought she might be carrying triplets because she was looking very heavy. It was completely unexpected when five came along. There are four female lambs and one ram lamb and they are all flying it thank God."
"She's a mighty ewe. Last year she had triplets and another set of triplets before that. So she's produced eleven lambs in three years." he added.
Eight-year-old Mícheál Ó Dubhda was first to witness the wonder in a cliff-top field overlooking the Blasket Islands.
"I was behind in the field and I saw three lambs, then a fourth came and then a short while later a fifth came. I ran in to tell Dad and he didn't believe me. He said I must be joking."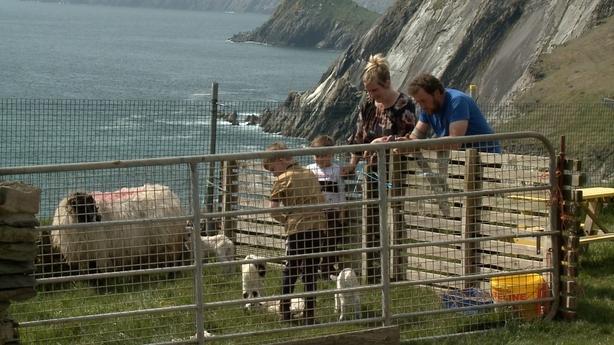 Some of the lambs will now have to be bottle-fed as the sheep won't have enough milk for five lambs.
"The scotch are a hardy breed. There's no fear a northerly gale or coronavirus or anything will knock these little fellas. They're looking good and strong. But we'll have to keep an eye out for the fox… I won't sleep a wink," laughed Mr Ó Dubhda.