Sweden is an outlier in Europe, or even the world, when it comes to its approach to the coronavirus.
While other countries, or rather, their inhabitants, struggle with varying levels of lockdown, Sweden has relied on relatively few recommendations to try and prevent the spread of the virus.
Nursing homes have been closed to visitors, higher education has been moved online and there's a ban on gatherings of more than 50 people.
Authorities have also encouraged people to work from home and to avoid unnecessary journeys.
But primary and secondary schools up to the age of 16 remain open, as do hairdressers and gyms, and restaurants and bars can stay open once they offer table service to avoid crowding at counters and bars.
A large emphasis has been placed on personal responsibility, and anyone with symptoms is asked, and trusted to self-isolate.
But is the strategy working?
As of today, over 1,000 Swedes have died from Covid-19, an increase of 114 deaths on the previous day's figure and around 11,440 have been infected, out of a population of 10 million.
Compare that with Ireland, where 406 people have died and over 11, 000 people have been confirmed infected, but the Irish population is less than half Sweden's.
As is often the case, Sweden is being compared to its nearest neighbours; figures in other Nordic countries are considerably lower, they've also imposed much stricter rules on public gatherings.
Denmark (population 5.6 million) has seen 300 deaths and 6,500 cases, Norway (5.3 million) has seen a death toll of 140 with 6,600 cases, while Finland (5.5 million) has been relatively unscathed with 64 deaths and just 3,000 cases.
At its daily coronavirus press conference, Sweden's chief epidemiologist, Anders Tegnell, said there were a number of reasons to explain its higher death toll.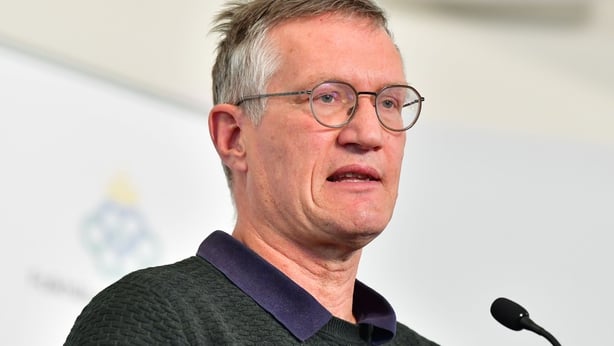 "Partly that we are on different places on the exposition curve, partly that we in Sweden, unfortunately, have had a large spread of contagion in elderly homes, something you have not seen in the other Nordic countries. And this we, of course, continue to analyse, why Swedish elderly homes have been exposed so much compared to other countries. But if we compare Sweden with Belgium, the US and a number of other countries our death rates are rather low."
In terms of coronavirus-containment efforts, Norway, Denmark and Finland have closed schools and nurseries, but Stockholm-based journalist Philip O'Connor said Dr Tegnell has referred to that as a political decision, rather than a scientific one.
It is Dr Tegnell's belief that children are not super spreaders, so there was no need to close schools.
As Mr O'Connor pointed out: "It will be a long, long time before we know if it was Norway, Denmark and Finland that was correct, or if was the Swedes who were correct."
At the end of March, some 2,300 academics and scientists signed an open letter to the Swedish government, calling for tougher measures to protect the health system.
"We don't have a choice, we have to close Stockholm right now," said Cecilia Soderberg-Naucler, Professor of Microbial Pathogenesis at the Karolinska Institute.
"We must establish control over the situation, we cannot head in to a situation where we get complete chaos. No one has tried this route, so why should we test it first in Sweden, without informed consent?" she said.
Mr O'Connor said this caused some ripples of reaction in Sweden, rather than anything approaching panic or dissent.
He said there has been little debate about the current restrictions, which are recommendations, rather than rules.
Mr O'Connor said Swedes are typically quite compliant with a huge emphasis on personal responsibility.
There's a tradition in Sweden of not questioning authority, he said, particularly when it's a state agency coming up with the recommendations.
He said Swedish people believe that you put the best person in the job, and then you step back and let them do their work, you don't question their approach.
We need your consent to load this rte-player contentWe use rte-player to manage extra content that can set cookies on your device and collect data about your activity. Please review their details and accept them to load the content.Manage Preferences
Last week, US President Donald Trump raised eyebrows in Sweden when he said that the country was suffering "very greatly" as a result of its more hands-off approach when compared with America.
But Swedish Foreign Minister Ann Linde hit back, saying Mr Trump's comments were "factually wrong".
"We do not have a strategy that aims at herd immunity at all," Ms Linde said.
Herd immunity involves isolating vulnerable groups, but allowing large numbers of the population to become ill and develop immunity to a disease, limiting the need to adopt the kind of drastic lockdowns in place across much of Europe and the rest of the world that have hit economic activity hard.
It appeared to be the UK policy at first too, before the British government performed a u-turn and imposed the lockdown measures still in place now.
Ms Linde said that Sweden had adopted a number of tough measures giving the example of closing nursing homes to visitors and holding higher education classes online.
"But on the other hand, we don't have that total lockdown," she said. "That means that some countries think we are not doing anything, but we are doing what is right for Sweden."
Mr O'Connor said that Dr Tegnell has been much more focused on the number of patients requiring admission to Intensive Care Units, rather than on the death rate.
"He would say that figure in itself is meaningless, he expects the death toll to continue to rise at the current rate, for the next two weeks or so."
In fact, after the Easter weekend, hospitals probably haven't been able to file their latest deaths.
But so far, ICU admissions have remained steady, meaning that hospitals are not being overwhelmed.
"As long as they can keep that flat...that means the Swedish healthcare system is surviving, it's not at breaking point just yet," added Mr O'Connor.