New York City officials have hired contract labourers to bury the dead in its potter's field on Hart Island as the city's daily death rate from the coronavirus epidemic has reached record highs in each of the last three days.
New York state has now recorded more than 7,000 deaths from Covid-19, the respiratory disease caused by the virus.
The number of coronavirus-related deaths in the state rose by 799 yesterday, a record high for a third day, outdoing the previous high of 779 announced on Wednesday.
The city has used Hart Island to bury New Yorkers with no known next of kin or whose family are unable to arrange a funeral since the 19th century.
Typically, some 25 bodies are interred each week by low-paid jail inmates working on the island, which sits off the east shore of the city's Bronx borough and is accessible only by boat.
That number began increasing in March as the new coronavirus spread rapidly, making New York the epicentre of the global pandemic.
We need your consent to load this rte-player contentWe use rte-player to manage extra content that can set cookies on your device and collect data about your activity. Please review their details and accept them to load the content.Manage Preferences
---
---
There are now about two dozen bodies a day, five days a week, buried on the island, said Jason Kersten, a spokesman for the Department of Correction, which oversees the burials.
Before burial, the dead are wrapped in body bags and placed inside pine caskets. The deceased's name is scrawled in large letters on each casket, which helps should a body need to be disinterred later. They are buried in long narrow trenches excavated by digging machines.
"They added two new trenches in case we need them," Mr Kersten said. To help with the surge, and amid an outbreak of the Covid-19 respiratory illness caused by the virus at the city's main jail, contract labourers have been hired, he said.
The number of newly hospitalised patients in New York dropped for a second day, to 200 yesterday. Governor Andrew Cuomo said it was a sign that social distancing was succeeding, and that the curve was flattening because of social distancing orders.
"We had a 200-net increase in hospitalisations, which you can see is the lowest number we've had since this nightmare started," Mr Cuomo told reporters.

Mr Cuomo likened the crisis to the 11 September, 2001 attacks, which killed almost 3,000 people, most of them at Manhattan's World Trade Center, calling the current emergency a "silent explosion that just ripples through society with the same randomness, the same evil."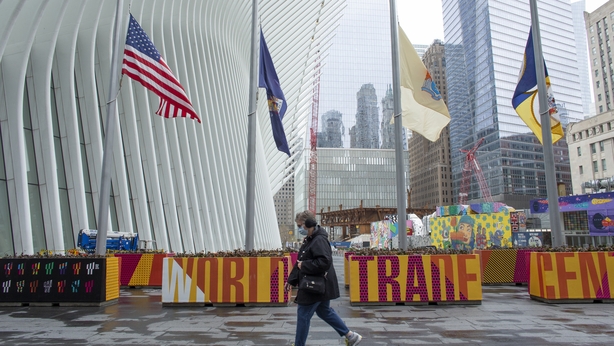 US health officials made cautiously optimistic noises despite high death tolls yesterday, suggesting Americans might be able to take summer holidays, as falling hospitalisation rates hint at a turning point in the battle against Covid-19.
With unemployment skyrocketing to 16.8 million and the economy tanking, President Donald Trump is keen to lift social confinement measures and get the United States open for business again as soon as possible.
He added that his decision on when to reopen the US economy will be the toughest he has ever taken.
"I'm going to have to make a decision and I only hope to God that it's the right decision. But I would say without question, it's the biggest decision I've ever had to make," Trump told a press conference.
Trump, who faces a tight reelection in November, is keen to get the US economy back open after weeks of tough measures that shut down businesses and dramatically cut down on transport across the country to slow the virus' spread.
Trump suggested the number of new infections was flattening and the death toll would be lower than initial projections of more than 100,000.
He said he would announce the members of the new advisory council possibly on Tuesday. Some state governors will be appointed.
Trump said the aggressive social distancing and stay-at-home measures taken to combat the coronavirus were showing signs of success, and situations in hot spots such as New Orleans,Louisiana, and Detroit, Michigan, were stabilizing.
But Mr Trump's top pandemic adviser Anthony Fauci warned that the US cannot be reopened overnight due to the threat of further waves of infections, but said it could be up and running again by the summer months.
That is, he said, providing citizens adhere to social distancing guidelines and widespread stay-at-home orders, which have the vast majority of Americans on lockdown, throughout April.
When asked by 'CBS This Morning' whether he could envision a summer of vacations, baseball games, weddings and family get-togethers, Dr Fauci replied, "It can be in the cards."
He added: "It is very likely that we will progress towards the steps towards normalisation as we get to the end of this 30 days.
"And I think that's going to be a good time to look and see how quickly can we make that move to try and normalise. But hopefully, by the time we get to the summer we will have taken many steps in that direction."
Mr Cuomo, who this week extended New York's shutdown of schools and non-essential businesses until 29 April, said it was too early to say when the city might be reopened again.
"I'm not going to say to anyone 'this is where I think we'll be in three weeks or four weeks or five weeks.' I have no idea," Mr Cuomo admitted.
New York City Mayor Bill de Blasio warned restrictions may last until June.
Nationwide, the US recorded 1,783 death over the past 24 hours, down by 190 from Wednesday's record-breaking toll.
The country has suffered more than 16,500 virus-related fatalities - the second-highest number in the world after Italy. And it has emerged as the country with the most coronavirus cases, at more than 460,000.
The apparent progress in efforts to slow the spread of the highly contagious virus were also reflected in fresh computer models scaling back the projected nationwide death toll in the US to 60,000, down from earlier forecasts of at least 100,000.
Meanwhile unemployment is rising at a jarring rate, with data yesterday showing 17 million people have lost their jobs since mid-March, when the US began shutting down.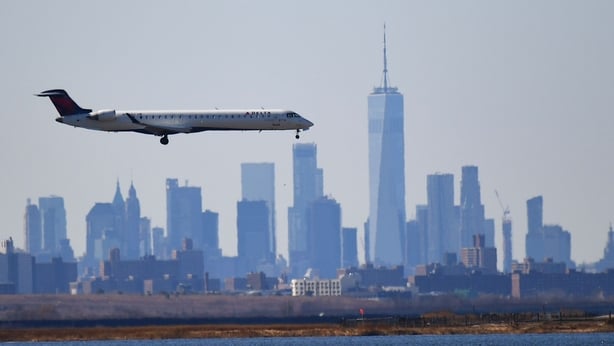 President Trump said last night that his administration would present a plan this weekend to save the flagging airline industry, which is facing vastly reduced business as a result of the coronavirus pandemic.
As is his style, the US president did not offer many details about the package during his daily coronavirus taskforce press briefing.
"We will probably be putting out a proposal and giving (airline companies) some of the details, some very powerful details over the weekend," he said.
He did not rule out direct conversations with individual airlines in the coming days.
"I think it's going to be a very acceptable package, it's a very big package and acceptable package," Mr Trump said. "It will be good for the country and good for the airlines. Good for lots of people."
Most experts and policymakers agree: US airlines need money and they need it fast. In the $2.2 trillion stimulus bill signed into law in late March, politicians set aside $50bn with an eye toward job preservation in the industry.
But not all airlines are ready to accept the conditions proposed by the government.
The Treasury wants to avoid the impression that it is giving airlines a blank check, fearful of a repeat of the public ire that followed Washington's response to the global financial crisis more than a decade ago.
Aiming to get taxpayer money paid back, the government is considering taking an equity stake in airlines, at least temporarily.
That outcome is giving the four major US carriers - Delta Air Lines, United Airlines, Southwest Airlines and American Airlines - pause, industry sources say.
The companies fear Wall Street would reject having the government as majority shareholder, even though the companies desperately need the cash.
Meanwhile, the US has approved 661,000 loans to small businesses totaling $168 billion under a program to address the fallout from the coronavirus epidemic, White House economic adviser Larry Kudlow said on Friday.