Mainland China reported 39 new coronavirus cases as of Sunday, up from 30 a day earlier, and the number of asymptomatic cases also surged as the government vowed tighter controls at land borders.
The National Health Commission said that 78 new asymptomatic cases had been identified as of the end of yesterday, compared with 47 the day before.
Imported cases and asymptomatic patients, who show no symptoms but can still pass the virus on, have become China's chief concern after draconian containment measures succeeded in slashing the overall infection rate.
Hubei province, the original epicentre, accounted for almost half the new asymptomatic cases. A total of 705 people with asymptomatic cases were under medical observation around mainland China.
The surge in asymptomatic cases, which China only began reporting last week, poses a worry as Hubei's capital Wuhan prepares to allow people to leave the city on 8 April for the first time since it was locked down in late January.
Wuhan officials revoked the "epidemic-free" status of 45 residential compounds due to the emergence of asymptomatic cases and other unspecified reasons, according to a report on Monday by the official Xinhua news agency.
"Epidemic-free" status allows people living in Wuhan compounds to leave their homes for two hours at a time.
China has now reported a total of 81,708 cases, with 3,331 deaths.
One new locally transmitted infection was reported in the latest data, in the southern province of Guangdong, down from five a day earlier in the same province.
China has closed its borders to foreigners as the virus spreads globally, though most imported cases have involved Chinese nationals returning from overseas.
It began testing all international arrivals for coronavirus from 1 April, customs official Song Yueqian said.
Of the new cases showing symptoms, 38 entered China from abroad, compared with 25 a day earlier. Of those, 20 arrived in the northeastern province of Heilongjiang from neighbouring Russia. All were Chinese citizens who had flown from Moscow to Vladivostok and travelled to China overland.
China will work to prevent cases being imported through land borders, the government said after a meeting chaired by Premier Li Keqiang, which noted the number of such cases had exceeded cases recorded at airports recently.
Those who try to hide their travel history or health condition face a fine of up to 30,000 yuan or even criminal proceedings, Mr Song said, adding such people will be placed on a customs "blacklist" of travellers who will be subject to tighter checks in future.
Another possible source of infection are the 1.6 million Chinese who study overseas, many of whom have struggled to return home since international flights were reduced.
Charter flights are being arranged to bring home Chinese students in the United States, starting with the youngest,China's embassy in Washington said.
The ambassador, Cui Tiankai, noted in the New York Times that there had been "unpleasant talk" between the two countries about the virus. "But this is not the time for finger-pointing. This is a time for solidarity, collaboration and mutual support," Mr Cui wrote.
Amid criticism China was too slow to warn the international community about the outbreak, Xinhua published a "detailed timeline" of the country's coronavirus response and information sharing, from late December 2019 to March 2020.
China started reporting to the US "regularly" on the epidemic and containment measures from Jan. 3, according to the timeline.
South Korea records fewer than 50 new cases of Covid-19
South Korea has reported fewer than 50 new coronavirus cases for the first time since its peak at the end of February as daily infections in Asia's largest outbreak outside China continued to trend downward.
The Korea Centers for Disease Control and Prevention (KCDC) said today that there were 47 new infections as of midnight on Sunday, compared with 81 recorded a day earlier, taking the national cumulative tally to 10,284.
The death toll rose by three to 186, while another 135 people have recovered from the virus for a total of 6,598.
South Korea has largely managed to bring the epidemic under control for now, with around 100 or fewer new daily cases for the past month, but it was the first time the rate of daily cases dropped below 50 since 909 were reported on 29 February.
But officials urged even greater vigilance, saying a large epidemic could reemerge at any time, with smaller outbreaks in churches, hospitals and nursing homes, as well as infections among travellers, continuing to arise.
A fall in daily demand for tests to some 6,000 from around 10,000 over the weekend contributed to the decline in numbers, Vice Health Minister Kim Gang-lip said.
"We are taking great caution against any optimistic expectations with this one-off figure," he told a regular briefing.
On Saturday, the government extended its intensive social distancing campaign by two weeks, citing sustained infections among small clusters and travellers.
It also toughened penalties for those who violate self-quarantine rules to up to 10 million won in fines or one year in prison from three million won in fines.
Japan to declare state of emergency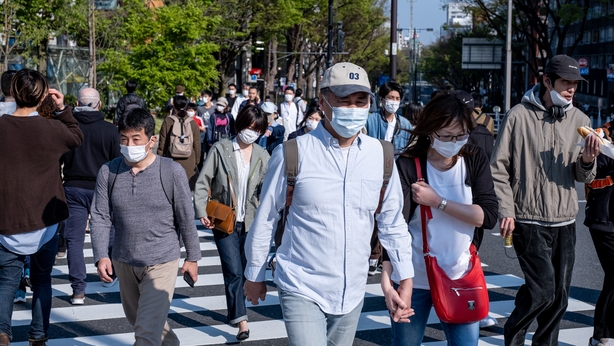 Japanese Prime Minister Shinzo Abe has announced that his government plans to declare a state of emergency and proposed a stimulus package worth $1 trillion as new coronavirus infections spike in Tokyo and elsewhere.
"We hope to declare a state of emergency as early as tomorrow after listening to the opinions of the advisory panel," Mr Abe told reporters.
"We're currently seeing rapid increases of new infections particularly in urban areas like Tokyo and Osaka," he said.
"Considering that medical institutions are facing a critical situation, I have received opinions that the government should prepare to declare a state of emergency," Mr Abe said.
A state of emergency, which falls far short of the strict lockdown measures seen elsewhere in the world, would be declared for Tokyo, Osaka, and five other prefectures, according to Mr Abe.
Pressure has increased on the government to take fresh action as Tokyo announced a record 148 new cases on Sunday, with another 83 infections today.
Abe added that the government would roll out a stimulus package worth around 108 trillion yen to cushion the damage to the world's third-biggest economy.
In contrast to stringent lockdowns in some countries, mandating fines and arrests for non-compliance, enforcement in Japan will rely more on peer pressure and a deep-rooted tradition of respect for authority.
Even as other countries have locked down borders and ramped up testing, Japan appeared to have side-stepped the kind of mass infections seen elsewhere, an effect some experts say was mostly due to a lack of testing.
Since mid-January, Japan has tested 39,446 people, while the UK has tested 173,784 and South Korea has conducted 443,273 tests, according to data from Oxford University.
India hopes to double daily testing
India, like a lot of countries plunged into crisis by the pandemic, is struggling to ramp up testing for coronavirus, but in few places would the odds of containing the disease appear so bleak should domestic transmission start to multiply.
Officials hope to be testing 20,000 people daily by the end of the week, twice the current rate.
Since India's first case was confirmed on 30 January, India has conducted only a little over 96,000 tests, having focused efforts on identifying those who had come in contact with people who have tested positive.
The results show 4,067 people are infected, and 107 have died of the respiratory disease.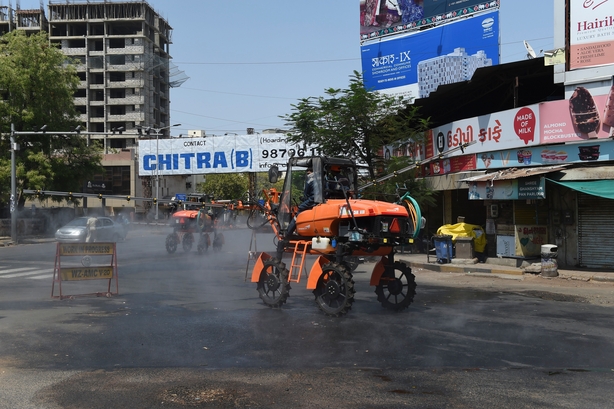 Officials believe a three-week nationwide lockdown ordered by Prime Minister Narendra Modi will have slowed the spread of the virus in communities, giving them a chance to catch up in the race to stop a full blown epidemic.
Lav Agarwal, joint secretary in the Indian health ministry leading the effort to tackle the spread of infections, said the country was increasing its testing capacity gradually.
"We should be not be panicking, we should be preparing," Mr Agarwal said.
"We have followed a pro-active policy from the beginning. Our focus has been on surveillance and contact tracing. Instead of the virus chasing us, we have been chasing the virus."
Testing had already doubled in the last two days from 5,000 samples a day, another health official said.
"This is expected to reach 20,000 in the next three days and increase further over the next few weeks as per the plan," the official said.
Further out, the country was planning to scale up to 100,000 tests a day in the "worst-case scenario," the Indian Council of Medical Research, the government arm regulating the testing, said in a statement.
Cruise ship with virus cluster docks south of Sydney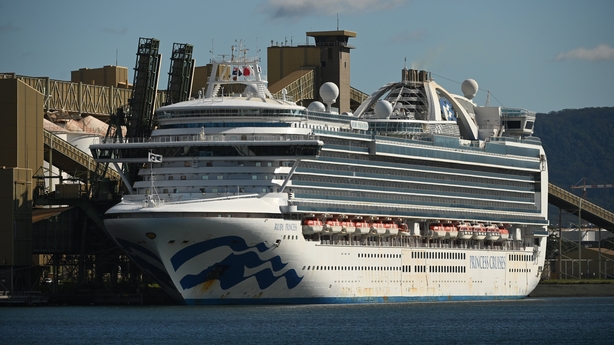 A cruise ship that has accounted for a quarter of all Covid-19 deaths in Australia was allowed to dock near Sydney this morning after 200 crew members began exhibiting coronavirus symptoms.
The Ruby Princess berthed at Port Kembla, some 80km south of Sydney, after weeks stranded at sea to allow doctors to assess sick crew members and take the most serious cases ashore for medical treatment.
The government last month allowed 2,700 passengers to walk off the Carnival Australia-owned vessel and return to their homes around the country, despite a ban on cruise ships docking in Australia being announced just days earlier.
Hundreds of passengers were later diagnosed with coronavirus and at least ten have died, accounting for a quarter of Australia's death toll of 40. The country has recorded almost 6,000 confirmed cases of Covid-19.
New South Wales police said the ship could remain at the port for up to ten days to restock and refuel before departing Australian waters, but the crew would not be allowed to disembark unless it was an emergency.
Several crew members have already been taken to hospital in recent days.
Police have launched a criminal investigation into Carnival Australia over the circumstances that led to thousands of passengers disembarking in mid-March, despite some exhibiting flu-like symptoms.
Venezuelans returning home from Colombia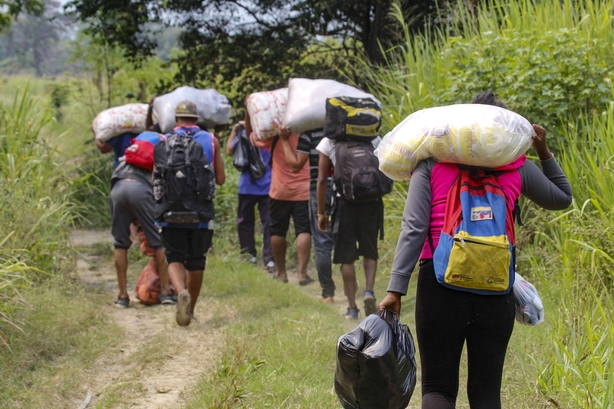 In South America, hundreds of Venezuelans who fled to neighboring Colombia during their country's economic crisis are now returning home, pushed by the deadly novel coronavirus and Colombia's own pandemic woes.
Colombian migration officials said yesterday that 600 people, including 35 children and 167 women, crossed the main border point at the Simon Bolivar International Bridge in the northeastern city of Cucuta, into Venezuela one day earlier.
Another group of 160 have departed Bogota on their way back home, officials said.
Although the border is officially closed as a measure taken to halt the spread of the novel coronavirus, Colombia has opened a "humanitarian corridor" to allow Venezuelans to return home.
Colombian agents were on hand to make sure that those departing Bogota "were voluntarily returning" to Venezuela, an official at the immigration office said.
In recent years Colombia has welcomed 1.8 million Venezuelans fleeing their country's economic and political collapse.
According to the United Nations, 4.9 million Venezuelans have fled their country, mainly to other South American nations, and many need international aid due to the economic effects of the coronavirus pandemic.

More than 1,400 cases of Covid-19 have been reported in Colombia since 6 March, including 35 deaths.
Coffin shortage in Ecuador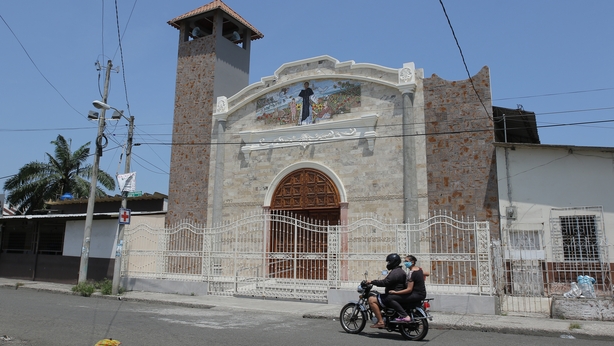 Meanwhile, soaring numbers of Covid-19 deaths in Ecuador's second city Guayaquil have led to a shortage of coffins, forcing locals to resort to using cardboard boxes, city authorities said.
Authorities in the Pacific port city said they had received a donation of 1,000 pressed cardboard caskets from local producers, and delivered them for use in two local cemeteries.
Businessman Santiago Olivares, who owns a chain of funeral homes, said his company was unable to keep up with demand.
"I sold the 40 that I had at the downtown branch, and 40 others from my headquarters. I had to order 10 more at the weekend and they've run out," Mr Olivares told AFP.
The cheapest coffins currently cost around $400. Mr Olivares said a 15-hour curfew in the city was contributing to the shortage of basic raw materials for coffin makers such as wood and metal.
Last week, residents posted videos on social media showing abandoned bodies in the streets in the Latin American city worst hit by the pandemic.
The government called in troops to pick up 150 corpses from streets and homes earlier this week after mortuary workers in the city were unable to keep up with a backlog of removals.
Ecuador reported 3,646 cases of the coronavirus yesterday, including 180 deaths, the majority of them occurring in Guayaquil and its surrounding province of Guayas.