More than 10,000 people have died of Covid-19 complications in the United States since the outbreak began in late January, according to figures from Johns Hopkins University.
The Baltimore-based school, which has been keeping a running tally of global coronavirus numbers, said there are 10,335 deaths in the US and at least 347,003 confirmed infections.
The world's leading economy is one of the worst-hit countries, trailing only Italy (15,877) and Spain (13,055) in numbers killed by the pandemic.
The number of daily deaths is falling in some of the worst-affected European countries, but the US has yet to reach its peak of the crisis.
Since the middle of last week, the US has recorded more than 1,000 new deaths every day, with containment measures of varying degrees being enforced on a state-by-state basis.
New York is the main focus of the outbreak, with more than 4,750 deaths statewide and 130,000 cases, more than half of them in New York City.
Authorities have warned that between 100,000 and 240,000 people could die from Covid-19 in the US, even in a best-case scenario with social distancing guidelines being observed.
New York Governor Andrew Cuomo has extended a shutdown until almost the end of the month.
Mr Cuomo said the Covid-19 death rate in New York was "effectively flat" for the past two days but announced that schools and non-essential businesses must stay shut until 29 April.
"Now is not the time to be lax," he told reporters, adding that fines for violating social distancing guidelines would be increased from $500 to $1,000.
New York on PAUSE is extended through April 29.

Schools and non-essential businesses will remain closed.

Public health is our first concern.

— Andrew Cuomo (@NYGovCuomo) April 6, 2020
The outbreak has killed 4,758 people in New York state as of this morning, Mr Cuomo said, an increase of 599 from yesterday.
On Saturday, New York announced 630 deaths in one day - it's highest daily total of the epidemic so far.
Mr Cuomo said the number of daily deaths had been levelling off since, suggesting the state may be at the peak of its crisis.
"It is hopeful but it is also inconclusive," he said, warning that the death rate could increase again.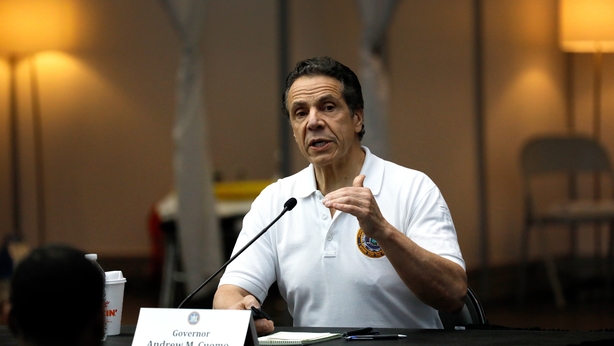 He said it would be a "mistake" to relax restrictions on movement too early.
"If the curve is turning it's because the rate of infection is going down, if the rate of infection is going down it's because social distancing is working.
"If we are plateauing then we are plateauing at a very high level and there's tremendous stress on the health care system," Mr Cuomo added.
Lockdowns in all but nine states
Nine states - all controlled by Republican governors - have still not ordered total lockdowns, much to the frustration of public health experts.
Wisconsin, which is among those under stay-at-home orders, became the 15th state to delay presidential primaries after initially determining to forge ahead.
Governor Tony Evers, citing the risk to poll workers and voters, ordered that tomorrow's Democratic presidential primary and local elections in the midwestern US state be postponed until June.
"I cannot in good conscience stand by and do nothing," said Mr Evers, whose health officials have registered 2,267 positive tests and 68 deaths.
He moved to delay the election unilaterally after the Republican-majority state Senate and state Assembly ignored his repeated appeals for a postponement.
Although hotspots like New York face a dire lack of protective gear, ventilators and medics, there is further cause for optimism, with early-hit states like Washington and California demonstrating a possible pathway out of the crisis.
Washington appears to be on the downward slope of its case curve and has even sent 400 ventilators to New York, but its governor Jay Inslee said he feared a second wave because of the ongoing patchwork response.
"Even if Washington gets on top of this fully, if another state doesn't, it can come back and come across our borders two months from now, so this is important to have a national success," he told NBC.
California is also showing how it is possible to get on top of the crisis, said epidemiologist Brandon Brown of the University of California, Riverside.
"We are now ramping up testing, starting to measure community spread, preparing spaces for when hospitals may be overrun," he said.
Health officials war of 'Pearl Harbor moment'
US governors have appealed to the White House for a national strategy against coronavirus as health authorities warned the coming week could resemble a "Pearl Harbor moment".
Anthony Fauci, the senior American scientist battling the pandemic stateside, warned of a looming "escalation," saying Americans should prepare for "a bad week".
"I will not say we have it under control," Mr Fauci told CBS Sunday. "That would be a false statement".
US Surgeon General Jerome Adams sounded an even more dire alarm.
"This is going to be the hardest and the saddest week of most Americans' lives, quite frankly," he told Fox News.
"This is going to be our Pearl Harbor moment, our 9-11 moment, only it's not going to be localised."
Mr Adams pleaded with state leaders to urge residents to stay home for at least the next seven to ten days.
"There is a light at the end of the tunnel if everyone does their part," he said.
Last night, the White House aimed to emphasise progress in the fight including plans to send hundreds of thousands of masks to counties in New York, but could not sugarcoat the difficult weeks ahead.
"We all know that we have to reach a certain point, and that point is going to be a horrific point in terms of death," President Donald Trump said at his briefing.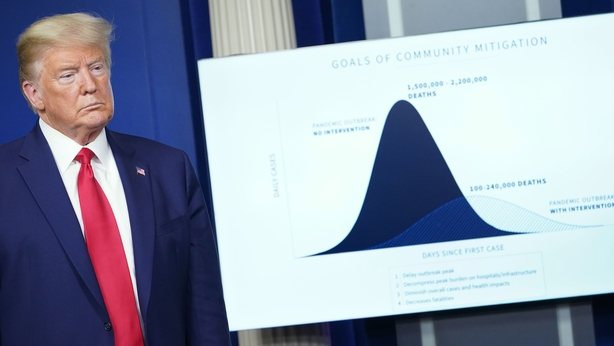 Throughout the weekend, Mr Trump stressed that the US, where infections have surpassed 330,000, cannot remain economically shut down forever.
He continued to leave it to the states to declare their own mitigation strategies and lockdown orders.