An Irish artist in self-isolation has paid a unique tribute to frontline workers.
Sean Corcoran, from Co Waterford, used the beach at Kilmurrin Cove on the Copper Coast to draw a giant 'thank you' in the sand, replacing the Superman symbol's 'S' with a medical cross.
Releasing aerial footage of the artwork on Facebook, Sean said: "Thank you to all the doctors, nurses and hospital staff for their amazing bravery at this difficult time.
"The dedication that you are all showing is extraordinary. You are our heroes."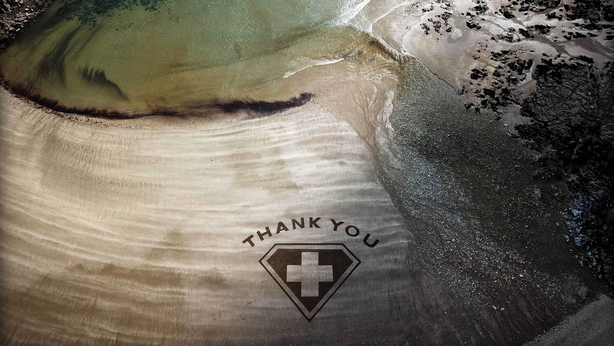 Sean has been in self-isolation for the past ten days following his return from the Llano Environmental Art Festival in Llano, Texas.
Although he has not experienced any coronavirus symptoms, Sean said he had been prepared to remain in his van if there had been anyone on the beach, 1.5km from his home.
"Now it's our turn to play our part. We need to support the frontline staff by acting responsibly.
"We need to protect ourselves, our families, our friends and the wider community. We need to stop the spread of this virus. We need to be informed and we need to take this seriously," he said.